A snowdrop special from me this week although I've got more up my sleeve for future weeks.  The snowdrop season just keep on giving.
"It's a snowdrop, innit?".  So said a commentator on social media this week on a post by another gardener.  It wasn't just any snowdrop, however.  It was a yellow variety called 'Treasure Island' that retails upwards of £150, if you're able to get your hands on one at all.
From a distance, snowdrops are just little white flowers but from a few paces differences begin to be noticeable and up close the observer can be transported to a micro-world of variation in petal shape, patterning, colouring and leaf shape.
It wouldn't be possible to explain all the differences in a single diary post but I'm going to do my best to narrow things down a bit by showing pictures of three species and some of their cultivars.
Species snowdrop Galanthus nivalis
Described in most bulb catalogues and magazine adverts as 'Single Snowdrops' this is probably the most common snowdrop.  It's a bit later flowering than the elwesii types described later.  Grouped in huge clumps or drifts it is so beautiful but up close it is also pretty.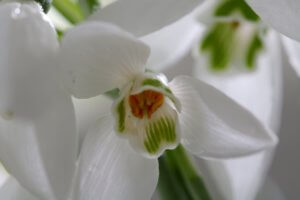 On a sunny day or picked and brought indoors the pure white petals will open up revealing the green petalled inner (known as the perianth) and the egg yolk orange anthers.
Nivalis cultivars including double snowdrops
Here are a few cultivars of nivalis that I have photographed at home this week or in the garden of friends.  Most notable due to its ubiquity is the double form 'Flore Pleno'. 'Double Snowdrops' bought from suppliers will likely be these.  Tip them up you will see multiple inner segments that look like layers of petticoats. 
In my garden they come up slightly earlier than the standard nivalis type.  From a distance the clumps are very jolly but up close the flowers do look a bit bedraggled in shape, with a touch of cinderella's ragged skirt about them.  When they open up they have a bit of a transformation – a bit more Cinderella at the ball.
Also shown here are to other nivalis cultivars.  'Green Tear' a lovely green blushed variety with a pretty  shape and 'Elfin' is a bonny green tipped type.
Species snowdrop Galanthus elwesii
If you've got any taller snowdrops in your garden, larger flowered and with thicker strappier leaves, they could be elwesii.  I inherited a handful of large clumps of this in my garden and it was the first time I'd seen such a big one.
If you're planting snowdrops in grass it's worth thinking about using some of these.  We're having a warm winter and the grass has been growing.  The elwesii stand well proud of the growing sward, whereas the emerging nivalis are a little swamped.  They look stunning at night when my car headlights pick the large white flowers up.  They are almost as reflective as roadside cat's eyes.
Snowdrop elwesii cultivars
I was surprised that some of the ones I grow from this group are derived from elwesii as their stature isn't  always quite that of the species types.  A case in point is  is green blushed 'Rosemary Burnham', a type that is pretty small and demands to be looked at closely as the green makes it disappear somewhat in the garden.
'Helen Tomlinson' has wide strappy leaves typical of elwesii cultivars and large white petals.
Species snowdrop Galanthus gracilis
This snowdrop is new to me and arrived this week in the post from sweetpea and snowdrop nurseryman Philip Johnson.  It was wrapped in moss and encased in a cardboard tube.  I unwrapped it in the kitchen and within a few minutes the closed petals had opened up.
This is an elegant snowdrop and in fact gracilis means graceful or slender in latin.  The ovaries and stem look olive green in these photos and there is indeed something yellowish about them.  According to my book 'Snowdrop' by Bishop, Davis and Grimshaw, gracilis is supposed to be easily recognised "even at first glance" by its "narrow, upright leaves, which are often twisted on the vertical axis, giving the leaves a corkscrew-like appearance". 
I haven't got any pictures to share of gracilis cultivars, and indeed there aren't many listed in my books but 'Spindlestone Surprise' shown below is thought to be a cross of gracilis and nivalis.
Snowdrop cultivars of unknown parentage
Snowdrops are very promiscuous and special ones pop up in gardens without the grower knowing which plant pollinated another, although people with greater taxonomic knowledge sometimes have their suspicions.  There are a large number of these hybrids and many are very interesting indeed.  'Spindlestone Surprise' is a glorious yellow snowdrop.  Some yellows don't perform well in the garden but this large clump in a friend's garden is looking just fine.
I wasn't sure what the variety above was.  I'd bravely planted it out in the garden last year and the label got lost (dog, squirrel or careless summer weeding – I can't be sure which).  I've now worked out it is called 'Sprite'.  It's fantastic feature are the green lines running down the outers.  They look like the back of a fork has been dipped into green ink and pressed against the pure white background.
'Tubby Merlin' is also growing into a large clump in a friend's garden.  It's at the base of a pretty prunus tree and obviously likes it there.  In fact my books describe this as a very garden-worthy variety.
Snowdrops may not be everyone's obsession but the more I grow them the more captivated I become.  You can read more about my budding galanthophilia on the Alpine Garden Society website here and here
This seasonal diary is part of a weekly link-up of garden bloggers from around the world, called Six on Saturday.  For more information and links to other blogs crammed with gardening activity, check the blog of host The Propagator.