Can it really be July?  The abundance of fruit and flowers in the garden says it's so even if my brain is still back in early lockdown.  That's the thing about gardens – they follow the march of the seasons.
This week I'm picking fruit and flowers and admiring blooms in the pond and meadow.
Grape expectations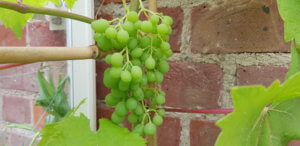 My greenhouse is now two years old.  One of my initial goals was to grow a good dessert grape, to provide an interesting structure, shade and hopefully some tasty fruit.  I wrote about this grape at the time and included a picture of its amazing root structure.
It's a variety called 'Madresfield Court' and was recommended to me by the growers Sunnybank Vine Nursery.  These roots gave the plant a great start in life and it has grown well.  This year, as the vine romped away, I had to start thinking about how to train it and decided I wanted it to grow up to the apex of the greenhouse and over to the other side as well as sideways across the glass partition and around the door.

I know you're supposed to train on wires but arranging this was beyond me.  I didn't want to worry about tools or rawl plugs or most frightening of all – drilling into the aluminium of the greenhouse.  Instead I lashed bamboo canes together, the uprights balancing on the ledges and held from slipping with blue tack.  My husband calls me a bodger.  I don't disagree with this description but hey – in this case it works! The first two bunches of grapes are looking fabulous but are not ready yet.
Yellow water lily

A few weeks ago I shared a picture of a pretty pink water lily and this week a yellow one brightened the overcast days with its petalled sunburst.
The pond is bringing enormous pleasure and whilst not perfectly balanced is, I think, beginning to clear and the plants are thriving.  I also think I caught a glimpse of some sort of water beetle.  It came to the surface and then disappeared again.  I nip down there often to see if it'll come and say hello again but so far it remains elusive.

In the meadow
Stopping mowing the grass in my orchard has been a brilliant wheeze.  Not only does it save time behind the mower but it's been a huge surprise to see how many flowers have arrived in it without invitation.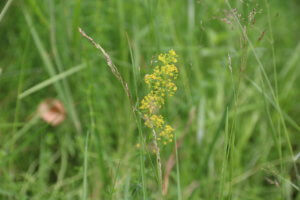 This week I spotted this rather lovely frothy yellow plant with filigree foliage.  It's thriving in the shadier damper parts of the meadow.  I had to take out my trusty Collins wildflower book again to discover what it was.  It turns out it's Lady's Bedstraw, galium verum.
Meanwhile, in the sunnier patch, the Chicory is also in flower.  I know I've enthused about this plant on these pages before but it never bores me.  Not many flowers are properly blue but this one truly is – a lovely Wedgewood blue.
The meadow is so rewarding and yet so easy to look after.  If you want to know more about how easy it is to manage an area like this, click here.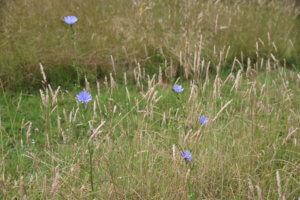 Luscious raspberries
I have four rows of raspberries in the fruit cage and at this time of year need constant picking.  Pick a bowl full, head to the kitchen and have a cup of tea and it seems loads more have ripened in the meantime.  We eat some, freeze some and jam some.  The jam shelf is overflowing – at least 2020 has been a good year for something.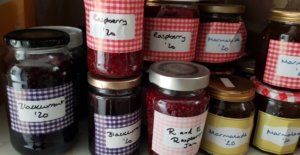 Chocolate Sweet peas
As with the raspberries, the sweet peas need constant picking at the moment.  I'm not complaining as everyone I see is getting a bunch.  It's lovely to catch up with friends  after the long lockdown and pushing a bunch of sweet peas into their hands makes the greeting even more joyous.
I've gone accidentally big on purple this year and have may more "Cadbury Dairy Milk wrapper" coloured varieties than any other.  The chocolate theme continues with these two lovely ones.  The first is a ripple type – 'Night Sky'.  Ripples have a picotee edge and speckled brush stroke patterns.  The second is a flake type – 'Betty Maiden' – lacking the edging but retaining the coloured brush strokes.  Dairy Milk, ripples and flakes – chocolate sweet peas.
I've written more about different types of sweet peas here.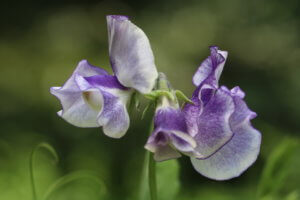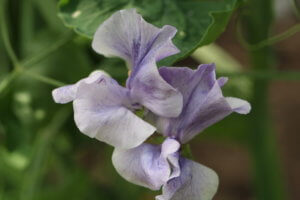 Streptocarpus
My streptocarpus collection continues to do well despite a bit of a greenfly attack and neglectful deadheading.  I love the exotic shape and colours of these and the fact that they flower constantly with very little attention.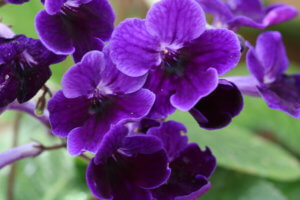 This seasonal diary is part of a weekly link-up of garden bloggers from around the world, called Six on Saturday.  For more information and links to other blogs crammed with gardening activity, check the blog of host The Propagator.