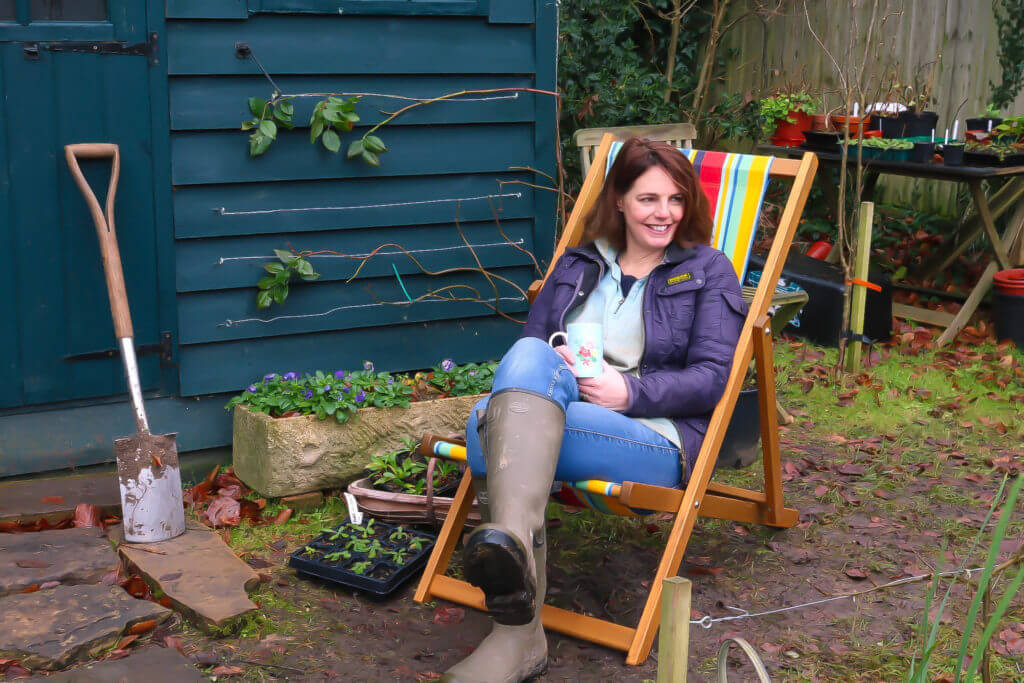 My name is Katharine, I'm a mother of three children and work part time. I'm always challenged for time, but if I do have any to spare, I spend it in the garden. Most plants can lift my spirits but I have one favourite pick-me-up – Camellia sinensis – better known as tea! No matter how short of time I am, there's always time for a garden tea break.  It's when I notice the good, the bad, and the pests.
My garden has been playing second fiddle to work and family for 25 years.  I started with a little patch in my parents' Sheffield garden, moved up a storey to a London balcony, progressed to a tiny courtyard garden and now am attempting to tame a larger garden in the Chiltern Hills.  I know there will never be enough time or money to achieve all I would like.  I have come to accept that it's fine to cut corners and I love my garden warts, weeds and all.
My vegetable patch contains a merry-go-round of vegetables, fruit and cut flowers.  Elsewhere, herbaceous borders, a small orchard and a rose garden coax me away from the vegetable patch.  I know my garden sometimes lacks cohesion but this is the price I pay for wanting to grow a wide variety of plants.  I refuse to miss some out just because they don't fit a theme.
I have many plans for my garden and I am always adding new plants and making small changes.  I'm not shy of making big changes too.  in 2018 I bought a much longed-for new greenhouse.  In 2019 I'm building a woodland garden and also a rockery to accommodate the growing wish list of alpine plants.    I joined the Alpine Garden Society last summer and am a diarist on their excellent website.  You can find my diary by clicking here.
I enjoy photography and am developing my skills with the camera.  My aim is to capture the beauty of plants and flowers and share them on this blog so all photos here are my own, unless otherwise credited.
Gardening is one of those things that is best learned by doing.  There is no substitute for getting your hands dirty and I aim to inspire readers of this blog to take the plunge and just do it.  I will share what I have learned through years of success and failure.  I believe there is no such thing as being green fingered – just people who grow and fail, try again and then grow something different!