There's an alpine to look good in any season but here are some lovely ones designed to light the touch paper of spring.
I sometimes feel I could write every week just about this one small area – the rock garden.  There are so many interesting plants crammed in here but I present to you the six that caught my eye this week.
Crimean Iris – Iris lutescens

Cup of tea in hand, I carried out my morning rockery inspection yesterday and almost missed this beauty.  The chartreuse flower is nestled into the strappy leaves.   The browny markings add to the camouflage effect.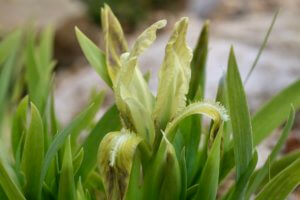 My love for this plant is enhanced by the knowledge that I grew it from seed.  I received the seed as part of the 2018 Alpine Garden Society seed exchange.  I wrote about my successes and failures for the Alpine Garden Society website and I briefly mentioned this Iris.  I remember the excitement when it germinated in 2019, the relief when it overwintered into 2020 and now the celebration of flowering.  Plant parenting is joyous.
Here's a view of the area where this and other Irises are growing from just a year ago and another of the same area yesterday.  Even I can't believe how much everything has developed.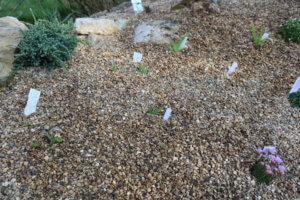 Rush Leaved Jonquil Narcissus – Narcissus assoanus

Here's a lilliputian daffodil whose short stature is hard to convey in photographic form.  It's another purchase last autumn from Potterton's Nursery, whose catalogue I had scoured for small narcissi.
The flowers are a clear strong buttercup yellow and the stems slender but strong.  The thin leaves run parallel to the ground, leaving an unobstructed view of the flowers, although photos I've seen on the internet do not share this feature.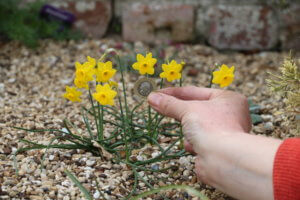 Here's a photo for scale.  You can see that each flower is smaller in diameter than a pound coin. My forearm is of Gulliver's proportions.
Soldanella Alpina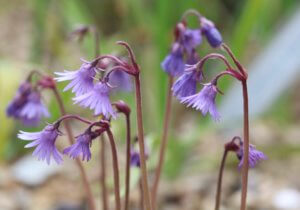 This plant is similar in height to the narcissus described above and has similarly slender stems.  The lavender flowers bring to mind miniature fringed lampshades.
Androsace carnea brigantiaca
Another offspring from the AGS seed exchange is this pretty little Androsace.  Nestled between these rocks, I could almost believe I'd photographed it in the Western Alps, where it's native but of course I've travelled no further than just beyond my back door.  There are two little plants in here and I'm hoping they'll spread to fill this nook.
Silene acualis
I featured this moss campion last year in my article on alpine superspreaders. I described it as looking like a big green cow pat.  Winter has not been kind to it and whilst the edges are alive and flowering, the centre is like straw.  Unlike other alpines which died back over the winter, the centre does not look like it's about to revive.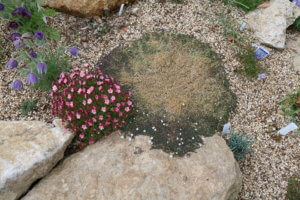 I think the living edges have tiny roots so I shall soon be taking my sharp knife out to attempt to sculpt it attractively.  I will hope to retain the front edge, which is creeping across the rock, without killing it.  I will cut off smaller sections elsewhere and hope to pot these up.  I have no idea what I'm doinbg but fingers crossed it will work.
A thyme-line
I've decided that creeping thymes are an attractive way to soften the edge of the rockery and break up the edging wall.  Last year two praecox thymes did really well so I have added three more different varieties.  They are lined up like the green bottles of the nursery thyme – all in a row.  A thyme-line if you'll excuse me the pun.
Here's a close up of one of the new ones – a really lovely thymus pulegoides 'Foxley'.  Unlike the praecox thymes, it is a more upright culinary variety.  It's main feature is that it is variegated with pink and white edged leaves.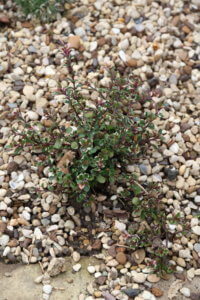 Phlox subulata 'Bedazzled Lavender'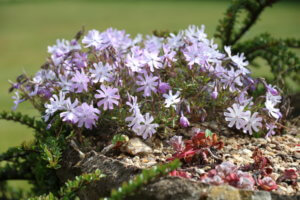 This is in its second year and planted in a stone urn on my patio wall.  The whirligig mauve flowers are an exuberant celebration of spring.
Another of these little stunners arrived last week from the Alpines and Grass nursery in Lincolnshire as part of a mixed alpine selection I bought.  It was a magical mystery selection box of alpine beauties but I admit I did cartwheels to see another of these.  If you're interested in starting a little collection of alpines in a trough, container or rockery, I can recommend their selections.
This seasonal diary is part of a weekly link-up of garden bloggers from around the world, called Six on Saturday.  For more information and links to other blogs crammed with gardening activity, check the blog of host The Propagator.