We've now had some minus temperatures overnight and autumn is beginning to bite.  As we tip slowly towards winter, mists have been heavy, and despite some bright weather it's mostly been dank and damp.  The colours this year have been wonderful though and I share some good plants for autumn colour here, as well as a couple of new plantings for next spring.
Ceratostigma griffithi
I'd overlooked this plant as a provider of autumn colour but it's a great one.  This is a hardy plumbago which I bought earlier in the year to plant at the top of my drive.
I bought it as I love the bright plumbago blue, just visible in this picture on some tiny flowers at the stem tip.  However, it has some lovely shots of red and burnt orange and is great plant for autumn colour.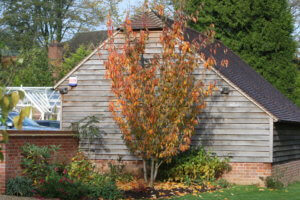 This shrub is planted near the base of this large Prunus kanzam, itself a fabulous autumn specimen.  The Ceratostigma is surrounded by fallen yellow and orange cherry leaves.
Last of the dahlias
Dahlias are unbeatable flowers for autumn colour until a hard frost bites.  Despite a couple of frosts, the dahlias are still clinging on here but their days are numbered.   Their petals have been affected by the low temperatures and are papery and translucent. Here are three lovely ones – Bright Eyes, Henriette and an unnamed variety.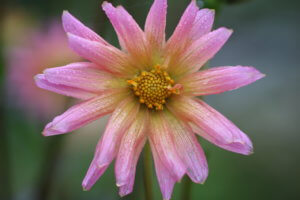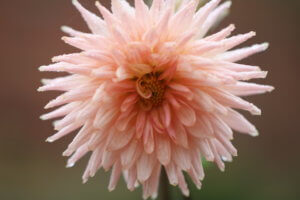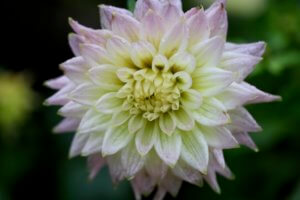 Mop Head Hydrangea
These are the bright pink mop heads.   In the summer they give a neon shot of colour but I really prefer them in autumn when a more tasteful reddish tinge takes over from the sugary pink.  I leave these papery flowers on all winter and they are very useful in Christmas flower arrangements.
New vine
I like to tell people what varieties of plant I'm featuring but this vine was a cutting from a friend and she doesn't know.  What we do know is that it does well in her garden, which is as good a recommendation as anyone needs.  I'm going to plant this to train along the fencing down by my pond.
I'm featuring it as it's gone a beautiful pinky red – the colour of mediterranean terracotta.
Soldanella alpina
As autumn bites I start looking forward to spring.  I'm very excited to have sourced this unassuming little plant from Kevock Garden Plants.  In fact I bought three of them – one to try out in the woodland area, one in my new rockery and one pampered in the cold greenhouse.  I hope all three flower next year.
The best photo I have of this little delight is an image from a market stall in Takayama, Japan.  I've seen several in this country too.  I hope you can see the little lavender flowers that look like a downturned frilly lampshade.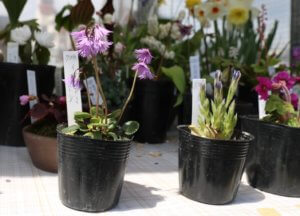 Wood Anemones
I decided to try some wood anemones on the little bank beside my woodland path. Last autumn I planted some under a tree elsewhere in the garden these are slowly establishing.  Very slowly.
Wood anemones are difficult to establish but if they get going it'll be worth the wait.
Last year I didn't soak the worm-like rhizomes before planting but this year followed advice to do so.  They did swell a bit and tuned a beautiful shiny mahogany brown.  If you want to know more about where and how I planted them last year click here.
This seasonal diary is part of a weekly link-up of garden bloggers from around the world, called Six on Saturday.  For more information and links to other blogs crammed with gardening activity, check the blog of host The Propagator.