Autumn is here, I think we can say that now.  Conkers are crashing to the pavement, we awake to chilly mornings and rain keeps arriving in pulsing waves,  interrupted by warm sunny spells.  It's a confusing time of year when I lament the season passed yet can revel in those plants that still have something to offer.
Autumn colours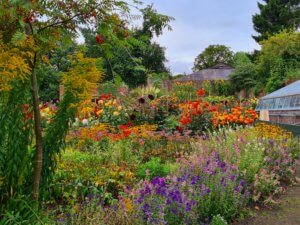 Last week I took my eldest daughter to university in Durham and was thrilled to find a little garden off the South Bailey there, ablaze with late colours.  It was crammed with dahlias and late flowering perennials.
I've since found out that it supplies flowers for the cathedral, a building so splendid it hardly needs adornment and yet I love the thought of the displays that can be created with these gorgeous blooms.  It's behind a locked gate and I can't criticise this decision given the antics of some of the students I remembers from my time as an undergraduate.
This garden proves just what is possible in an autumnal garden.
Hedychium gardnerianum
Back in my own garden, this is a splendid ginger lily glows golden in the autumnal sunshine and scents the air sweetly, especially at night.  It's in my tropical border and flanked by hardy bananas to the right and a lovely pink flowering shrub called Anisodontea 'El Rayo' to the left.  The latter was hit hard by late frosts but has bounced back very well.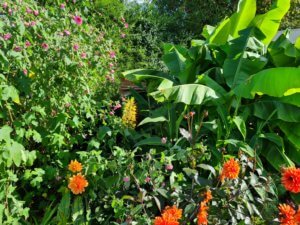 In front of the ginger is a really lovely dahlia called 'Orange Pekoe' which continues to flower prolifically.
Various squash
Sporting orange flesh the colour of my orange dahlias are three well formed squash called 'Red Kuri'.  The dark green one is called 'Choggia' and it has a beautiful "Cinderella Coach" shape.  These varieties have hard skins which mean they store very well and in years of good harvest some have been known to last until the following February or even March.
Agave parrasana 'Meat Claw'
This beautiful plant looks great all year round.  It has evil looking spikes but a really attractive strong form.  It looks lovely in this pot on my patio all summer and will be retired to the greenhouse for winter.  It is, however, thought to be pretty hardy in the UK as long as it's protected from overhead wet and damp snow.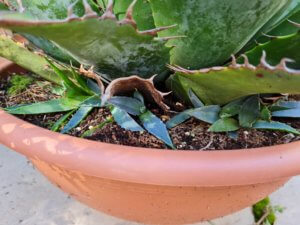 It's not particularly widely available, and expensive if you can find one, so I was delighted to spy half a dozen little baby meat claws around its base.  I'll be donning the gloves to separate them off and pot them on.
Succulent table
The baby meat claws will probably be arranged on this succulent table in the greenhouse.  I have lots of little succulents – various aeoniums and echeverias that I've collected over the years, but I can rarely remember what they're all called.  Nameless they may be but it's a jolly collection.
Cyclamen mirabile 'Tilebarn Nicholas'
The meat claw agave is agressive-looking so the contrast with this delicate cyclamen could hardly be greater.  I don't have giant hands – this is planted in a 9cm clay pot. That's how tiny it is.  The long sepals are twisted and the palest of pinks, radiating from a bright magenta base.  The dark green and grey leaves are also edged in pink.
This seasonal diary is part of a weekly link-up of garden bloggers from around the world, called Six on Saturday.  For more information and links to other blogs crammed with gardening activity, check the blog of host The Propagator.