I have collected pot planted spring bulbs together on an outdoor table where the combination of colour and form cheer a winter day in sunshine or gloom.  This week I've also visited a snowdrop garden, sown my sweet peas and fiddled about with a labelling machine.
Snowdrop collector
Last Sunday I went to a National Garden Scheme garden open day, where the owner holds the National Collection of snowdrops.  The owner grows 2000 different cultivars in his smallish front and back gardens.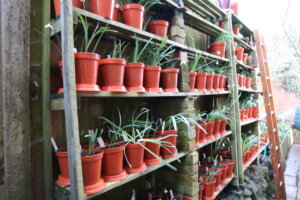 I really liked the way he had constructed this outdoor shelving to store his many precious snowdrops that he was raising in pots.
Woodland snowdrops
The NGS open garden had a wonderful little plant stall and of course I was tempted to buy a couple of new snowdrops.  Last week in my Snowdrop Special, I focussed on three snowdrop species.  Well, here is a fourth.  Galanthus woronowii is a lovely species where the leaves are a glossy green colour, rather than the pale green glaucus leaves found in other species.
I bought this substantial clump and planted them straight out into my woodland garden.  They look like they've been there forever.
Crocus sieberi 'Ronald Ginns'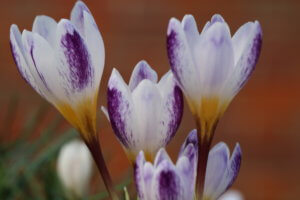 This crocus is delightful and whilst it is said to perform very well in the garden, it also looks stunning in a dainty pot on a table top.  I love the deep orange throat and the purple speckled petals.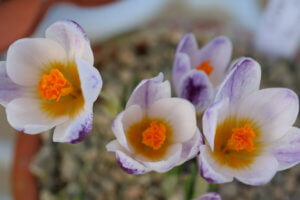 I bought these bulbs from Pottertons nursery at the Alpine Garden Society's bulb day last autumn.  What I love about spring bulbs is that a few minutes spent in the autumn throwing some bulbs in a pot and the joy on a cold winter morning is immeasurable.
Iris reticulata – pretty cultivars
Talking easy spring bulbs, Iris reticulata look amazing but are so simple to grow.  This year I have a few different ones but flowering well this week is pale yellow 'Katharine's Gold'.  From the name I imagined these would be more golden yellow.  Look closely though, you can see a golden flash on the petals.
Also looking good this week is one called 'Blue Note', again not exactly what I expected as it's actually a very deep purple colour.  When you stand in the sunshine though you can just see blue shimmers and tones.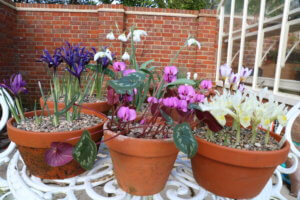 Sweet pea tubes
I took the plunge this week and sowed my many packets of sweet peas.  As usual I'd bought too many but I fall in love too easily with sweet pea varieties .  I used sweet pea tubes to sow into, an added cost I believe to be worth it, as the roots of sweet peas really do grow straight down.
In order to make the tubes easier to fill, I fold them in half and then half again to form a square tube (is that still a tube?) and then sandwich them tightly into plastic trays.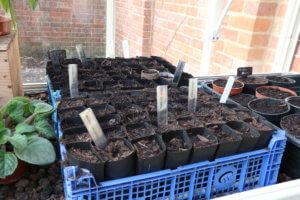 Plant labelling machine
A big revelation for me has been using a label machine for plant labelling.  Permanent pen seems to be semi-permanent on plastic labels. Wooden ones just rot and cheap plastic ones can become brittle over time and can snap.
These metal labels are indestructible but are difficult to mark on so I tried out my old labelling machine.  Not only do they look really neat but they are also waterproof.  I hung a few on shrubs over the winter and the labels still look as good as new.  This is certainly a more expensive solution than most but I suspect I'll loose fewer around the garden and am less likely to get plants mixed up because of illegible labels.  I'm a convert.
Red Hot Calendar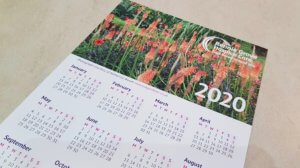 The hospice charity that I volunteer for likes to produce a desk calendar every year and I'm happy to give them some pictures to choose from.  This week they gave me a few for family and friends and I saw which picture they had chosen.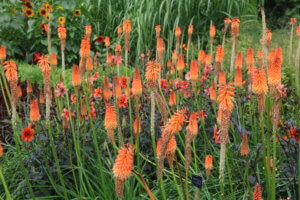 This is a bobby dazzler of a planting scheme.  I saw it last year at the Savill Garden and thought it was knockout.  A combination of a red hot poker Kniphofhia 'Alcazar' and a tangerine coloured single dahlia which I forgot to note the name of.  It was several metres square of ret hot fabulousness.
This seasonal diary is part of a weekly link-up of garden bloggers from around the world, called Six on Saturday.  For more information and links to other blogs crammed with gardening activity, check the blog of host The Propagator.