New pond and froggy staircase
My pond looks like a smiley face with a monobrow and I am understandably beaming at how the pond has turned out.  This week the contractors cut the paving slabs to complete the shelving for marginals and then we topped up the water.  It looks fabulous and has really enhanced this part of the garden.
I used to call this the Old Herb Garden, as it's where the previous owner grew herbs, but I can now officially rename it the New Pond Garden.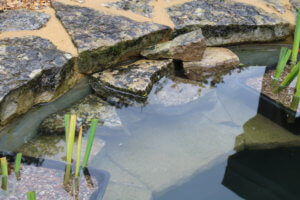 I'm particularly pleased with the escape ramp for amphibians.  This is a concrete tank construction with steep sides and I think it might be a struggle for frogs and newts to get in and out.  With the froggy staircase it should be a breeze.
Pond marginals – Iris
These were given to me when my neighbours needed to fill in their large pond because of building work.  These needed splitting and repotting into aquatic baskets but should thrive now and give the pond a pretty fringe.  Three baskets have a taller variety which has yellow flowers, the fourth a variegated variety with blue flowers.
There's room for some more marginals but I have all winter to decide what I'd like.
Woodland Walk
Featured last week, here are a couple more views of the woodland walk.  It's opened up a large area for planting and even more was cleared last weekend by myself and my husband.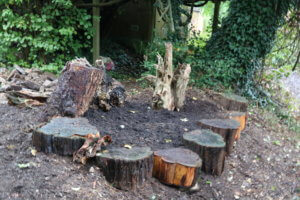 I focussed on clearing rubble and ivy from this bank and I then manoeuvred some old larch roundels into place to create a little stumpery.  The logs will add additional support to the terrace and provide an attractive foil for ferns and other woodland plants.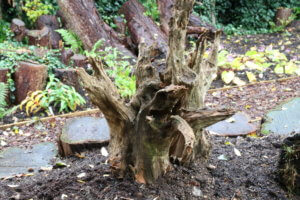 I'm particularly pleased with this stump as it creates an attractive focal point at the top of the bank.  The stump was dug out of a bed elsewhere in the garden earlier this year.  Once some plants are planted here it'll look even better.
Multi-stemmed hazels – Corylus avellana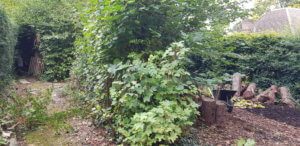 My husband had clear instructions of what to remove from this overgrown line of hedging.  I'd had a good look at the plants and could see three multi-stemmed hazels amongst the field maples, sycamores and hawthorns.  I had a hunch that these would look graceful with everything else cleared and would provide some shade in the summer for some new woodland plants below.

Here's the after picture – taken from the opposing view to the one above.  It's turned out so much better than I imagined.  It's hard work redeveloping an overgrown garden but it's so satisfying, especially when hidden gems like this are revealed.
Stinking Iris – Iris foetidissima
I wrote about this plant a long time ago as it appeared uninvited in the Old Herb Garden – sorry New Pond Garden.  As i'd forgotten planting it, I thought I'd chosen some exotic variety as the pretty flower looked amazing.
It turned out I hadn't planted it at all and that it is a fairly common native species that was probably carried to my garden by a bird.  Since arriving it had grown strongly into several large clumps which now look at home in the woodland area.
Here you can see the attractive orange seeds.  I'm very happy for it to spread around in the woodland area as there is allot of ground to cover.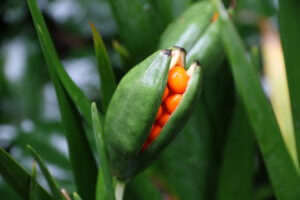 Outdoor Bonsai – Ginkgo biloba
I know not everyone likes Bonsai as many plant-lovers find it almost cruel to constrict the natural growth of a plant.  Having visited Herons Bonsai nursery and also various gardens in Japan, I have immense respect for the craft of Bonsai.  I enjoy the fusion of spirituality, creativity and living material that encompasses the art.
Bonsai also gives an opportunity to grow varieties of plant that would be too big for most gardens.  A case in point is ginkgo biloba, increasingly popular as a pollution-busting street tree but too large for many settings.
I picked this plant up on the clearance rack at a local garden centre.  It has a partially damaged stem and is fairly crudely shaped but I jumped at the chance to possess a ginkgo.  I'm so glad I did since the splash of amazingly shaped yellow leaves look fabulous in autumn.  It glows at the end of the garden on this little table.
I've written about my other outdoor bonsais before and you can read this article here.
Outdoor Bonsai – Acer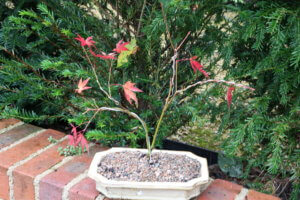 To add to my collection, this week I bought a cheap acer in a 9cm pot and decided to have a go at shaping a bonsai from scratch myself.  I went a bit mad with wire but am fairly happy with the shape so far.
I remember asking advice on shaping from Heron's nursery and being told "it's your bonsai – have a go and shape it how you'd like".  When I posted a picture of my efforts on twitter I had a few good comments including a suggestion of repotting this off centre.  The person went on to say "Do it if it makes you happy".  I love that about bonsai – it's a spiritual art – and whilst the best bonsai shapers are masters of their craft, I'm content with my beginner efforts.  This week it definitely made me happy.
This seasonal diary is part of a weekly link-up of garden bloggers from around the world, called Six on Saturday.  For more information and links to other blogs crammed with gardening activity, check the blog of host The Propagator.