This week saw some days that felt like spring.  Sunshine, birdsong and a feeling that things were waking up, stretching and deciding on their plans for the day.  The crocuses have been most busy, putting their spell on me to the extent that they deserve a special this week.
Crocus corsicus
This crocus from the mountains of Corsica is a thing of pure beauty.  Much as I love the fatter dutch-bred crocus cultivars, there's something very appealing about this slimline species.  They look like little dancers pirouetting across the rock garden scree.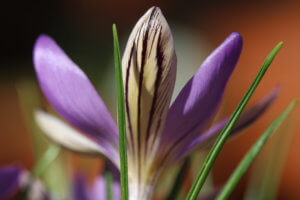 The Crocus corsicus  is a delicate lavender and each alternate petal is tinged yellow with a purple tiger stripe.  I've said enough – the pictures speak for themselves.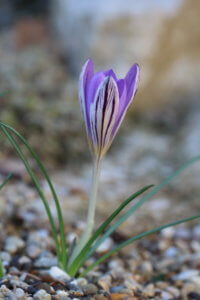 Crocus heufellianus
Another species crocus, this time hailing from the Carpathian mountains.  The distinctive feature of crocus heufellianus is the squiggly chevrons across the top third of each glowing lavender petal.  I was given four small bulbs of this by my late friend Mr Snowdrop and have split off and grown on several bulbils with one now at flowering size.  Having increased my stock I shall be planting some out in the rock garden to add to the drama there each spring.
The name of this is very difficult to pronounce so I've always just called it heffalump.  Or is it hufflepuff?  Either will do as yet again, words don't matter.  The pictures do the talking.
Crocus sieberi 'Tricolor'
This little gem is increasingly popular on social media and is definitely a positive garden influencer.  These flowers are three toned with segments of custard yellow and Dairy Milk purple, separated by a band of pure white.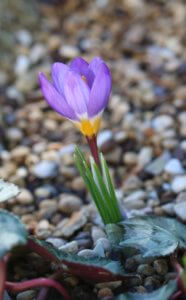 I've got some in the rock garden and some in pots and all are a delight to behold when goblet shaped in the morning or wide open in the sunshine.
Crocus chrysanthus 'Advance'
This is a delightful diminutive crocus with very pretty patterning and is pretty widely available to buy.  The majority colour is a delicate buttery yellow but it has dramatic  claret stripes and blushing on every other petal.
Crocus tomassinianus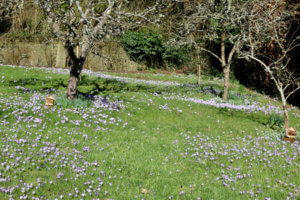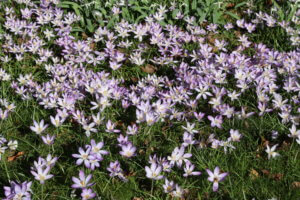 There is no stopping the advance of this crocus across the garden but I wouldn't want to even if I could.  This is the orchard meadow area which we now leave unmown all summer.  We always make sure the grass is cut as late as possible in the autumn though, to show off this purple carpet of crocus.
When the sun shines they open up and the bees flood in.  It's the perfect place to sit and relax and watch the bees enjoy the early season nectar.
Potted display
Here are a fews crocuses in pots.  They're congregating on the top shelf of my little plant stand and looking down on the bulbs below that are still having a lie-in.  Come on out guys – spring is here!
This seasonal diary is part of a weekly link-up of garden bloggers from around the world, called Six on Saturday.  For more information and links to other blogs crammed with gardening activity, check the blog of host The Propagator.