Dahlias are beautiful flowers to bring into the home, adding a touch of late summer or autumnal opulence with minimal effort on your part.
In many cases dahlia arrangements are little more than a jumble of colours and shapes reminiscent of a carnival float, but they almost always just work.  Dahlias have a great quality – they are so alluring in themselves, it's actually very difficult to go wrong when it comes to arranging them.
Here I describe four simple methods for arranging in the home before describing how to grow dahlias or where to buy them.
Preparing your flowers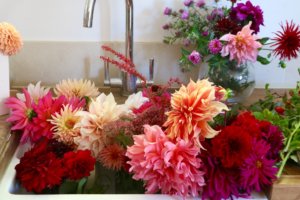 Dahlias do have a fairly short vase life of 3-4 days before they start to wilt.  This can be assured or even prolonged a bit by placing them up to their necks in water in a deep jug or vase for a few hours before you arrange them.  This is known as conditioning.
For thicker or hollow stems it can be a good idea to prick a hole in the base of the cut stem to remove the air locks that stop the stem sucking up water.
I admit I don't usually bother with either of these steps.  I usually bring them in from the garden and get arranging.  It is always worth stripping any lower leaves from the dahlias though.  They rarely add anything to the arrangement and can begin to rot in the water.
1. Bottle Vase Displays
The thing about dahlias is that they usually have straight stems and the flowers usually point outwards like a sunflower.  Put these in a wide neck vase and they lean downwards, looking at the floor like naughty school-children.
The solution is to put them in narrow necked containers that hold them upright like soldiers on parade.  Glass bottles are perfect for this.  I have a little collection of bottles – a mixture of fizzy pop bottles, preserving bottles and even tiny milk bottles.  I have been known to put pretty ones in my handbag at restaurants but my favourite is a Dandelion and Burdock pop bottle reminiscent of my youth.
Arranging couldn't be simpler.  Just fill them up with water and put a stem in each.  Stand back and take a look at it, cutting the stem further if it looks unbalanced or if you think it might topple the bottle. Some of the larger flower heads such a 'Cafe au Lait' or 'Labyrinth' are pretty top heavy.
When I go out to cut dahlias I often find a mixture of flowers from different plants ready on any given day.  A collection of bottles and an eclectic mix of colours and shapes really looks great alongside eachother or lined up down the centre of a table or shelf.
A larger bottle can contain more than one flower.  The width of the bottle mouth will dictate how many stems you can use.  In this green ridged bottle I arranged white Dahlia 'Blanc y Verde' and lightened the appearance with two sprays of a white, constellation-like Aster.  This combination would also work for a simple hand-tied wedding bouquet.
2. The bung it in a vase approach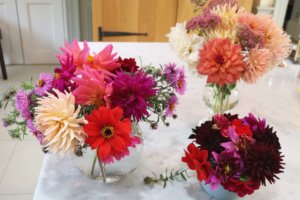 There's not much to say about technique here – you simply cut the stems and put them one by one into a vase of clean water.  The great thing about dahlias is that amassed in a group, the big heads become self supporting.  In each case, though, the choice of vase in important.  The vase should ideally not have a neck wider than the base.
Each of these three arrangements took less than 2 minutes to create, the smaller jug less than a minute.  I didn't pay much attention to which flower to put where, or even which colours to put in each vase.   Apart from white dahlias – which I find more difficult to arrange alongside bright colours – I have never found one which really jars with its neighbours.  In fact the brash clash is a good look.
Of course, if you're looking to blend your arrangement with a certain home interior or table colour scheme you may want to think a bit more carefully.  The arrangement at the back has a paler vibe, despite the fact that it contains the very bright orange and pink dahlia 'American Dawn'.  The pastel colours of 'Henriette' and 'Cafe au Lait' set the tone here.
The small arrangement in the foreground has more luxurious deeper tones and contains dahlias 'Mambo', 'Bishop of Llandaff', 'Karma Choc' and 'Thomas Edison'.
If you're a bit short of dahlias, you could accompany them with other seasonal flowers or foliage.  The arrangement on the left contains shocking pink Asters and the paler one at the rear is bulked up with pale pink Achillea.  A great approach is to buy or cut foliage for your vase and then dot the dahlias in.  You'll probably find the dahlias droop after 3 days, so you could then whip them out and replace them – the foliage should still be going strong.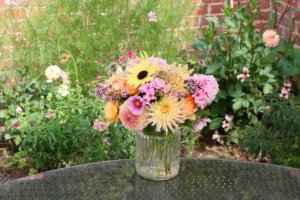 In the summer I created a mixed arrangement in pastel tones using a combination of flowers and herbs but featuring Dahlia 'Linda's Baby' and 'Henriette'.  Here I used the woody stems of oregano to provide a structure in my vase before adding further flowers. If you want to know the ingredients and method for this arrangement click here.
3. A refined autumnal bowl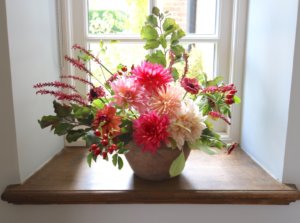 This arrangement took a bit longer – but still less than 15 minutes once I'd collected everything together. Here's a step by step on how to create it:
Prepare your vase – I chose a wide earthenware bowl in brown tones to offset the autumnal browns, pinks and oranges of my flowers.  The diameter of the bowl is too wide to arrange heavy flowers easily.  I rolled up a large square of chicken wire into a ball and placed it into the bowl to support the stems and make placement easier.  Go carefully when you bend the wire or wear gloves as the cut ends are very spiky.   Another option would be to cut floral foam and put it into the bowl to secure the stems.  Don't forget to fill the bowl with water. 
Arrange foliage into a loose triangle shape – I used three stems of copper beech that had fallen from a tree as these had a burnished tone that I thought would look good with my flowers.  I chose what I think is called an Isosceles triangle for an informal look or you could go equilateral if you like symmetry.  I then put more foliage in between to bulk out the centre and provide the overall shape for the arrangement.
The dahlias came next. As each one is essentially a dense block of colour they don't look right suspended airily above the design.  I therefore put them fairly low in the arrangement, some touching the edge of the bowl, and grouped together as if to 'ground' the arrangement.  Don't be scare to put two of the same colour together – this can often look better than a contrived even distribution of colour across the arrangement. I used Dahlias 'American Dawn', 'Henriette', 'Cafe au Lait' and 'Karma Fuchsiana' here.
Next came some airy plants to lighten the appearance of the arrangement.  I used a garden Persicaria, which has long pinky red flowers that are essentially stubby spires.  I also added some rust red Zinnia 'Red Lime' as I had some in the garden and they added small buttons of colour in a contrasting shape to the dahlias.
Finally I added a touch of autumn using some rose hips cut from a rambling rose.  Any berries would do though.
Keep the arrangement topped up with water and it should look good for 3-4 days.  If any of the dahlias begin to wilt you can gently pull them out and replace with another fresh from the garden.
4. Hanging dahlia globes
This is a fun idea which came to me as I considered the shape of the ball or pompom dahlias.  Pompoms are mesmerising to look at up close, the symmetry of the petal arrangement a joy to behold.
These glass balls are all the rage at the moment and mimic the spherical shape of the pompoms.  Popular for succulent and air plant displays, they are easy to buy online or from florist suppliers and gift shops.
When I first tried this I found that the pompoms naturally sat too low in the glass spheres, whereas I wanted their middles to be central to the front window.  I therefore used a bit of moss in the base of the glass to raise each flower slightly.
I cut the stems of each dahlia very short but still left a 3-4cm piece of stem to enable it to suck up some water.  Once cut, I slowly pushed each dahlia through the window.  As you do this the petals can be pushed forwards slightly so make sure to gently pull it forwards again to correct the petals.  Once you're happy with the arrangement, tip the sphere backwards and pour in 1-2 cm of water.  This will keep the flowers fresh for 3 days.
I also tried this with a more decorative dahlia called 'Bacardi', which has a looser structure but worked well in a larger glass sphere.  Again, manoevering the dahlia about a bit inside the glass will correct and petals pushed out of place when putting into the glass.
If you buy glasses with hanging loops, it's very easy to use string to hang them up around the house.  I hung a line of these on strings tied to a stick and laid it on the top of a wooden settle.  I also hung some  from a picture rail alongside my kitchen clock.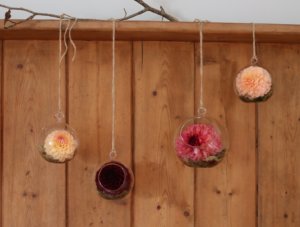 Sourcing Dahlias
Unfortunately, dahlias have a relatively short vase life compared to mainstream blooms.  This means that very few high street florists will stock dahlias in any great quantity or variety, if at all.  That's not to say you can't get them but you may need to ask if they'll order them in.
The 'Grown not Flown' movement for British Flowers, and an increase in the number of British cut flower farms, has made dahlias and other shorter vase-life flowers slightly more accessible. Flowers from the Farm is a not-for-profit network of British flower growers and its website contains a map of locations of the 500 members.  Hearteningly, the map looks like the country has multi-coloured measles – so many suppliers the length and breadth of the country.
So, with a bit of pre-planning you can find a supplier of fresh beautiful flowers for a knock-out display and this is increasingly popular for weddings and large celebrations.  Who wouldn't want an arrangement of more unusual blooms on their big day?
But what if you just want a few flowers at home?  Well – I am a gardener and I know how easy it is to grow dahlias at home, even in a small garden.
It's east to grow your own – in Town or Country.
For the smaller quantities needed for home decoration, the best solution is to try growing them yourself.  Even in a tiny London courtyard I managed to grow 4-5 plants each summer that rewarded me with enough flowers to dot round the house on tables, shelves and windowsills from July through to October or even November in warmer autumns.
And what a talking point they are – everyone is always blown over by how stunning they are and assume that a great level of skill is needed to grow them.  There really isn't.  If you want to know how to grow dahlias click here to read my 'Dahlias for Debutantes' article, which tells you everything you need to know to get started.
My mantra when it comes to growing dahlias, or indeed any flower, is don't be afraid to pick.  Of course you want your garden to look colourful but for dahlias in particular, the more you pick the more blooms you'll get.  Deadheading of spent blooms is important to keep a plant flowering – I just look at dahlia harvesting as early deadheading.