Easter is a celebration of springtime and one of the joys of growing flowers and shrubs in your garden is being able to use them for home decorations.  Easter is one of my favourite times of year for this.  The flowers available are more limited than in the summer but what is there is pretty, diminutive and symbolic of spring.
Tea cup decorations and arrangements that use only small amounts of flower and foliage are a great idea at this time of year as you're unlikely to want to denude your garden too much in search of floristry material.  Florists can also provide lovely spring time flowers if you need to augment what you have in the garden.  Be imaginative with what you have available.
Here are some ideas that I put together with flowers from my garden.
Easter Egg boughs
Hand-painted blown eggs are fun to decorate and look beautiful suspended from garden boughs.  Any twigs will work but if you can spare some cherry blossom, your display will have a fresh pink note of spring.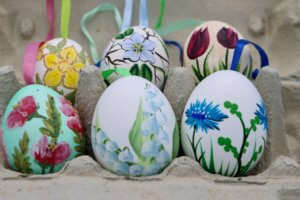 If you're not up to painting your own, decorated eggs can be bought from shops.  This collection is my favourite, and was bought on a trip to Salzburg in Austria.  The eggs are hand-painted with spring flowers, including Tulips, Narcissi and Lily of the Valley.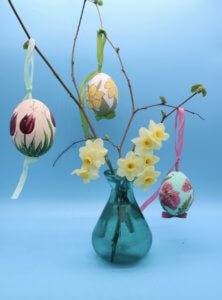 In this display I used some of my Salzburg eggs, suspended on two branching hazel twigs, just coming into leaf.  For the final touch of spring, plus a delicious scent, I added perfumed miniature narcissus 'Minnow'.  This arrangement is only 25cm tall and would look great on a bedside table or sideboard.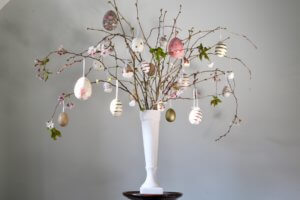 Of course you can go big with Easter Egg bough arrangements.  This one has two cherry boughs, bulked out with many more hazel branches and decorated with shop-bought painted eggs and miniature porcelain birds.
This would make a stunning Easter Sunday table decoration, or as here, a prominent display on a plant stand or coffee table.
Ostrich Egg Vases
When I started thinking about Easter I remembered that ostrich eggs have a hole the size of a penny in the top, making each one a novel vase.  Admittedly, not everyone has Ostrich eggs knocking about at home but I was lucky to be given these by my interior designer brother.  I found some similar ones on ebay for between £12 and £20 each and they do make attractive home decorations at any time of year when grouped together in a bowl.
I wanted to make the arrangement in such a way that it was stable but so that I could disassemble it easily after easter. I have discovered that ostrich eggs are porous so it's worth lining your basket with plastic or making sure that you place the arrangement in a plastic dish to protect your surfaces.
To begin, I scrumpled up some brown paper in the bottom of a plain basket and then nestled each egg in, with the hole at the top of each one.
They do wobble about but once you pour the water in, the weight of water holds the eggs down and makes the whole thing more stable.
I then arranged some paper eggs around the ostrich eggs to hide the brown paper.
I chose pale plum Hellebores and small cuttings of Prunus Kojo-No-Mai to arrange in the eggs.  Daffodils, especially the paler yellow varieties, would also look good.
Prunus Kojo-No-Mai is a beautiful small cherry tree or multi-stemmed shrub suitable for any garden, even a small one.  The stems are woody, often carry lichen, and have a convoluted, even zig-zagged shape.  The flowers are very pale pink and have a delicate sweet fragrance.
Tea cup pots
By far the easiest way to arrange in tea cups is to use them as mini planters and pot up the flower roots and all.  If you haven't got any in your garden then spring bulbs and pot plants are widely available at this time of year from garden centres and florists.
Great bulbs for this purpose are muscari otherwise known as Grape Hyacinth.  These are a rich royal blue which would look lovely in a yellow cup.  I chose bright yellow narcissus 'Tete a tete" and pale yellow primroses as I thought they would look good in my royal blue Spode sugar bowl and milk jug.  In the tea cup I planted two-tone yellow and purple viola.
Keep them watered, especially if your home is warm, but be careful not to overwater as there are no drainage holes.  You can plant them back out in the garden once the Easter festivities are over.
Mini tea cup flower arrangements
A step up from the potted tea cups are mini flower arrangements.  As tea cups are fairly shallow but have a wide rim, flowers are difficult to arrange effectively just in water. They really flop about.
The best way to make this mini arrangements is therefore to put some floral foam in the cup.  Soak it first for half an hour in a sink.  Take out the block and twist the rim of the cup onto the foam to show the diameter.  Cut round the foam with a knife and then reduce the base until you can slide it snugly into the cup.
It's a good idea to cover the foam in some moss.  If the flowers you are using have strong stems it should be possible to poke them through the moss but if not you'll have to do this afterwards, weaving the moss round the stems.
The contents of both these pots were in my garden and I tried to be imaginative, using buds and shoots to add interest.
This cup contains Flowering Quince chaenomaeles japonica and twisted willow for a slightly oriental look.  It also contains mini leaf buds of weigela and spirea.
In this arrangement I planted up a tiny primrose in half the cup, roots and all.  I then placed a half cup sized piece of floral foam behind it so that I could arrange the narcissus 'tete a tete' flowers prettily.