Whilst it feels like the garden is slowly climbing the stairs and putting itself to bed, there are still some plants having a party in the living room.  Here are a few plants really showing off and others needing some preparation for next spring.
Apologies for the photography – I've leant my good camera to my daughter so these are inexpertly taken with my phone.
Auricula collection
These auriculas are due a repot and tidy up soon.  I'll pull off any yellow or rotting leaves and split any congested clumps.  Since flowering they've been sitting against this shady wall but recent rainy deluges remind me that they could do with a bit more shelter over the winter.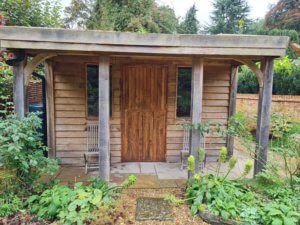 I've decided that a great place to store them would be in the overhang of this shed, so once I've potted them on I'll relocate them.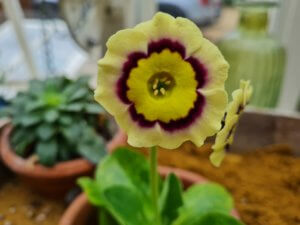 Meanwhile, one auricula has decided not to wait til spring and is flowering now.  It's a really lovely sunny one called Sirius and I've put in the shelter of the greenhouse where I can admire it daily.
Strelitzia reginae
The leaves of a strelitzia, otherwise known as the Bird of Paradise flower, are are very graceful shape but I'd always wondered if I'd ever get a flower too.  This week I realised there were two flower buds developing.  You can just see the deep orange flash at the base of the first flower.  I'll be interested to see how quickly it will open out.
Brugmansia
Also having another flash of flowering in the greenhouse is this pretty white Angel's Trumpet.  The plant it's on is developing into a small tree and may need cutting back again.  I've found each pruning roots well to make new plants to give away.
Red Banana – Ensete ventricosum
Another plant getting rather large is this beautiful red banana.  I've had it three and a half years and it was due a repot so as a treat I planted it out in the soil for the summer, knowing it would need potting up for overwintering in the greenhouse in autumn.  It's clearly loved having its roots in the soil and has grown very well this year.  I'm now wondering whether I have a large enough pot for it and it'll be a two person job to get the repot done.
Sinningia tigrina Red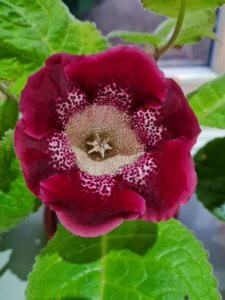 I featured some purple sinnigias a few weeks ago and now this red form has thrown up a flower.  It's a lovely deep red, the colour of old theatre chairs and inside has hundreds of charming speckles.
Snowdrop collection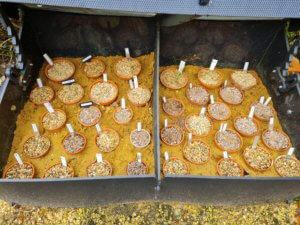 Checking over and repotting my snowdrop collection takes a few hours but is a good job for a rainy day in the greenhouse.  I usually do this much earlier in the year but finally got it done in September.  This week I checked all the labels and made new ones for those lost, broken or faded.
Looking at this photo I probably have too many in pots but I have started the process of planting some out in the garden and rockery so they can care for themselves.  Some have also been planted out in the rockery.  What is great is that many of the ones shown here in pots are babies of larger bulbs which I have now planted out.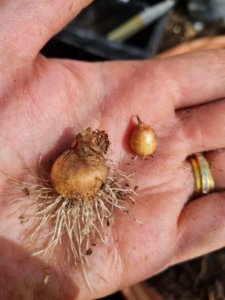 This seasonal diary is part of a weekly link-up of garden bloggers from around the world, called Six on Saturday.  For more information and links to other blogs crammed with gardening activity, check the blog of host The Propagator.