Summer's not over yet.  The warmth returns this weekend, much to the relief of some of my exotic plant.   Joy of joys, my Angel's Trumpets are now in full bloom.
For me, one of the great joys of gardening is finding unusual or exotic plants.  This long-standing habit has intensified since my new greenhouse came along as overwintering half-hardy or tender species is now more easily achieved.
The term exotic means "originating in or characteristic of a foreign country" so don't necessarily have to be tender but most of those featured here are.
Fuchsia arborescens
Originally from the cloud forests of Central America, this is a species fuchsia which doesn't really look like a fuchsia at all.  The leaves are more like a guava or maybe a ridged version of a citrus leaf but you can just tell from this young plant that it has the potential to be majestic.  The flowers grow in clusters and are a very attractive pink colour.  Best of all, after flowering they form an edible berry, which tastes a bit like a grape but not particularly sweet.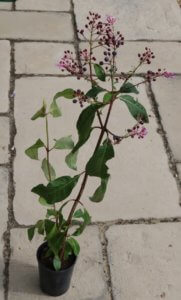 I bought this plant after hearing a talk from a fabulous nursery called Pennards in Somerset.  Master grower Chris Smith has become a specialist in what he describes as 'Edimentals' – that is edible ornamentals.  Having pretty shrubs that are also edible is surely the ultimate gardening combination and it's worth looking out for Chris at garden shows or checking out the website to find out more.
This Fuchsia is tender and whilst it can tolerate some frost it would lose its leaves, so I'm intending to grow it in a container and overwinter it in my greenhouse.
If you want to know what it can look like as a mature plant, I found this link to another supplier of exotics who has some great photos of this majestic shrub.
Lantana camara
This plant reminds me of mediterranean holidays, where its clustered flowers often seem to grace municipal plantings and street-side flowerbeds.  Originally from central and South America, it was brought to Europe by Dutch explorers but I now read that it is grown globally and has become an invasive species, especially in Asia.  No fear of it becoming invasive in my garden as it's tender anyway and safely contained in a large pot in my greenhouse.  It clearly feels very much at home.  Brush against it and a lemon and sage scent is released, unsurprising as it is a member of the verbena family.
I bought this plant at a steam fair last year and it had no label.  Most Lantanas are have a yellow and orange colour-way but this one incorporates shocking pink.  I've done a bit of searching online and have found a names verbena variety called 'Patriot Firewagon', which looks very much like this one.
Canna
I'm very proud of this lemon coloured canna as it was grown from seed collected from my big orange canna.  In fact, the pot had my handwritten label 'Orange Canna' on it until the flowers opened this lovely sunny yellow.  I have since looked into canna parentage and discovered they don't usually come true from seed.  Much as I love my orange Canna, I think I love this more – mainly because I nurtured it from hard black seed to flower.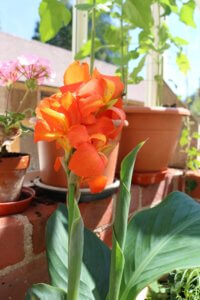 Solanum quitoense
I shared pictures of this weird and wonderful plant earlier in the summer and just look at it now.  These leaves are huge, some 40-50cm from stem to tip and each plant stands 80cm tall.  These have grown from seed sown in March. Some plants really do romp away given the chance.
However, these are not friendly looking plants.  The leaves and stems have grufallo-like purple prickles everywhere.
It's clearly an exotic foliage plant but I was intrigued to see if it would flower.  I assumed it would as the seeds had to have come from somewhere.  This week the first flower opened and unsurprisingly it looks like a rather large potato flower – potatoes also belong to the solanum family.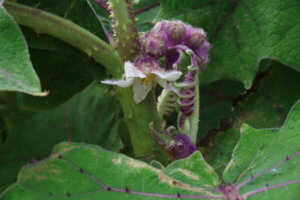 Little orange fruits, known as 'naranjillo' could follow flowering but I suspect we may be running out of time this season for them to appear and ripen.  I suppose I could pot one up for the greenhouse but those purple prickles may well make that a risky endeavour.
If you want to see what this plant looked like earlier in the summer, with a close-up of those prickles, click here.
Delesperma Jewel of the Desert 'Peridot'
Unlike the large solanum, this plant is really very small. Grown from a tiny mail-order seedling from Hayloft plants, it has romped away to form a little flowering mat the diameter of a golf ball.  These are sold as rockery plants but I love to grow them in pots where over a season or two they smother the surface in healthy, fleshy leaves dotted with jolly, daisy-like flowers that open in the sun and close up at night.
If you're looking for an outdoor table centre-piece this is a great choice and it isn't tender at all and can be left outside for the winter, although I try not to let mine get too damp.  Here's a picture of a pink variety from last year.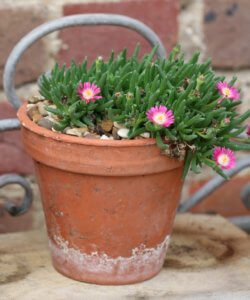 Brugmansia 'Charles Grimaldi'
This was the plant that prompted my exotic theme for Six on Saturday this week.  It's just glorious.
The common name for Brugmansia is Angel's Trumpets and if ever a plant lived up to a name it's this one. The trumpets of this variety are a pretty primrose yellow and they have fabulous sweet scent, best enjoyed in the evening.   I was trying to think of a way to describe the scent and the best I came up with was lemon drizzle cake.  I know, I know how much joy can one plant give?
What is incredible about this plant is how quickly it has grown from the mail-order cutting I bought from Exotic Earth Plants back in spring.  If you want to see what it looked like then click here.  Meanwhile, the second cutting, of a pale orange variety, has also grown very fast but looks like it won't be flowering this year.
I follow a lady called Ilena on twitter.  She grows a few stunning varieties of this in her garden in North Carolina and she shared some great pictures of these at night as it really shows off the trumpets.  I think I'll try her idea out over the next few days.
Beautiful as they are, these plants do contain poisons and care should be taken by humans and animals not to eat them.  My dog shows no interest but I do know this can be something people worry about.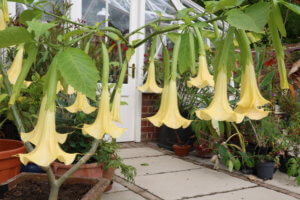 This seasonal diary is part of a weekly link-up of garden bloggers from around the world, called Six on Saturday.  For more information and links to other blogs crammed with gardening activity, check the blog of host The Propagator.