This week I've been out in search of some beautiful ferns for my woodland garden.
My shady woodland garden is still an empty stage set still waiting for some star players and I've been longing to audition some ferns for a major role.
When visiting a friend this week in Evesham I discovered she lived just 20 minutes from Fibrex Nurseries, which I knew to be growers of a wide range of ferns. As you can see from this picture I wasn't disappointed as the polytunnel benches were crammed with many varieties of evergreen and deciduous ferns.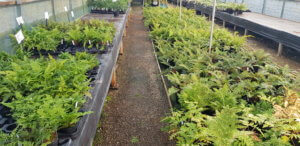 Ostrich of Shuttlecock Fern – Matteucia struthiopteris
I'm starting with the ugly duckling that's destined to be a swan.  This is a deciduous fern and is going dormant now, hence its bedraggled state.  I thought I had a few pictures of these at gardens I have visited but only managed to find this one of newly emerging Ostrich ferns amongst hostas, taken at Borde Hill Gardens in may this year.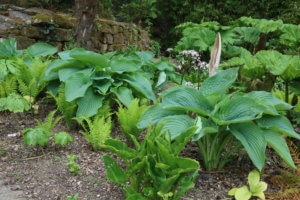 Picture these acid green fronds three to four times the size of this and you can imagine how spectacular they'll become.  They are shaped like ostrich feathers, or the feathers of an old-fashioned shuttlecock, hence the common names.
This is the ultimate in statuesque ferns and probably my favourite.  Consequently it's the only one that I have bought a few of, so that I can drift them through the moister areas of my woodland garden.
A local nurseryman I spoke to told me that whilst they're good in most types of soil, they really like it moist but well drained.  They will only reach the maximum size of 1 to 1.5 metres if conditions suit them.  I'm hoping that the soil in my woodland area will suit them but only time will tell.
Carrot Fern – Onychium japonicum
Another well named fern, the foliage of this one really does look like carrot leaves.  A deciduous japanese variety, it stood out on the benches at Fibrex Nursery as it has a beautiful form.  The wiry stems stand proud of the crown, giving it an airy feel.  Its maximum height is 45cm so it's not going to be a major player in my woodland scene but if I place it well, it should make an excellent extra.
Fibrex suggest this is good for normal to moist soil, although I read elsewhere that it was good for dry shade.  I also read that it is not fully hardy but given this is a sheltered position I'm going to risk it outdoors with a generous mulch.
Worrying was the sign on it at Fibrex saying "Slugs love this one!" but sometimes a plant is so beautiful it's worth risking the slimy munchers.
Polystichum setiferum plumoso multilobum
If any plant was crying out for a common name it's this one as in latin it's a bit of a mouthful.  The Polystichum genus of ferns does indeed have the common name – Soft Shield Fern – but this covers over 260 separate species.
Here is a great example of where latin names come in handy for further plant classification.  I've heard some saying garden latin classifications are elitist but you don't need to have studied classics to gradually build up a basic vocabulary of botanical latin terms.  Here the meaning of multilobum is obvious – multiple lobes. For a bit of fun I looked up the origins of the other 3 elements to the latin name here:
Polysticum – from the Greek words polys meaning many and stichos meaning in a row.  Apparantly this refers to the multiple rows of spore cases.
setiferum – this means "bearing bristles" derived from the latin setae meaning bristles and fer meaning bearing
plumoso – from latin meaning "like a feather". This refers to the fact the fronds have a multi-layered feather-like look
This evergreen plant is described by Fibrex as being adaptable to most conditions and should reach 45cm in height.
Athyrium filix femina 'Frizelliae'
This one is really unusual and does have a common name, the Tatting Fern.  I wasn't sure what tatting was so I looked it up.  It turns out it's a form of lacemaking whereby shapes are created for lace trims or collars using a series of knots and loops.  If you want to see pictures of tatting lace you can look at the wikipedia entry here.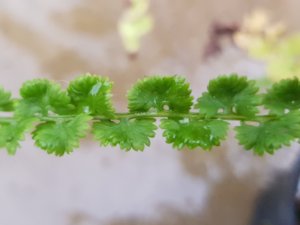 When you look closely at the fronds you can see how this got its name, although I think the lobes also look very much like little fans or even mini deciduous trees alternating down the stem.
This is a shade-loving British native that is hardy and should suit most soils.
Dryopteris affinis 'crispa gracilis congesta'
Common name of this one is the Dryopteris affinis group is the Scaly Male Fern. Hmmm – not sure I like that much so here's another little bit of fun latin for you all.  Again it shows how the latin gives a very good literal description of a plant.
crispa – curled or twisted
gracilis – fine or narrow
congesta – crowded
This is a small fern and is described as being good for a rockery or trough.  I'll look out for a little nook in one of my stumps but if I don't find a good place for it I may well grow it in a pot.
Polypodium cambricum

Polypodium means many footed and is used for this genus of ferns to describe it's spreading through rhizomes.  These I liked for the same reason as the carrot fern – the strong wiry stems bearing attractive fronds.  Here there are two types, on the right is the standard variety and on the left is a named variety called 'Conwy' which has a slightly broader serrated form.  It was found growing in the walls of Conwy Castle in Wales.
This is evergreen and described as being adaptable to most situations, even dry shade.
This seasonal diary is part of a weekly link-up of garden bloggers from around the world, called Six on Saturday.  For more information and links to other blogs crammed with gardening activity, check the blog of host The Propagator.