The cold finally set us all shivering this week as the unseasonably warm November draws to a close.  Friday morning made for some fabulous frosty photographs, including this one of my dog in nearby fields.
Home I went to photograph some plants in the frost.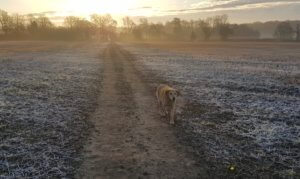 Frosty alpines
Alpines laugh in the face of the cold and their forms are often enhanced by a keen frost.  My rock garden was enhanced and looked pale and sparkly in the cold morning light.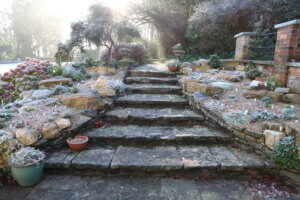 Contrasting Frosted leaf forms
So many of the alpines looked beautiful covered in icy glitter.  This cyclamen hederifolium ssp crassifoilum was flowering in the greenhouse in early autumn, and I shared pictures of its pretty pink flowers in a blog about greenhouse plants. It doesn't need winter protection though so I planted it out in the rock garden.  The shape of the ivy-like leaves, after which it is named, really stand out in the ice.  I'm almost impatient to see it flowering there next year.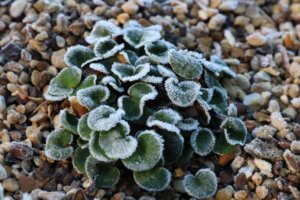 Meanwhile, the leaves of the soldanella alpina are a mixture of circular and heart shaped and were glinting in the morning sunshine.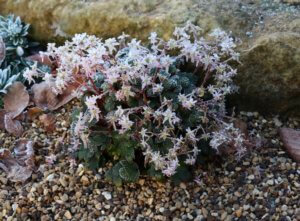 As fond as I am of these two dainties, they cannot hold a candle to the saxifraga fortunei, which I'm now featuring for a third time this month.  What can I say?  Any plant with this much flower power in late November deserves notice.  Superb, leaf shape, pretty sparkler flowers and now a frosting of silver ice, this plant continues to be the star of the rock garden stage.
Molinia caerulea 'Transparent'
This is another plant that I've featured recently but deserves a second outing after the frost.  The ice weighed down the fronds, opening out the structure of the plants and I've felt newly vindicating in leaving them intact for the winter.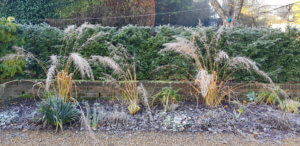 It's a wrap
We move now from icy beauty to dumpy ugliness I'm afraid.  Having promised that I'd wrap my Musa basjoo bananas 3 weeks ago, I put the job off as the weather forecasts promised mild weather and other jobs (bulb planting!) took precedence.  The aim in wrapping them for winter is to keep height in the trunks for the banana grove effect for next year.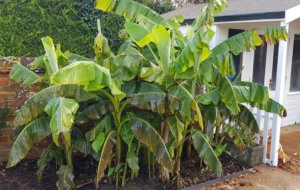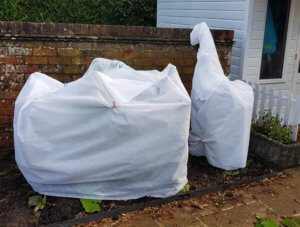 I took some of the lower leaves away, bent others down and cut off any newly emerging fronds.  Then I took a huge roll of horticultural fleece and wrapped it several times around the banana trunks, securing it with clothes pegs across the top of the plants.  Luckily I was able to split them easily into two groups.  I then covered the two groups with one huge green tarpaulin.  Boy is it ugly but at least the green side of the tarp is better than the reverse bright blue one!  I can see this green lump from the house but I know it's worth it for the tropical display next year.
Shiny bling
This kitchen philodendron is now in your face shiny after I washed its leaves in neem oil diluted with water.  Neem oil is a plant-based insecticide and I was trying it out as a treatment for scale insect.  I've been battling scale insects on this plant for over a year, brushing them off with cotton buds dipped in surgical spirit but not doing it regularly enough to break the cycle.  I'll be monitoring the plant to see if the scale insects stage a revival but a good side effect of the treatment is that the plant is shinier than a Christmas bauble.
This seasonal diary is part of a weekly link-up of garden bloggers from around the world, called Six on Saturday.  For more information and links to other blogs crammed with gardening activity, check the blog of host The Propagator.