I think we're all a bit anxious and fed up with Covid-19.  Back in March, when I used the word corona for horticultural purposes , I had no more than a niggling suspicion that it would still be affecting our lives and clouding our thoughts come autumn.
Still, the garden is a great diversion and this week the only super spreaders on my mind are in the rock garden.
Rock Garden Views
6 months after planting up my rock garden it's looking really great, due in no small part to the spreading habit of many of the alpines I planted.  The rate of growth is slow but many have inched across the gravel to fill the nooks between rocks.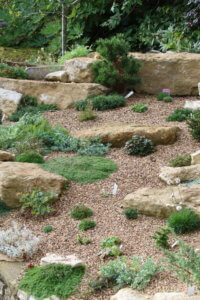 Silene acaulis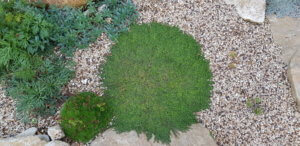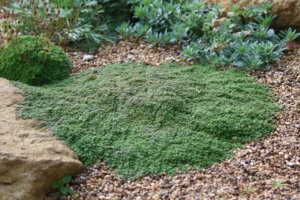 I'm really annoyed that I've lost the label for this one, although maybe it's actually not lost but engulfed within.  However, I'm pretty sure it is a Silene acualis or Moss Campion.  This plant is one that does seem to spread into a classic cushion shape and has grown to three times its original size just this season.  I like to give poetic descriptions of my plants but the best I can come up with for this is that it  looks like an enormous green cow pat in the centre of the rockery.
This too is covered in tiny white flowers in early summer and despite my bovine excrement description, I really do love it.  It gets the prize for the biggest rockery super spreader this year and I'm looking forward to seeing it take on the world next season.
Raoulia australis
This plant, often referred to as a sheep plant, was rather popular with you all when I first featured it and I have to say I'm very happy with how its made a home for itself alongside the yellow daphne.
It's slowly spread across the rock in the foreground and up the one to the side.  It even had tiny yellow flowers on it in the summer. Fingers crossed it'll survive whatever the winter will throw at us and I'm hoping the weather won't be too wet for it. I would definitely mourn its loss.
Thymus praecox
This is a white flowered creeping thyme, Thymus praecox albiflorus,  which determinedly sends out its stems across the rocks.  What I love is how random the direction of spread is – never 360 degrees in all directions. I keep wondering what the plant senses and how it decides which direction to go.  Most plants I grow always move to the strongest light, but I've observed enough variation in the direction of travel of some of my rockery plants to realise this is not the only factor.
Sagina subulata aurea
Here's another example of uneven spread.  In this case the raised parallel crevice stones put up more of an obstacle than the gravel in between, giving the plant an interesting flow and shape.  Otherwise known as Heath Pearlwort or Irish Moss, it is usually dark green but this 'aurea' variety is a fabulous, acid green.
This plant can create great hummocks and river-like flows.  Google it and click images and you'll see what I mean.  You can really have fun designing with this once you understand how it grows.  Even better, in summer it is covered in miniature white star-shaped flowers.
Erodium 'Bishop's Form'
This plant, with shocking pink flowers, has grown beautifully to fill its space amongst the crevice rocks.  This is a shadier part of the garden, getting sun in the morning only and yet it has spread both eastwards and westwards.   Here's a picture of it just a few weeks ago.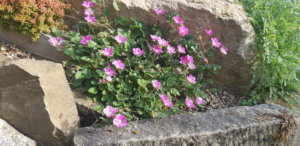 I would venture to say that it also takes the path of least resistance rather than be solely influenced by light.  It has flowered non stop all summer unlike some other flash in the pan alpines and is therefore a big favourite of mine. If you want a plant for a rockery or trough choose this one.  The Bishop will not let you down.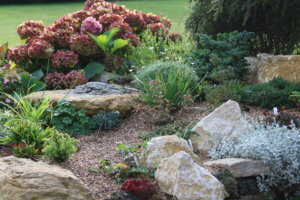 This seasonal diary is part of a weekly link-up of garden bloggers from around the world, called Six on Saturday.  For more information and links to other blogs crammed with gardening activity, check the blog of host The Propagator.