Wild Cherries brightening the roadside
The amount of rubbish strewn along the verges of Great Britain is shocking.  Litter blown from skips and lorries is definitely a problem but I can't help thinking that more and more is being thrown from cars.  Blown or thrown, deliberate or accidental, it's very sad to see.
Whilst keeping my eyes on the road, I like to glance at the trees rather than the litter. I've been delighted this week to spot the first blossom of the Wild Cherry (Prunus avium).  Since January I've been relying on the sulphur yellow hazel catkins festooning the hedgerows to lift my mood.  Over the past week or two these have been drying out and turning orangey brown.
In the relay race of seasonal interest, the hazels have passed the baton to the wild cherries.
I have two wild cherries in my garden, both on the boundary with a neighbour.  For most of the year they are a bit inconspicuous, although they do provide some light screening.
Right now, they look lovely.  The flowers – whilst small compared to the ornamental cherry cultivars – are beautifully proportioned.  They have comparatively long, false eye-lash style stamens. Close up they are totally charming.
When amassed in large groups at the roadside the trees look frothy and ethereal, the stuff of fairy forests.
When they are in flower at Easter I often cut a few branches and dangle them with papier-mache eggs.  The flowers don't last at all long indoors but I can't help myself.
Evergreen Ferns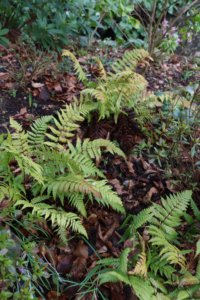 All winter I've been admiring this little triumverate of ferns that I planted two years ago, and they're still looking great.  They're in a bank and the end of the garden that I'd always considered a problem area.  A beautiful but enormous copper beech tree casts shade over the whole area and sucks moisture from the soil.
These ferns were a mixed group recommended by Long Acre Plants  for dry shade and this Dryopteris erythrosora  has performed the best.  I like the coppery bronze of the new growth, turning green as the season progresses.
I read that it likes leaf mould and as you can see, I haven't collected the leaf litter around it.  I visited RHS Wisley this week  and learned that a laissez-faire attitude to leaf collection is now used in the Oakwood area.  They don't pick up the leaves – and the plants have thrived.  It's a laid-back technique I'm willing to continue.
A scent to stop you in your tracks
Also at Wisley this week, amongst the many amazing plants there, this one stood out – Edgeworthia crysantha. A number of these have been planted in the winter borders at WIsley.  It's common name is the 'paperbush' plant but I noticed the labels of the ones in the plant centre also carried the name 'honeybush' because of the sweet sweet scent.
This particular specimen was nestled under a window of the beautiful Arts and Crafts Laboratory building.  As I walked past it the lady in front of me stopped abruptly and turned around.  She'd taken in it's amazing honeyed jasmine scent and needed to know from where it came.
I am rather keen to get one, although they are expensive.  I learned whilst there that they are best grown in full sun and I couldn't think of a suitable spot at home.  I've just looked at a map of Wisley though and this wall faces west.  It's got me thinking…
Planting forced bulbs outside
I force many bulbs indoors and this autumn really went to town with hyacinths.  I had a dozen bowls and pots of various sizes potted up in autumn and I brought them in from under a dark corner of my shed one by one to flower in the house. The last of the pots is just going over.
I had shoved the pots in turn into a corner or my dining room – but this week I planted them up outside.  This is a very quick job requiring only a trowel.  I like jobs like this as I feel I've achieved allot but it took no more than 20 minutes.  Unsurprisingly most of my former forcers are planted by the back and front doors.  Not far to nip out and plant them and they'll be as welcoming as this little one next year.
First of the ladybirds
On Friday I spotted this lovely nine-spot ladybird on a pot of pansies.  I read that they emerge in March or April and I the comparative warmth of this week must have encouraged this one out of hibernation.
I hope this minibeast will crawl back under cover as the 'mini beast from the east' hits us this weekend.
Hairy Pots and plastic free check-outs
Good to see this week that the Wisley plant centre stocks these perennials from the Hairy Pot Company.  The pots are made of recycled coconut husks and can be planted straight out in the ground.  There is good evidence that the plants have healthier root systems as the roots are 'air pruned' and branch more effectively as they sense the air penetrating the pot.
The pots are delivered to their suppliers in wooden trays, and collected back for re-use and they are also experimenting with alternatives to plastic labels.
This week when weeding round my gooseberry bushes I found two plastic labels for plants I have never bought.  They must have been there since the previous owner gardened here and are therefore at least ten years old. You can still read what the plant was.
One of the first articles I researched and wrote for my blog was about how home gardeners can reduce plastics use.  It's great to hear that Monty Don and the Gardener's World show will be focussing on this issue.
When you stop and look at your greenhouse or shed, it's shocking how much plastic is around.
Twitter alerted me this week to a pioneering plastic reduction initiative from Bluebell Cottage Nursery.  When you buy mail-order from them you can opt to received the plants wrapped in paper rather than in a plastic pot by clicking the 'plastic free' option at check-out.
Bravo.
Six on Saturday is a weekly meme – take a look at the comments at the base of host The Propagator to see
more 'sixes' from other keen gardeners.