This is my first post for a couple of weeks due to a fabulous family holiday to Japan.  You will, I promise, see lots of japanese influcences creeping into my garden over the next couple of seasons but this week is all about tulips.
We drove up our drive, bleary eyed from jet-lag to see the tulips in full bloom.  What a welcome home.  Here are my favourites, all of which are great garden tulips – upright, colourful and serene.
Tulipa 'Avignon Parrot'
Parrot tulips, with their crimped petals and ruffled edges, are not for everyone.  Sometimes the shape can be just too fussy and look out of place in a simple spring garden.
Not this one.  Its ruffling is subtle and when in full bloom retains the standard tulip goblet shape.  What you won't be able to tell from these pictures is how big and meaty this flower is.  The goblet here is larger than my clenched fist.  The colouring is a a reddish orange, the colour of a deepening sunset.
My only criticism of this flower is how unruly it is when developing.  Some of the flowers are almost horizontal to the stem.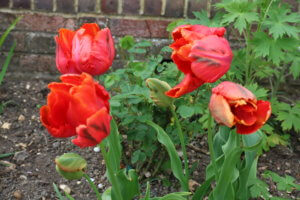 Tulipa 'Couleur Cardinal'
The name of this literally means 'colour of the cardinal' and it certainly is a beautiful rich red.  It's a stunning flower.  The stems are upright and the goblets uniform and unfussy.
What I like best about this one is the drama it adds on a dull day – in fact it's best admired when the clouds go over.  It simply glows.
Tulipa 'Havran'
This tulip is a delicious deep burgundy, the colour of blackcurrant juice but with a silky sheen up close.  I like the lily shaped goblet, neat foliage and poker straight stems.

Tulipa 'Brown Sugar'
The name of this one always makes me sing the Rolling Stones song. Brown sugar, yeah.
This tulip is really tall and is looking magnificent towering over my yellow wallflowers.  The orange is the colour of the inside of a cantaloupe melon but brushed with deep marmalade on the outside.  I have to confess that I hadn't read in advance how tall this one was so I'm lucky the look worked.  They'd look out of place at the front of a border but great amongst other plants.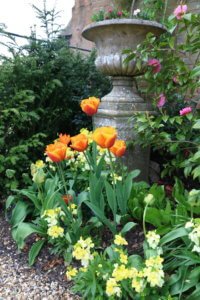 Tulipa 'Dolls Minuet'
Last year I grew this one in a pot but thought it would look good lining the path up the steps to my veg patch.  Like many other tulips the stems are very straight and almost soldier-like when grouped like this.  They make a nice guard of honour.
This variety of tulip is called a viridiflora type – viridis meaning green.  Viridifloras have green stripes or large areas of green but it's not this that I notice when looking at this flower.  It's the shape that makes it stand out – with its pointy petals that open out in the sunshine.  When closed, the petals have a slight twist at the top.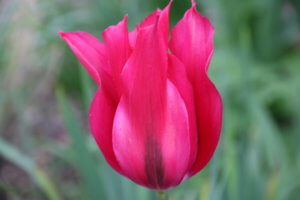 Tulipa 'White Triumphator'
You may have noticed that I like my tulips to have rich colours.  All the tulips shown up to now are deeply coloured, warm and sumptuous.  Grouped together they really do pack a punch.
I find white harder to deal with in a garden – it doesn't blend well with the warmer tones that I love.  In a border down by my fruit trees, though, I do have an area for paler tulips in pinks, apricots and pure white.
This white tulip really stands out with its lovely starry shape and pure white colour that glows at dusk.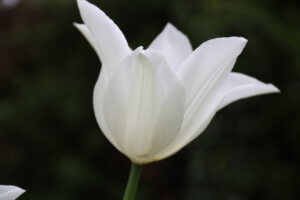 If you want to read other contributions to the Six on Saturday link up of gardeners click here to go to the page of host The Propagator.