I like the look of spring flowers in the lawn and am always on the look-out for new ideas.   In March 2019 I stumbled across the alpine meadow at RHS Wisley and was enchanted by what I saw.  Tiny  gold thimbles stretched away as far as the eye could see.  Stooping down I realised these were miniature daffodils with overgrown trumpets. Reminiscent of a gramaphone horn, the trumpets faced in random directions, as if announcing to the world the start of spring.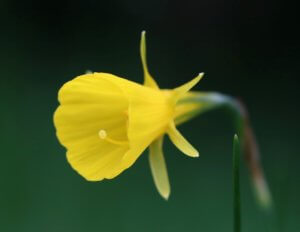 The latin name for this flower is Narcissus bulbocodium.  It's easy to see why the common name is the Petticoat Daffodil, or Hoop Petticoat daffodil, derived from the shape of the trumpet.  Unlike other daffodils, where the outer petals contribute significantly to their form, the Hoop petticoat daffodil has six spindly petals.  This daff is definitely all about the trumpet.
In autumn 2018 I decided to have a go at establishing some of these in my lawn.  I thought about planting some in my little orchard but decided instead on a side lawn, where they can be seen from the house.  The soil here is fairly damp in autumn and winter and retains some moisture in the summer.  I have read various descriptions on perfect settings for these bulbs.  Whilst all say moist soil is preferable, some say they can tolerate some dryness over the summer months when the bulbs are dormant.  My site didn't dry out fully even in the fierce summer heat of 2018, although it came close.
Planting my bulbs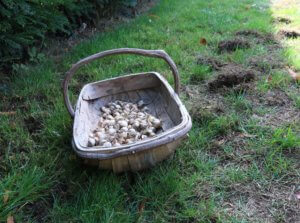 The bulbs of this tiny flower are of course  small.  I bought 300 of them in a summer offer and kept them cool and dry until I was ready to plant them  Many suppliers stock these and it's a good idea to check for offers online from late summer onwards.  Suppliers I have used for these include Gee Tee Bulb Company and  Thompson and Morgan.
If planting in a lawn, the first thing to decide is how to create your planting pocket.  The bulbs should ideally be planted at a depth of three times their height.
As I wanted to recreate the sparse, natural effect at Wisley, I didn't want to go to the effort of pulling the turf back across a wide area, but decided that I would attempt to plant them individually.  A strong bulb planter is useful for this job but I find this method tricky on my flint laden soil.  I hit a flint, or several at every push of the planter.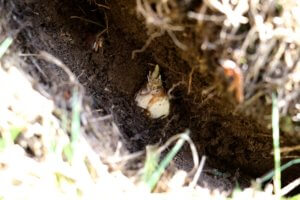 My quicker method is to use a sharp spade, jab it into the turf and rock it back and forth to open up a deep but narrow slit.  Small bulbs such as these can then be poked down into the mini trench to the desired depth.  If I hit a flint I move elsewhere but the spade just seems to cope with my soil conditions better than a bulb planter.
I have successfully used this method for snowdrops, cutting a cross shape with two spade jabs and poking bulbs in to create a mini clump.  I didn't create a cross shape for my daffodils.  Instead, I moved randomly across the area, cutting my slits and planting no more than two bulbs, one each at opposing ends of the slit.  I hope this will give a good spacing.
If you try this method, it's important to make sure that the bottom of the bulb is in contact with soil and not suspended between the trench walls.  Good practice would be to pour some compost or a compost and grit mix into the trench to give a base into which to nestle your bulb.
Once planted, you can simply stamp the trench shut with the bottom of your boot.  Be firm with this as you don't want to leave air pockets under the soil.
Using this method I planted 300 bulbs in just over an hour.  The results will hopefully be visible next spring.
Try growing in pots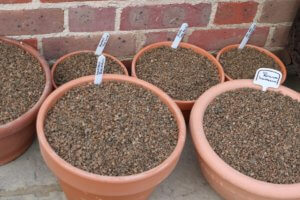 Some people dislike bulbs in lawns as mowing should be avoided until the leaves have died back, usually in early summer. If you're one of these people, or have no lawn, planting these little beauties in pots is a great alternative.  They are so attractive and would make a great centrepiece on a patio table, or even in a window box.
This year I also planted 25 bulbs of Narcissus bulbicodium in a terracotta pan.  I used a mix of multipurpose compost and some soil and grit as I had some to hand.  A standard multi-purpose compost would probably work fine.  I topped my pots off with horticultural grit which really sets the bulbs off when in flower but also reduces weed germination and can deter pests.
Spring 2019 Update
To say I'm delighted with my narcissus bulbocodium display is an understatement.  The impact isn't quite as stunning as those massed at Wisley but they have all flowered marvellously, dotting my lawn with golden yellow trumpets and adding a gold studded frame to the lawn either side of this bench.
Flowering at the same time are some pretty purple snakeshead fritilleries and when the sun shine it's a lovely place to sit and contemplate the beauty of unusual spring flowers.