Snowdrops are amongst the first flowers of the season and the ones that make my winters bearable.  Here I explain how to grow snowdrops – in pots and in the ground.  Whether you grow the common varieties, or you start a collection of unusual varieties, this guide will help you to celebrate these perfect winter beauties. This article provides inspiration on growing in the garden and also growing snowdrops in pots.
Snowdrops aren't just little white flowers, well they are, but look closely and they are so much more than that.  I have written about some of the species and cultivar varieties that exist and if you're interested in learning about the amazing range of differences you can read about more here.
What do snowdrops need to grow well?
The first thing to remember when growing snowdrops is that they are very robust plants and for most varieties, once established in the garden, should require no attention from the gardener.  Native to parts of Eurasia they can take very low temperatures in winter, followed by hot summers in their dormant phase.  They can grow in shade or sun.
Snowdrops will thrive best in good loose soil, improved with compost or leaf-mould.  They don't like waterlogged soil but due to their long roots will usually tolerate soil that is on the dry side in summer as long as it isn't completely dry or baked hard.
The three most commonly found garden varieties are the single form Galanthus nivalis, the double form Galanthus flore pleno and the taller Galanthus elwesii.  Many suppliers refer to these as just single, double and large snowdrops in their brochures.
When it comes to the less common collector's snowdrops, or "specials" as they are sometimes referred to, snowdrop collectors will tell you that there are varieties which are "miffy" – that is they don't thrive or survive in a garden.   But those eager to experiment will find that many of the more unusual or exquisite varieties will come back year after year.  Many will form a clump surprisingly well if left alone and given well drained soil with a deep root run and lots of lovely leafmould or compost dug in.
What grows well in your garden is often a matter of trial and error so when it comes to collectors snowdrops many growers opt to grow at least a portion of their collection in pots.  Growing snowdrops in pots needs a little more effort and I explain why later in this article.
Another effective idea is to grow in grass under trees of at the edge of a lawn or driveway.   If planting in grass, consider reading my guide to planting and looking after snowdrops in grass.  An easy method for planting bulbs in grass is explained in my article on planting narcissus bulbocodium in grass. This method, using a spade, works equally well for snowdrops.
Snowdrops are also largely unaffected by pests – the main enemy being the narcissus bulb fly, the larvae of which can burrow into and destroy the bulb.
When to plant snowdrops
Snowdrops are best planted 'in the green', which means they are in flower or, more usually, have flowered but still have green leaves attached and the bulb is yet to go dormant.  Dry, dormant bulbs are often also sold in late summer and autumn but if too dry, these can be difficult to establish.  Snowdrops can be bought in the green from many online suppliers and even on ebay but so try and research your seller and buy from reputable sources.  It is illegal to dig up snowdrops in the wild.
Collectors snowdrops can be bought in the green by mail-order from specialist sellers during the winter season.  Some have their own websites and others use ebay.  Many travel to snowdrop sales to sell direct to collectors.  Mail order plants are sometimes potted and sometimes posted wrapped in moss.
Some sellers also produce annual lists for dormant bulbs to be distributed in July and if you buy from quality suppliers the bulbs will arrive in peak condition and will grow well if potted up immediately.
Some ideas for growing snowdrops in the garden
Plant under hedges or at the edge of borders where you are less likely to disturb them whilst gardening later in the year.  Be careful when weeding so as not to disturb the bulbs.  Leaving them undisturbed will help them to multiply.
Plant alongside other early flowering plants for beautiful winter displays.  Classic combinations are snowdrops with aconites or snowdrops with hellebores.
Plant in grass around the base of trees or along the edge of a lawn.  Planting in grass is an effective way to show them off but you should try to avoid mowing the grass where they grow until April so that the leaves can die back and feed the bulb.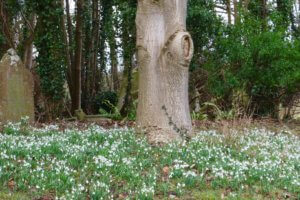 Plant in large groups or drifts for impact. I have planted hundreds alongside my drive, where the flowers reflect the car headlights like cat's eyes.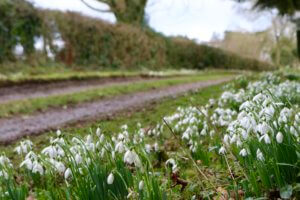 Due to its bulkier flower heads, double variety 'Flore Pleno' has slightly more impact from a distance than the single form Galanthus nivalis.   Both will shine with a pure white glow as the light fades and both look incredible amassed in large colonies.
The large species Galanthus elwesii are tall and can be planted further back in borders or amongst the shorter nivalis and flore pleno for an undulating display with interesting height variation.
A shady woodland area is greatly enhanced by snowdrops – consider planting special varieties in front of a tree stump for a good backdrop.
If you have a raised bed or rock garden, consider planting some of the more unusual varieties here.  The slightly elevated aspect will show special varieties off to good effect
How to grow snowdrops in pots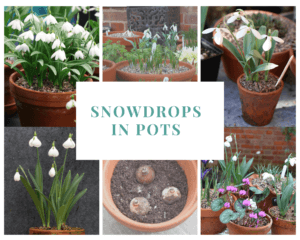 Snowdrops grow surprisingly well in pots and even the basic varieties look really pretty in small pots or larger pans.  Those interested in starting a collection of the more expensive collectors' varieties may want to grow in pots to protect their investment as some worry about losing the bulbs amongst other plants in garden borders.
Growing in pots also makes it easier for the grower to admire the flowers and marvel in the myriad interesting markings and details that the special varieties provide, without having to lie down in the cold, wet garden.
Snowdrops make great impact as part of a mixed collection of spring bulbs in a table top display.  As my favourites come into flower they are brought into full view to be enjoyed.
An alternative halfway house is to grow special snowdrops in black plastic aquatic pots sunk into garden borders.  They can absorb water and nutrients from the soil around them but have more protection than loose in the soil.
Looking after and repotting a snowdrop collection
My snowdrop collection is kept in an old recycled cold frame filled with sand.  A sand plunge is a classic method for growing alpines and other special collectors plants.  The snowdrops can be grown in clay/terracotta pots or black plastic aquatic baskets and sunk into the sand.  The plants absorb as much or as little water as they need as long as the sand is kept moist.
Growing this way takes a little more effort than planting out in the garden as the bulbs will need repotting once a year, in summer, during the dormant phase.  Refreshing the compost will provide new nutrients within the pot and the process enables the grower to inspect the bulbs, dispose of any damaged ones and split off smaller bulbils to prevent overcrowding.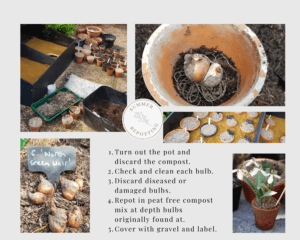 Compost for snowdrops in pots
Collectors have traditionally used compost mixes containing peat with John Innes No.2 or 3 being popular choices.  Like many gardeners I choose to avoid peat for environmental reasons.
Fortunately, many collectors have been experimenting with peat free alternatives and following their lead, I am now using compost from Dalefoot Compost which combines bracken and wool fleece instead of peat.  Margaret and David Maclennan hold a national collection of snowdrops and recommend a 50:50 mix of Dalefoot's bulb fibre and Lakeland Gold Soil Improver.  As an experiment I have potted up bulbs of Galanthus 'Diggory' in both John Innes No.3 and the Dalefoot mix and so far each pot is equally healthy.
Further inspiration
Each year Garden Blogger Pumpkin Beth collates a list of snowdrop events including snowdrop walks and collectors sales days.  Her diary for 2021, sadly affected by covid-19 restrictions, can be accessed here.
If you're interested in starting to collect snowdrops, I will be writing an article on this blog shortly. This will describe how to source bulbs. You may also be interested to read about how my love of snowdrops first developed – click here to be taken to the Alpine Garden Society website where I describe how galanthophilia began to incubate!