We're back in lockdown although with the children still at school and Uni not much has changed in my household as I'm only rarely in an office.  The season may be different from last time but the garden still seems to throw me as many tasks to do – this week, mainly winter prep…
Alpine plant shelter
We've had much heavy rain this week and I found myself worrying about my Raoulia australis.  They can take the cold, but prefer not to be inundated from above.  I looked into various cloches online and saw how alpine growers make impressive frames to put over vulnerable plants.  I wish I had the skills to make a portable alpine frame but I did needlework at school not woodwork. In the end I just bought a very cheap piece of perspex and sandwiched it between a few bricks.  A work of two minutes but I think my raoulia will be happy for the winter. The air can circulate but it won't be drenched during rain storms.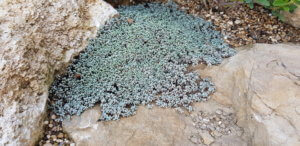 Saxifraga fortunei
I featured this little beauty in the rock garden a couple of weeks ago when it first came into flower and now it's smothered in pink blooms like little rosy sparklers.
Going bananas
A couple of frosts this week and the bananas are looking more ragged and brown.  All these plants came from just one £7 purchase a few years ago.  They'd been dotted about and growing in pots but when I updated this area to make an exotic border I decided to form a mini banana plantation.  I haven't been abroad this summer but could fool myself into thinking I may be in Barbados.  They are looking splendid and have filled out amazingly since first planted out.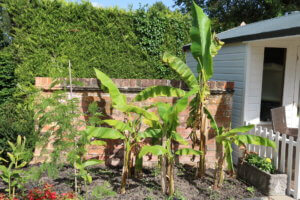 As the nights get colder I need to figure out how best to protect them for winter.  This type of banana, Musa basjoo, is sometimes referred to as the hardy banana and it will indeed survive sub zero temperatures.  However, the trunk rarely survives deep cold.  If the trunk dies back, the plant will resprout from the roots but I would prefer to retain some height here.  In the past I have used various methods, including chicken wire and straw, fleeces and even old chimney pots around the trunks.  My job for the weekend is to work out how best to protect these with minimal effort.
Border clearance
This herbaceous border looked amazing in spring when the tulips were in flower and then again in June when the perennials were showing off.  This week I started cutting everything back and the soil, now visible again, will soon receive the tulip bulbs that just arrived by post.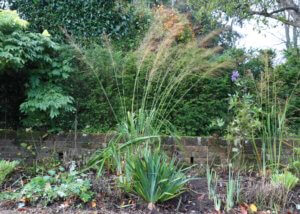 The grasses were spared my secateurs as they are stately and statuesque and the flower heads capture the glinting sun when it chooses to make an appearance.  This grass is Molinia caerulea subs arundinacea 'Transparent' .  It's a winner.
Coleus collapse
Some plants bow out gracefully, others less so.  The cold has really got to the Coleus in the exotic garden so another clearance operation got into full swing down there.  The salvias, busy lizzies and soggy coleus stems were all ripped out.  As I threw them on the compost heap I thanked them for the instant impact colour these fairly cheap bedding plants gave me.  Here's a reminder of how lovely they looked in the summer.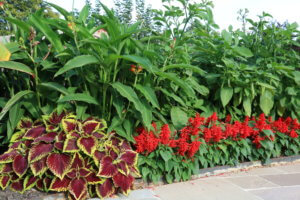 First snowdrops
Don't adjust your computer monitor – these really are in flower in my garden in early November.  There's no need to panic though and you can be spared concerns about climate change, these are meant to flower early in the season.
It's a variety called 'Hollis' and was named after a road in my village where my late friend Mr Snowdrop used to live.  This elwesii variety was discovered in his garden and he gave me a lovely pot of these two years ago. If you want to know about some other pre Christmas snowdrop varieties, I wrote an article for the Alpine Garden Society last year which you can read here.
I have to admit that seeing these in flower alongside some still bonny pink dahlias is a bit of a mind bender but the world is bizarre right now so my garden is just joining in.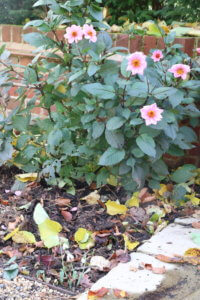 This seasonal diary is part of a weekly link-up of garden bloggers from around the world, called Six on Saturday.  For more information and links to other blogs crammed with gardening activity, check the blog of host The Propagator.