This week we're back at the rockery where some interesting plants are adding colour and charm.
Rockery
A plant of note in the rockery in early June is the frothy white Cerastium tomentosum which was transplanted from elsewhere in the garden before the rockery was built, and would take over if I allowed it to.  It goes by the common name 'Snow in Summer' and also the extremely charming 'Wooly Mouse-ear Chickweed'.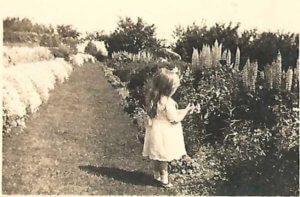 This plant has history.  Here's a picture of a little girl in my garden taken back in 1919.  The garden was much bigger then and had these incredibly long paths, lined with walls dripping with Cerastium.  Could my rockery plants be descendants of these original plants?  It's possible as there is a small remaining section of this wall and it still holds billowing 'Snow in Summer'.
Erigeron aureus – Golden Fleabane
Dandelion anyone? OK it's not a dandelion but at first glance you could be forgiven for thinking that it is.  Whilst dandelions thrive unaided in every garden in the land this little golden flower was raised lovingly by me over several months.  The seeds came from the Alpine Garden Society Seed Exchange.
I'm fairly certain that when I chose these seeds, I was looking at a picture of a cultivar called Erigeron aureus 'Canary Bird', which is a paler yellow and less weed-like plant.  Even this one is supposed to have a more daisy-like flower.  Is it even a Fleabane? Still, I'm quite taken with the furry leaves, and the bright yellow flowers add a splash of gold to the rockery now that the daffodils have faded.
Erinus alpinus – Fairy Foxglove
Whilst the Fleabane is a bit mediocre,  this seed exchange stunner is a roaring success.  Raised from seed from the 2018 Alpine Garden Society seed exchange, it sent up a few puny flowers last year.  This year sees it bursting into an exuberant clump of delicate purple and pink flowers.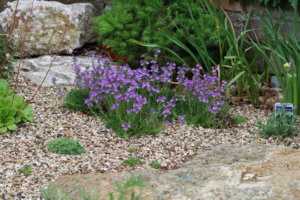 I'm glad I chose to plant loads of the plants together in this area as the clumps are expanding and merging so they have real impact in the rockery.  This has to be the best advert for joining in a seed exchange.  If you buy one Erinus alpinus plant in a 9cm pot from an alpine supplier, it'll set you back £4 or £5.  So this effect would cost you £30.  £1  in seed and a two and a half year wait buys you this look.  Plus they're self seeding so I'll have a few to give away.
Silene samojedorum – Catchfly

Planted in a huge clump in the centre of one of the rockery beds, this tall pink flower is adding much needed height to the rockery.  Whilst it's lovely to have mound forming and spreading alpines, the effect can be greatly enhanced by adding some taller flowers for a multi-layered display.
This is another 2018 seed exchange success.  Last year there were no flowers at all (it must be a biennial) and I almost dug them all out.  I only kept them as I had allot of space to fill in the rockery that first year.  I'm glad I didn't get busy with the trowel.
Helianthemum 'Fire Dragon'
Nestled in between three rocks in a pretty planting pocket is this stunning red Helianthemum.  From a distance it looks like jolly summer field poppies.  This one came from a pot luck mixed bundle of alpines from the Alpine and Grass Nursery and is a real gem.  Here's another picture with a pretty pale pink thrift in the foreground.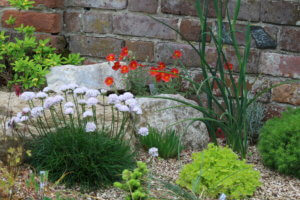 Saxifraga trough update
I featured this new alpine trough for Saxigrages a few weeks ago and showed how I planted it up with a new collection of plants.  The good news is that apart from one, they're all growing very well and have doubled in size.  One, Saxifraga 'jupiter', is a bit static so I'm keeping a close eye on it.  It's got some way to go before I'll count it worthy of its Roman god namesake.
I wrestled with the planting of the trough as I wanted it to be a showcase of these brilliant little plants but the display looked a bit flat.  I'd bought a couple of small alpine penstemons at the same time so I planted them at the back of the trough to aid the transition from the sink to the border behind.  These penstemons are now in flower and are quite charming.  One is a purple one called 'Amythyst' and the second a red one called Penstemon lauetus ssp roezlii.
This seasonal diary is part of a weekly link-up of garden bloggers from around the world, called Six on Saturday.  For more information and links to other blogs crammed with gardening activity, check the blog of host The Propagator.