Sometimes you can wait a long time for something to come good in a garden.  Much anticipated flowers can provide the biggest excitement as well as the deepest disappointments.
This week six great things flowered in the garden, a much needed counterpoint to the current state of the world.
Epiphyllum 'Lilac Time'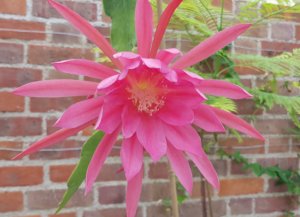 Two weeks ago I shared pictures of creamy-coloured epiphyllum crenatum and promised that more varieties were due to flower.  Much as I love the white ones, I long for zingy colours.  So I was anticipating keenly the opening of this one after a wait of almost two years.  I imagined from the name that it would be lilac coloured but it's more pinky than that.  Do I mind?  Of course not – what a buzz it was to see and smell this one open.
It's growing in a hanging basket high above my had but the flower was at nose level.  This hanging basket was one I lined with an old green jumper.

Water lily -Nymphaea marliacea flammea
Regular readers of this blog will know that I wanted to build a pond and I finally did so a year ago.  I know it can take a while for a pond to settle so I am over the moon that one of the waterlilies I planted in march has started to flower.
Yesterday morning it was tightly closed but the sun came out and up it opened.  I ran down with my camera and photographed it with a lovely little dragonfly poised above.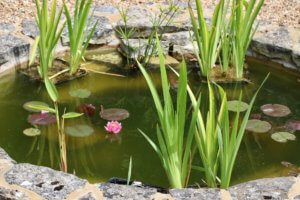 The pond is struggling a bit to get balanced and isn't that clear.  The sun beating down on it for the last few weeks before the oxygenators have settled in hasn't helped and I've had to top it up frequently from my water butts because of evaporation.  I'm hoping that the water lilies will spread to cast a bit more shade on the surface.
Calycanthus 'Aphrodite'
Talking waterlilies, the flower of this shrub is shaped a bit like a waterlily, the petals curling up towards the sky.   The leaves are a glossy fresh green.  It has barely suffered in the recent hot dry weather despite the fact I dug it up and moved it in march.  I've only had to give it a couple of cans of water in all that time.  It's a top shrub.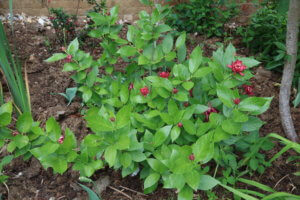 Clarkia pulchella 'Snowflake'
I love the shape of this aptly named little flower.  The fringing on the petals really does give the impression of ice crystals.
This is a plant I grew from seed bought from the Alpine Garden Society's seed exchange.  I hadn't done my research before sowing as unlike most of the other seeds I chose, this is an annual not a perennial.  So sowing in a seed tray, pricking out individually and then replanting in this terracotta pan was unnecessary faff.  Next time I will sow some seeds directly into the pan.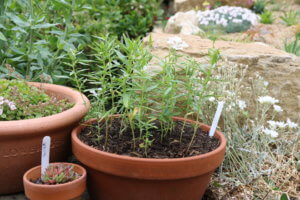 Aeonium spathulatum
A few weeks ago I shared a picture of this aeonium spathulatum in a small urn.  I have another one in this trough.  It has a good upright branching shape compared to many of the prostrate sedums that spread across a surface.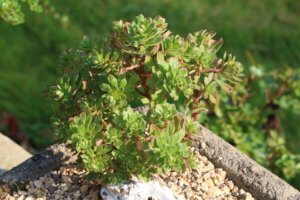 It was the whorled rosettes that attracted me to this plant but it's now absolutely smothered in yellow flower.  I initially anticipated that I wouldn't like the flowers but actually I love them.  This plant gives a strong statement from a distance and looks lovely in this trough, holding its own amongst the peonies behind.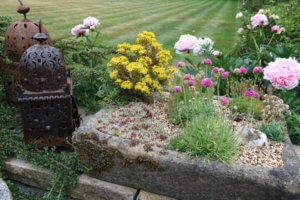 Dahlia 'Bishop of Oxford'
The first dahlia flower is usually much anticipated in my garden but I haven't had to wait long this year.  I can't remember having a dahlia in early June before.  Admittedly this flower is on one of a number of plants forced from tubours in my greenhouse.   They're all still sitting in a cold frame waiting for me to get a bed ready to plant them out.
They'll be planted alongside kniphofia 'Alcazar' in a planting scheme copied from one I saw last year at the Savill Garden in Windsor.  I've shared this with you at least two times before but I never tire of this photo and I hope you don't either.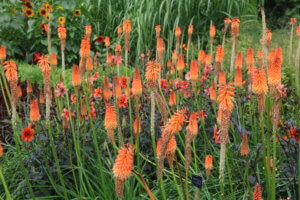 This seasonal diary is part of a weekly link-up of garden bloggers from around the world, called Six on Saturday.  For more information and links to other blogs crammed with gardening activity, check the blog of host The Propagator.