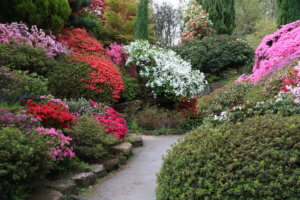 An enchanting example of  grand scale landscape gardening is the rock garden at Leonardslee in East Sussex.
Recently reopened to the public after ten years of neglect, this rock garden is stunning example of ingenuity in landscape design and a tribute to the ingenuity and skills of James Pulham and sons.  The company were master rock craftsmen of the 19th and early 20th centuries and designed many famous rock gardens.
To be transported to ravine filled with glorious azaleas, but constructed entirely from artificial rock in East Sussex click here.
The  Alpine Garden Society is one of the largest specialist garden societies in the world. It's mission is to help people discover more about alpines and other small hardy plants. As a beginner alpine grower, I write a diary for the AGS's website.  For other diary entries please click here.