This week I'm sharing an old photo of my garden and some new areas cleared for planting.  I'm also thinking about snowdrops and repotting a Monstera.
Woodland Walk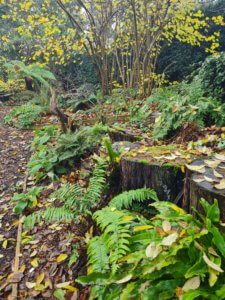 This area has probably become my favourite part of the garden which is a surprise to me as it was created under familial duress from an unpromising backwater, tucked out of sight and infested with nettles.  Three and a half years on it contains some plants which provide all round interest – most notably the evergreen ferns and the structurally intriguing multi-stemmed hazels – as well as seasonal interest – most notably in spring.  The point of entry to the walk will soon be given a new lease of life as a line of Leylandii hedging has been removed to create a new border ready for planting.  I'm planning some shrubs and bulbs and some more ferns of course.  The next couple of months will be spent researching what to buy.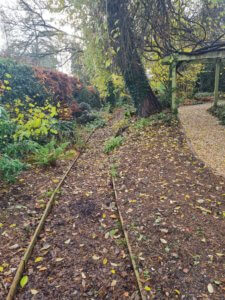 Lobed bed
This lozenge-shaped bed, which has been cleared of a rampant and unruly rose featured in a previous post here,  is not the most attractive shape.  Its connection to the lawn beyond is also a bit awkward but should be made more attractive with some new shrubs and plants.   It was important to me to keep these walls as I know this is a remnant of the original layout of the garden and dates from 1914 or from the early 1920s.  My recent studies in garden history taught me how to research the history of gardens using old maps, leases and other archive material and as part of one of my assignments, I researched my own garden.  Much of the material of use to me was old photographs donated by the family who built the house and laid out the garden.  The dry stone wall and crazy paving can be seen in the photo below, taken when the bed contained a hedge.  Both the hedge and dry stone wall then extended further across the lawn.  A little flag can be seen in the photo, which I think indicates that the lawn was used as a putting green.

Early Snowdrops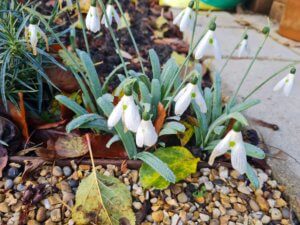 One of the early flowering varieties of snowdrops is just coming to an end in the bed up by the greenhouse.  It's a variety called Galanthus elwesii 'Hollis' and was discovered in the garden of my late friend Mr Snowdrop.  He gave me a small pot of them and the clump has now more than doubled in size.  My love of snowdrops continues to grow and each year I add a couple of new ones to my collection, some kept in pots so I can keep an eye on them but others planted out in the rockery and woodland walk where they seem to much prefer life doing their own thing.
Next week I shall be giving a talk to a local gardening group which they asked to be called 'Galanthophilia and what all the fuss is about' and it aims to explain some of the attributes which make snowdrops so collectable.  Hollis will be past its best by then but I'm hoping a couple of other early flowering varieties in pots might be flowering for me to take along to show them.   If not I hope they will enjoy some of the photographs of favourite snowdrop varieties taken over the years.
Still clinging on – Cornus leaves

Most leaves have fallen in the last week, blown from the trees in the wind and trodden to a soggy mess on the ground.  This Cornus kousa refuses to follow the trend and still has many burnished leaves attached. Swathed in fog, many looked a little drab but when blue skies and sunshine returned on Friday the tree was showing off.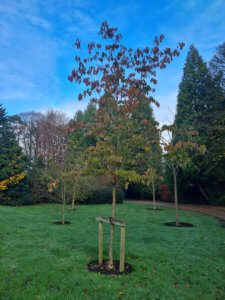 Monstera

Indoor jobs were preferable on Thursday when the weather turned cold and foggy.  I chose to tackle a repot of this Monstera in my sitting room, which is climbing up a string towards the beams above.  I took the opportunity afforded by a bigger pot to add in a couple of other Monstera cuttings which I had been training up bamboo canes.  The overall effect now is even more luscious.

After the repot I spotted an attractively shaped grouping of newish leaves and snipped these off as a cutting.  The aerial roots at the base will quickly develop below the soil to anchor and nourish the cutting in its new pot.  Monstera cuttings are very easy and I have previously written a guide here.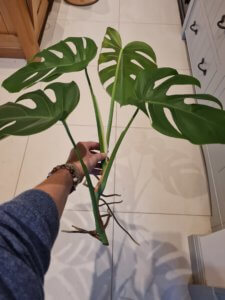 Bee hotel
These little bee houses contain tubes that are designed for solitary bees to lay their eggs in.  Once they have done so they add in a little store of pollen and nectar and block up the entrance to the tube with mud.  Next spring the larvae will hatch, eat their packed lunches, evolve into bees and find their way out.  The tubes should then be cleaned out by me for reuse and to encourage a healthy environment for future generations.  This house has been attached to a tree stake in my orchard area by the man that helps me in the garden.  I read now that ideally, they should be a metre off the ground so this one's a little low but they do already contain some inhabitants waiting for spring.
This seasonal diary is part of a weekly link-up of garden bloggers from around the world, called Six on Saturday.  For more information and links to other blogs crammed with gardening activity, check the blog of host Garden Ruminations.