Another beautiful sunny week to contrast cruelly with the world context.  So much for April showers!
It's peak tulip in my garden and yesterday I had a sunny window in which to take my photos.   They are full glare rather than soft glow but I hope you like them anyway.
Tulip Border
I shared this same view last year and yet again the tulips haven't disappointed.  Some of these are repeat flowerers but most are new plantings last autumn.  I'll admit it – tulip planting is not a job I particularly enjoy but at this point each year I'm glad I made myself do it.  The trick is to plant in largish groups of single varieties to get blobs of colour interest down the border.
This is the top of our drive and this border has a lovely view of the garage and parked cars.  It's a sunny spot though and the dog really likes sunbathing on the gravel.  Here he is posing.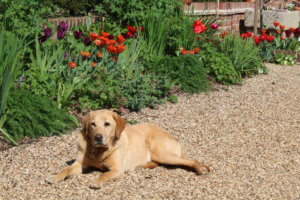 Great colour combination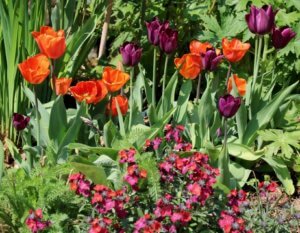 I'm really happy with this accidental colour pairing of wallflowers and tulips.  Deep blackcurrant purple tulip 'Continental' is beautiful but this border would be boring without the zingy orange of tulip 'Cairo'.  I love it.
Crimson Tulips
I'm not usually a big fan of bright red as it can be difficult to cope with in a border but I love these lines of red tulip 'Couleur Cardinal' either side of the steps.  They do look like a row of cardinals and they create a ceremonious guard of honour for any family member heading to the veg patch or compost heap.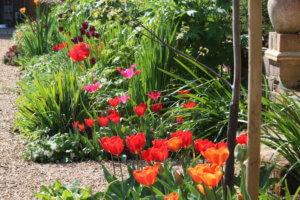 Here's a side view of this little area showing how well the red tulips combine with bright pink 'Doll's Minuet' and more of the orange 'Cairo'.
Tulip leftovers
Having exhausted most of my tulip supplies in the border featured above, I had a few random ones left.  Ignoring my own advice of planting in groups,  I dotted the leftovers carelessly in this border my the side of the garage.  The tulips look fine but next year I will make myself plant more of them so that they look like less of an afterthought.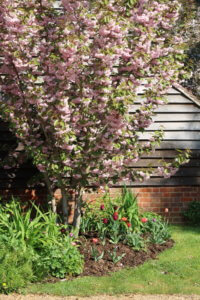 You may have noticed the stunning 'Kanzan' double flowering cherry tree here.  The pictures do not do it justice.  I've been whats-apping pictures of it to my Sister-in Law in Manchester and she's hoping to buy one for her front garden.  She and her children are doing more gardening in lock-down and she's really keen for a statement neighbourhood tree out front.
Another stunning tree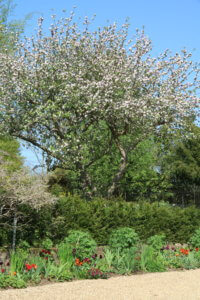 This is an overgrown cooking apple tree.  It is very productive but the apples are so high up we have to wait for them to drop as windfalls.  Luckily there is grass below!  It's a good climbing tree, serves as an anchor for one end of my washing line and looks incredible with the blossom out.  It's an old friend.
Auricul-aaaah
A couple of weeks ago I shared pictures on this blog of two auriculas and said I'd bought more from scottish supplier Abriachan Nurseries who I'd found on Twitter's #IndieNurseriesHour.  Well, they've arrived and just look out how gorgeous they are.
I'll take some better close-ups next week but here's a good one of a stunning variety called 'Sirius'.  The open faces and colour combinations of auriculas are just so alluring and the yellow centre, burgundy ring and peachy outers of this one are sheer perfection.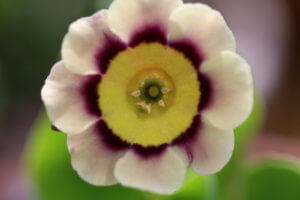 I'm no expert on auriculas but they seem fairly simple to grow.  They are part of the primula family of course and I learned this week that one of my fellow diarists on the Alpine Garden Society website is a primula expert.  He's written a fabulous article on primula so if you're looking for gardening related reading material it's well worth a look.
This seasonal diary is part of a weekly link-up of garden bloggers from around the world, called Six on Saturday.  For more information and links to other blogs crammed with gardening activity, check the blog of host The Propagator.