The sunshine returned yesterday for Midsummer Day.  Well watered from over a week of rainfall, the plants (and weeds) look fresh and bursting with vigour and growth.  Here are my pick of the best of Midsummer  in my garden.  No weeds in the choices but believe me they are everywhere right now!
Peonies
Peonies are the quintessential midsummer herbaceous perennial.  Beautiful as they are, they are so susceptible to the vagaries of the English weather.  Too hot and they wilt, too rainy and they collapse.  Worse still, in very wet weather the flowers ball before opening.  Even if the weather conditions are perfect, they don't flower for long.
For some unfathomable reason, most of mine got through the recent heavy rain showers well. None hit the ground entirely, even though they had no supports, and the few that were close to the ground I picked and brought indoors.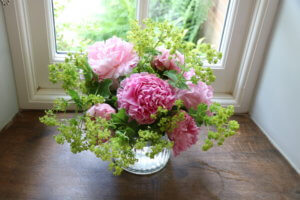 It's an annual thing for me to create my favourite June flower arrangement – candy pink peonies and acid green Alchemilla Mollis.  Roses come close to perfect in a vase, oh and sweet peas, but these carry on flowering into July and beyond.  Peonies are gone in a flash so this combination will always be June in a vase to me.
Sweet Peas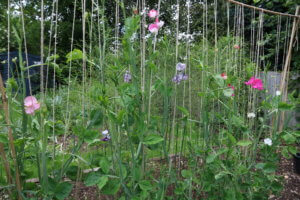 I love the way sweet peas suddenly take off.  It's a process not unlike a horse going from walk to trot, to canter and then gallop.  First you have a solitary flower opening, then the odd one or two and before long the magical point when you can pick handfuls daily to bring into the house or give away to friends.  For the last week I've been running at a bunch every 2-3 days, despite the dull, cold and rain.  Now the sun's back it'll soon be daily.  Can't wait.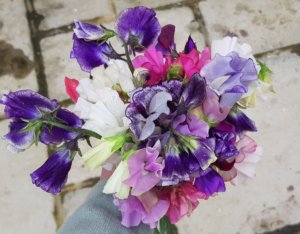 I have two rows of sweet peas growing up string cordons, so lots of plants to pick from.  These are in my veg patch.  If you want to know how I train the sweet peas for cut flower, I've previously written about it on this blog and you can read it here.
Outdoor Tomatoes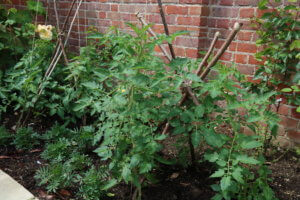 June sees rapid growth in the veg patch, and despite the recent cold, the tomatoes are growing well.  I do like a bit of string and as with the sweet peas, I'm growing some of my outdoor tomatoes up string cordons.  I described this technique on my blog back in September, when I visited Barnsdale Garden.
I was a bit worried about disease this week as weather conditions were perfect for blight.  Like potatoes, and other members of the solanum family, tomatoes are susceptible to blight, an air-borne disease which damages growth and productivity.  If you know blight is around you can try and reduce the impact by stripping some of the leaves to ensure good air circulation.  I've signed up to a website called blightwatch which warns if the risk is high in your postcode.  The warning is based on something called The Hutton Criteria.  Essentially, if weather conditions on two consecutive days have minimum temperatures of 10 degrees c and humidity in excess of 90% there's a good chance of blight.  Last Friday had a red Full Hutton Critera warning.
I guess I didn't need a website to tell me.  If I need a brolly and a jumper in the garden, then essentially I know blight may be lurking.
It's the first year I've tried a number of outdoor tomato varieties and I carefully researched which to try.  If you want to know more about good blight resistant outdoor varieties click here .
New border annual –Alonsoa warscewiczii 'Scarlet'
Ok, So this plant is completely unpronounceable.  I pride myself in usually being able to get to grips with plant names but I just can't decode the' warscewiczii' here.  Luckily the plant has an easy common name – Mask Flower.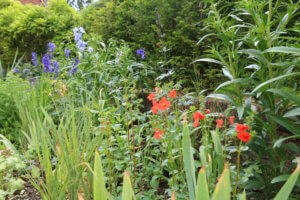 This has started flowering well over the last week and adds a great shot of orangey red to this border.  It was a risk planting it here, as I am trying to have purples, blues and paler oranges in this border.  I thought this might be a bit too red – and it is.  Nevertheless, I love it and it was so easy to grow from a packet of seeds.
I don't remember seeing this growing in gardens I've visited, or in garden centres but I saw seeds for sale in the Sarah Raven catalogue and it just appealed to me.  £1.95 for a packet of seeds and I have 15+ healthy plants.  I'm glad I gave it a try.  It's described as a half hardy annual so it may come back next year.
Summer Pots
Midsummer is when my pots and container displays really start to motor.  I like to grow my container annuals from seed so they usually lag behind any that are potted up from garden centre annuals.  I usually pick randomly from the seed catalogue, hence my containers are often a jumble of plants but usually look OK.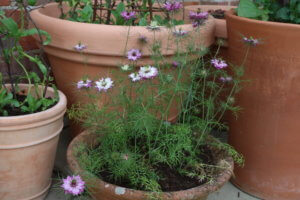 My favourite has to be this one, full of a single variety of Nigella called 'Mulberry Rose'.  Unless I deadhead meticulously, these will soon set seed and cease flowering.  Right now it looks lovely though.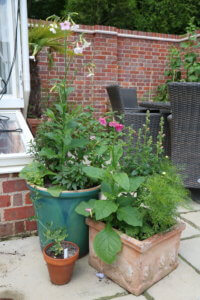 Looking a bit unbalanced is this pot on the left .  I really wasn't aware this nicotiana would grow so tall.  It's pretty though and soon the snapdragons, cosmos and clarkia will catch up and vie for attention.
Rose – 'Handel'
I have many roses and they all look amazing right now.  It's hard to single one out for midsummer glory but this one caught came to notice a couple of days ago.  I like the fact that it has an open, uncomplicated shape and bleeding pink patterning, fading to white in the centre.
It came with the house and so I've never known its name but friends from the local Chiltern Alpine Garden Society popped round this week and straight away one of them said – oh look there's Handel.  I've looked it up and it does indeed look like Handel.  I'm not certain it definitely is as Handel is mostly described as a climber, whereas this one has more of a shrubby habit.  However, I am happy to call it Handel until some more evidence comes along.
Six on Saturday is a link up of gardeners from around the world, sharing the best of their gardens each week.  If you want to read other contributions to go to the page of host The Propagator.