Last night we finally had some rain and just stepping out into the garden this morning made me feel happy as the air felt fresh.  A keen breeze was blowing the trees, a cool one, in stark contrast to the "hairdryer on low setting" breeze we've had for over a week. I'll be interested to see how the garden responds and whilst more sunshine is forecast for next week, the temperatures will hopefully not be as high as they have been.
Last week I described how I had been preparing exhibits for my local flower show.  This week I share some news about how I got on, take a look at my Opuntia cutting and admire Echinops and Echeveria flowers.
First prize for sweet peas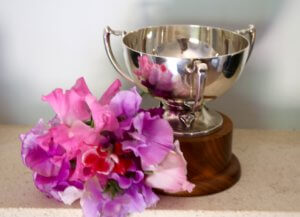 I hope you'll grant me a bit of showing off.  For most of my life I've tended to hide from competition.  The millennial mantra "You've got to be in it to win it" certainly holds true and until recently I've never won anything.
I was very pleased with this prize for Sweet Peas as I'd been struggling with them in the heat. As reported last week I had kept a few good'uns in the fridge in the run up to the show.  Sadly there were only two other entries whereas last year I think there'd been 8 or 9 in total.
First place came with this lovely silver trophy.  As I reported back in April, when I described my trophy for daffodils, the children are secretly proud I think but do grumble as I shuffle up their plastic sports trophies to make way for genuine silverware.
Top for taste and show bench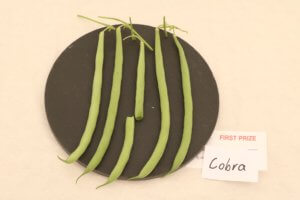 These climbing French beans were a winner too.  This variety, Cobra, tends to grow long and straight and so it wasn't hard to find 5 similarly crisp, straight beans to cut for the show bench.  I displayed them on a black slate – a little tip I picked up online.  It shows them up beautifully.
The real reason these are a winner though is that they taste lovely, especially raw, and haven't been flown from Kenya.
Certificate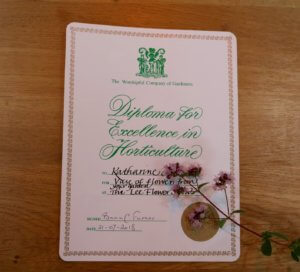 Lovely as trophies are, I was most pleased to be awarded this certificate.
I was given this for my entry in the 'Vase of Flowers from your Garden' class, which was fun to do as I could enter any combination of flowers and wasn't restricted to just annuals or perennials.  I was lucky to have lots of pastel coloured flowers in good condition that toned well.
I really loved the effect and doubt I'd have put these together it if hadn't been for the show.  I have reproduced the bouquet for my website this week.  It includes sunflowers, dahlias, roses, oregano flowers, cosmos and phlox. Click here if you want to know more about the varieties used.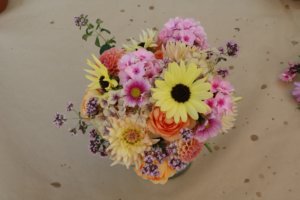 Echinops – Globe Thistle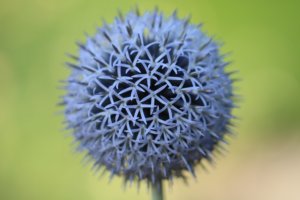 I also entered some of these in the show in the mixed perennials class, for which unbelievably I was the only entrant.
You'd think a First was therefore guaranteed but I almost did miss out as I started by arranging them in a jug before switching them to a vase.  The jug was used instead for my hydrangeas.  If I had used the jug, my perennials would have been disqualified as the class asks for 'A vase of mixed perennials'. It really does pay to read the show brochure.
These Echinops are just stunning plants and I spent a happy twenty minutes one evening this week photographing the scores of bees feating on the tiny flowers arranged over the perfectly spherical globe.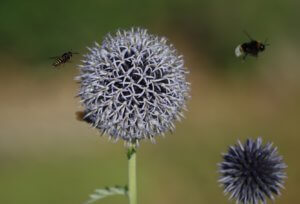 In my garden I grow these at the back of a border alongside bright yellow Helianthus. I love the sunshine yellow and sky blue combination.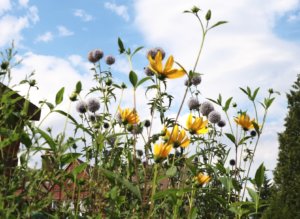 Opuntia cutting update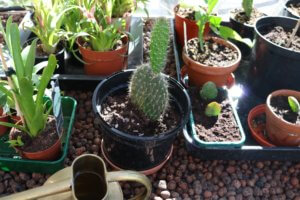 This was my first foray into cactus cuttings and apart from the need to wear gloves was so easy.  I described how I did it in this Six on Saturday back in June and as you can see a new lobe is growing beautifully from the top of the cutting, a sign that it has struck.
I can see me doing more of these as the parent plant is a bit top heavy.
Echeveria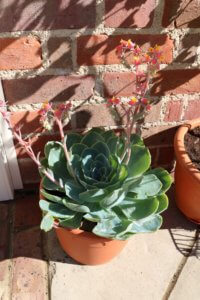 This is a lovely large specimen that I bought at a plant fair a couple of weeks ago.  It is flowering beautifully, something I can take no credit for given its recent purchase.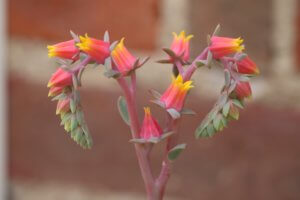 The flowers are so incredibly pretty and have developed on flowering stalks that curve gracefully to form a heart shape.  It's charming.
Six on Saturday is a weekly link-up – take a look at the comments at the base of host The Propagator to see more 'sixes' from other keen gardeners from all over the world.