Having a lovely cup of tea in my favourite mug whilst walking the garden is the best thing about returning from holiday.  For some reason though I am always slightly nervous about what I will find in the garden.
It's only when you go away for a bit, even a few days, that you realise just how dynamic a garden is – how quickly it can change.  Many of these changes are welcome – a longed for first flower on a plant or the first fruits developing on a tomato plant.  Others are frustrating – a missed flower or knee high grass demanding immediately attention.  Some are panic inducing – such as a plant-decimating pest rampaging through the greenhouse.
My Six on Saturday reviews what I found on my return from holiday.
Red Spider Mite
All my greenhouse books stated that this pest is inevitable but I was optimistic enough to underestimate how quickly it would find my shiny new glasshouse, and just how much damage it could do partying in there whilst I basked unawares on a sun-lounger.
Admittedly, I had found a small infestation on my Papaya plant before I went away but had isolated the plant, washed it liberally, decidedly I needed to get on with my holiday packing and hoped I had dealt with the problem.
I hadn't.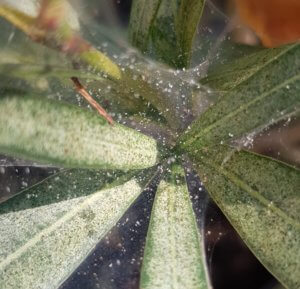 On return I found several plants smothered in a dusty web, their leaves dull-looking and mottled white.  The mites feed on the chlorophyll in the plant cells, hindering their ability to photosynthesise. Most striking was the impact on one of my two Oleanders, it's glossy foliage gone.  Luckily the second is still in rude health and I wonder why it escaped the mite.
I'm keen to avoid using chemicals and there is some evidence that the sap-feeding mites, Tetranychus urticae, are gaining resistance to some chemical controls anyway.  I took to twitter for advice and got some marvellous tips from fellow gardeners, including giving them a good shower with tap or rainwater, introducing predatory pests such as Phytoseiulus and dusting them with diatomaceous earth.
Diatomaceous earth is a powdered sedimentary rock containing the shells of billions of diatoms (single cell organisms). The powder drys out the mites, killing them by desiccation. I remember a Geography field trip once where we took soil cores and looked for diatoms under a microscope so this method has a nostalgic appeal for me and I have ordered some online.  Thanks to fellow Six on Saturday participants Fred and Tiny Urban Farmer for the tip.
Meanwhile a liberal dousing with the hose and Thursday's rainshowers have certainly knocked them back for now.  Next year I will definitely also be releasing Phytoseiulus to feast in the greenhouse but with temperatures dipping, I'm not sure they're my best option for now as they require warmish temperatures to work.
Heartseed/Love in a Puff
I was downhearted following the Red Spider Mite invasion but was cheered up by the hidden surprise inside the puffy papery seedpods of my Cardiospermum halicacabum. I trained a few up a metal frame in a pot this summer and was really pleased with the lime green, airy affect.  I shared a picture on Six on Saturday back in July.
Cardio means heart in latin and spermum means seed but it's not until you pull open a ripe seed pod that you find out why this name was chosen.  Rip the papery pod and inside you'll find three hard brown seeds.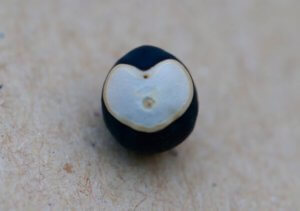 They are the size of peppercorns, and each one has a white heart on it, as if painted on with tippex.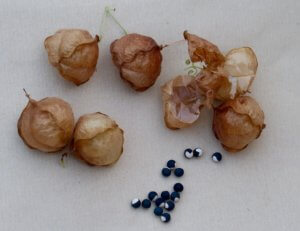 Isn't nature amazing? When you find these seeds it's like the plant is telling you it loves you.  Well, the feeling is mutual and I will be planting these seeds next year to show it I care.
A vivid blue delphinium
Last autumn I collected seed from my Delphiniums to give away.  A friend of a friend had lost all his delphiniums to disease and was keen to grow some replacements.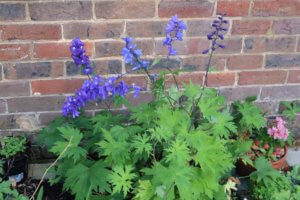 I also sowed some this spring and have a couple of dozen plants. While I was away I moved them to a shady spot by the back door to reduce the amount of water they'd need and was welcomed home by a parade of bright blue spires as I put my key in the door, suitcases in hand.  I hadn't really expected them to flower this year.
This delphinium is a deep blue which is hard to describe.  but I'll attempt to do so by telling a little story.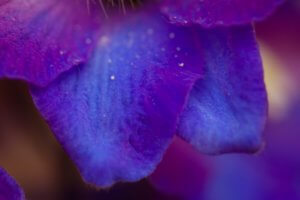 A few years ago I visited the Tate art gallery in London. A canvas by Yves Klein caught my eye. It was a square painted entirely with one colour – a vivid blue. That's it – just a square of blue. It would have been easy to move on tutting but something made me stand in front of it and stare at it.  After a while I almost felt as if I was falling into the canvas.  There was an intensity to the colour that I'd never experienced before. Click here if you want to take a took at the painting.
Yves Klein, a french painter, first mixed the colour – known as International Klein Blue (IKB), in the late 1950s.  I loved the experience of staring at this canvas and the feeling is common when looking at the vivid colours of some of my plants – not least this delphinium.  Just like the IKB, it's hard to get an accurate representation photographically or on a screen.  Some things are best experienced.
A vivid pink Dahlia
Dahlias a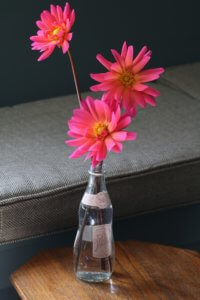 re a go-go in my garden and I'll share some more with you next week but this one really caught my eye post holiday.
It's a waterlily type but I've lost the label. I am unable to identify which variety it is when compared against my order list.  I think it's possible that it was an order mix up but I love it nonetheless.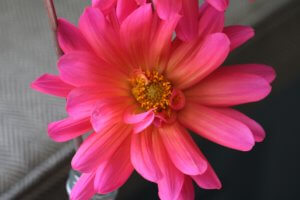 It simply glows.
I picked a few of these thinking I'd exhibit them in the Dahlia class of my Horticultural Society autumn show on Thursday.  By the evening of the show I was surprised to see that the petals had closed up slightly for the night, just like waterlilies do.  Sure enough, by morning they'd opened up again.
I hadn't realised that some Dahlias did this and whilst it meant I couldn't exhibit them in the evening show, I do think it's an endearing feature.
A vivid orange Squash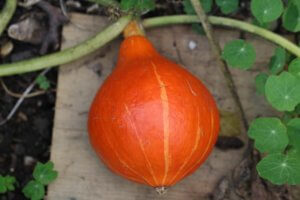 Post holiday I was delighted to see my squash patch dotted with bright orange fruits.  Before I went away I hadn't really investigated how many were growing as my attention was taken elsewhere in the garden.  In late summer the leaves, previously so green and lush, begin to collapse, leaving the fruits to ripen and toughen in the sun.
I thought I had sown 'Red Kuri' and 'Crown Prince' but whilst the fiery red skins of Red Kuri were visible, the sage green orbs of Crown Prince were nowhere to be found.
It turns out I got my seed packets mixed up and grew 'Hunter' instead.  Never mind – all these varieties are tasty and one of my hunters, which look like your classic butternut squash in shape, is a whopper.  Growing squash is easy and they make great ground cover to save on weeding!
Show success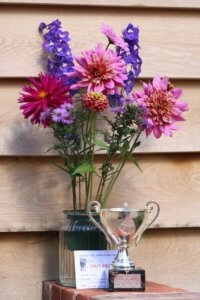 I almost always enter things in my three local shows.  I've written previously about what it's like to show for the first time.  I'll admit to a slight competitive streak , but one of the main reasons I enter is that the Committee love their show benches to have plenty on display.
This year has been a difficult one due to the long hot summer and certainly some classes were affected  but overall the judge said that the standard of entries was up on last year, so we're all making progress!
I was very happy with 'Best in Show' for my mixed flowers.  This class required 10 stems of any garden flower so I entered a mixture of dahlias, zinnia, michaelmas daisies, cosmos and delphinium.  Whilst the quality of flowers is what is being judged, presentation is also a factor so I tried to choose colours that went well together, rather than clashing, and to arrange them in floral foam so the stems were easy to see and judge.
Afterwards the judge told me that it was a very close run competition for Best in Show and that the presentation had been the deciding factor in favour of my entry.
So, it was well worth burning my son's tea whilst I played around with different flower combinations.
Six on Saturday is a weekly meme – take a look at the comments at the base of host The Propagator to see more 'sixes' from other keen gardeners from all over the world.