Bulb guard of honour
I potted up lots of spring bulbs last autumn and was originally going to arrange them on an outdoor table but instead I've made a little arrangement either side of the path to my greenhouse.  The crocuses are filling out but they're not yet at peak display.  What is looking stunning is this little pot of Iris histriodes 'Katharine's Gold' which I bought from Potterton's Nursery at an Alpine Garden Society bulb day last autumn.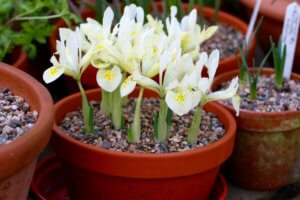 These are so lovely but paler than I'd thought given the name.  Look close though and you can see a golden yellow stripe across the petals.  These are very easy to grow and will brighten your garden early spring.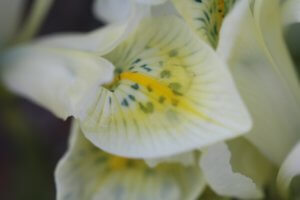 Pelargoniums in the greenhouse
When I lived in London, pelargoniums in pots would often get through the winter without dying but out in the country this is unlikely.  It's definitely colder and damper outside the urban heat island.  This year, when I emptied my pots of annual bedding plants, I retained some of the pelargoniums.  They're potted up in the greenhouse and are flowering away quite nicely.
I love the smell of pelargonium leaves, which spice the air when the temperature rises under glass.
Meanwhile this week I was invited to look round the garden of some local members of the Alpine Garden Society.  Their lovely greenhouse was crammed with amazing plants including this stunning Pelargonium 'Ardennes'.  Such a pretty plant – I'm in love.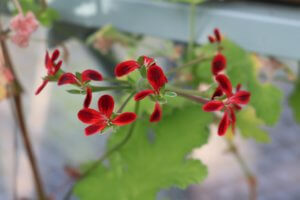 I'll definitely be looking into expanding my pelargonium collection this summer.
Angel's trumpets will sound again
Last summer I grew datura from seed.  Related to datura but with downturned dangling flowers is the beautiful plant Brugmansia, commonly known as 'Angel's Trunpets'.  I used to have a small number of these in my garden in London but they didn't survive their first winter in the country as I only had a damp shed to store them in.
This week I spotted a post on Twitter from a nursery called Exotic Earth Plants saying they had some Angel's Trumpet plants in stock and I couldn't resist. Two days later they arrived, well packaged and looking pretty perky.  These can lose their leaves over the winter but will put on fast growth when the longer days and warmth finally arrive.  Having grown these before I know they can grow fast.
As if the flowers aren't beautiful enough – they also have a fabulous honeyed scent.
Hellebores
I've got a few basic hellebores in my garden and these look exotic enough but this week, when touring a local friend's garden, they showed me some lovely varieties that they had bought recently from Ashwood Nurseries.  This nursery is famous for its hellebores and runs hellebore tours at this time of year.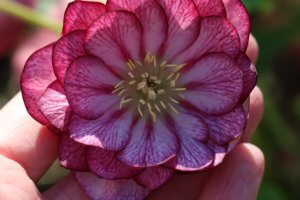 I'm afraid I didn't find out the name of these two hellebore varieties but they really are lovely.
Galanthoscope
Also on my local garden tour – the owners showed me their new purchase.  It's called a galanthoscope.  Designed for viewing the underside of snowdrops without bending down, this is a small mirror on a telescopic metal stick. This pictiure shows it being used to view a Hellebore. It worked pretty well, although we concluded a bigger mirror would be useful.
More snowdrops
Last week was a snowdrop special and I had lots of lovely comments about the less common varieties I shared.  The  garden I toured this week had many fantastic varieties and so whilst I originally planned a snowdrop free zone this week, in the end I couldn't resist.
This variety – G. 'Green Tear' looked stunning in the sunshine.
Six on Saturday is a weekly meme – take a look at the comments at the base of host The Propagator to see more 'sixes' from other keen gardeners from all over the world.