This week has seen quintessential June weather – the sunny days I remember from childhood but which have seemed lacking in recent years.  The garden is filled with roses and peonies but for some reason I have mostly chosen a series of other plants to talk about, including a couple of unusual ones – although two roses have snuck in.
Gloriosa superba 'Rothschildiana'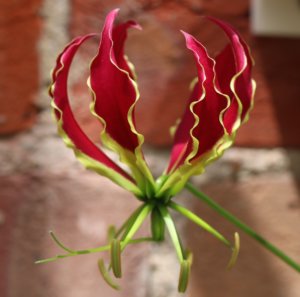 I have my first flower on this stupendous plant.  This was number one on my list of plants to get established once my greenhouse was in place.  I planted five tuburs indoors on 31st March and two have formed strong, fast growing plants. I've not given up hope of the others sprouting as well although no signs as yet.
This is a truly beautiful flower, named also the Glory Lily or Flame Lily to describe its form and colouring.  I was contacted on twitter this week by someone who told me the density of it in the wild in India is fast decreasing as people collect them to use in herbal medicines.  He also sent a link to a website that claimed its beneficial use in anything from skin diseases and ulcers to rheumatism.
I'm finding just looking at the flower lifts my mood so for me the benefits are purely aesthetic.
Kniphofia or Aloe?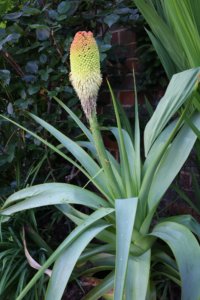 I have been growing this plant for 4 years and this week I have been admiring the flower, which is very much like that of a Kniphofia.  A friend gave the plant to me when she changed her garden to a more cottage garden look and decided this didn't fit in.  She described it as an aloe and certainly the formation of the leaves are more aloe like.
The conclusion on twitter was that it was a Kniphofia Northiae and having searched online I have concluded that this is indeed what it is. Whatever the ills of the internet and social media – the helpfulness and knowledge of the online gardening community continues to astound me.
The plant is thriving is this narrow border where I tend to grow others with a tropical look.  I tend to choose plants with striking leaf shapes or flowers in hot zingy colour such as Zinnia and Dahlias. This is also where I grow the banana described in a Six on Saturday back in April.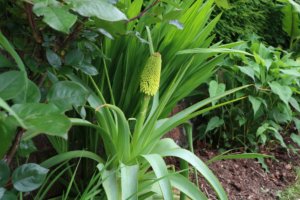 This plant is fully hardy in my Buckinghamshire garden.  I don't cover or lift it and it survived the cold winter of 2018 with barely a shiver.  I have also been able to take offsets from it and now have a second plant further down the border.
Temporary planting in new beds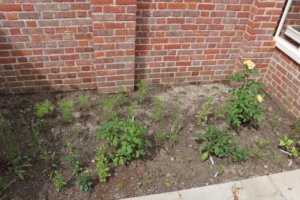 I have created two large new beds either side of my new greenhouse.  These are fully south facing and against a brick wall so offer the opportunity for some interesting planting, including possibly some fan trained peaches, nectarines or apricots on the wall.
They were only filled with topsoil a couple of weeks ago and I have yet finalise my ideas of what to plant there.  The soil is deep and stoneless but does need some organic matter digging in and is very dense and prone to dryness.
Gardening requires patience and I would rather wait until the autumn to plant things, so that I can avoid a summer of heavy watering to get the plants established.
Still, I don't want to leave the beds empty. As a temporary fix I have planted the beds up with annuals and a few dahlias so that I have some colour here over the summer.  All the annuals were raised from seed and include Nigella 'Mulberry Rose', Centuara 'Red Boy' Cosmos 'Daydream' and Antirhinnum 'Apple Blossom'.  I am hoping for plenty of flowers to pick for the house.  For now it looks a bit sparse but I'm sure it'll soon fill out.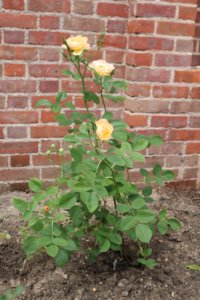 Meanwhile, already flowering here are my beautiful roses 'Lark Ascending', rescued from the ground when the greenhouse works began and planted here where I can see them every day when I open up the greenhouse.
This is an inspired name for this rose –  it tends to grow tall, as if ascending to the sky like a bird. And the colour almost defies description – an apricot which is as ethereal and in the right lights pearlescent.  It's hard to capture this on film but I will keep trying.
The rose is as beautiful as the music 'The Lark Ascending' by Vaughan Williams.  If don't know this music piece, it's well worth a listen.
It is so English – just like this rose.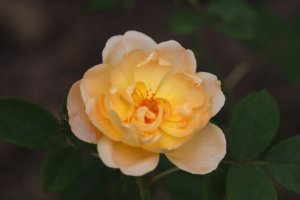 Dahlia cuttings
I couple of weeks ago I posted an article about taking dahlia cuttings, which included a little 'you tube' video.  I took two cuttings, one from the base of the plant with a small amount of tubur attached, and one from a stem.  Both were potted in the same clay pot.
I can tell that the one taken from the tubur has already rooted as it has really perked up and the central tip is starting to grow again.  Meanwhile the one from the stem is taking a bit longer and looks a bit droopy in the heat of the day.
This is an interesting demonstration of how beneficial the hormones contained within the tubur are to rooting.
I'm sure the stem cutting will root soon and I'll have two strong plants.
Night-flowering Cactus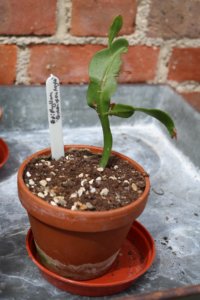 I holidayed many times in the mediterranean as a child and the whole family were entranced with a night flowering cactus that grew in the house where we stayed. The flowers last one night only, are bright white and the size of a pineapple.  Pollinated by moths, they also have a strong fragrance.
Each year we would hope that on at least one of the evenings of our stay, the cactus would flower.
When I got my greenhouse I decided I should try and grow one or more of these.  I ended up buying an Epiphyllum oxypetallum 'Queen of the Night' on ebay although a similar plant Cereus 'Queen of the Night' is an unrelated night flowering cactus with similar flowers.
Having looked at some pictures I took on holiday 20 years ago I think the one in the house we stayed in may have been a Cereus as the leaves are more ridged whereas the plant I have bought has flatter stems, but this could be because it is an immature cutting.
I will nurture this plant, whatever its name, and hope to get some flowers in the future.
Rose Arch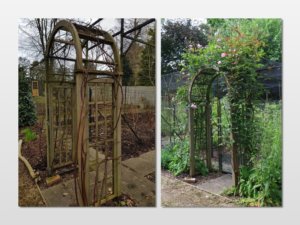 Ina Six on Saturday from late March I talked about giving the climbing Rose on this arch a very thorough prune. I trained some of the stems horizontally to encourage flowers further down the arch and not just at the top.
The results aren't bad in that I do have more flowers at the sides but it is still rather top heavy.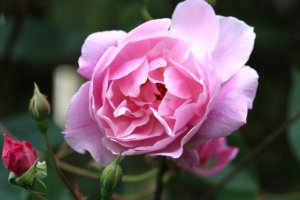 The flowers of this Rose, called 'Mortimer Sackler' are really lovely; medium-sized and a clear candy pink.  The biggest benefit of this rose though is the fact that it is virtually thornless so it is a great choice for places where thorns would be inconvenient.  For me the proximity to the netting of the fruit cage is the obvious reason for its choice.
Six on Saturday is a weekly meme – take a look at the comments at the base of host The Propagator to see more 'sixes' from other keen gardeners from all over the world.