Overwintering Bananas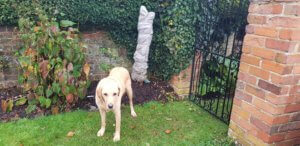 One plant that flaunts its summer clothes but survives the winter chill in just a lightweight jacket is Musa Basjoo – otherwise known as the Hardy Banana.  It is hardy in the UK  in the sense that the cold won't kill it and if it dies back it will regrow from its roots.  But if you want to grow a taller plant you will need to protect its main trunk so that it can sprout from this next spring.
Now we've had the first frosts, I have cut away the leaves of my bananas and cut through the main stem ready to wrap the trunk.  In the case of this particular banana I had previously left it unwrapped one winter so that it died and grew back multi-stemmed to fill this corner by the gate.  Whilst it looked amazing, it was impractical and the family felt like they were jungle explorers when going through the gate.  Highly inconvenient when carrying a tray of drinks without a spare hand for a machete.
So this year, two central stems have been left in place and wrapped in fleece.  The smaller satellite stems were dug out and potted up in the cold section of the greenhouse.  They are clearly confused by the warmer temperature and have started to sprout again.
I'll keep and eye on these and see if they go dormant.  I'm rather hoping they'll fling caution to the wind though and party on til summer.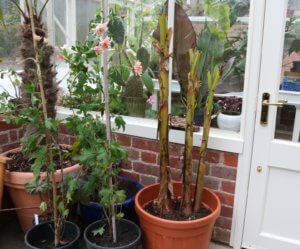 Chrysanthemums in the greenhouse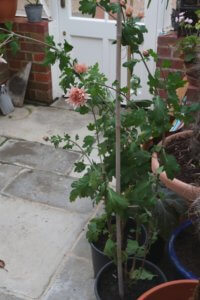 Next to the bananas you may have spotted some potted Crysanthemums.  A few weeks ago I shared a picture of a lovely Crysanthemum called 'Avignon Pink'.  Not only does it flower profusely, but as a cut flower it lasts an incredible 2 weeks in a vase and still looks fabulous.  Whilst I love dahlias, Crysanthemums beat them hands down on vase life.
Last weekend's wind and rain battered the plants badly as I hadn't staked them properly.  Actually I hadn't staked them at all.
I've rescued those I could and brought them into the greenhouse, potted up, and I hope I'll have a few more blooms for cutting.
Wallflowers are a winner
I've always admired Wallflowers but never actually grown any.  This week in my local plant nursery I spotted large pots of wallflowers with luxuriant growth.  Each pot contained 5 separate plants to split apart and I got 4 pots for £7.  35 pence a plant is pretty good value.  Even though they won't flower until spring, I love the shot of emerald green foliage in this fairly empty bed. This variety is unknown but it should be a pretty primrose colour.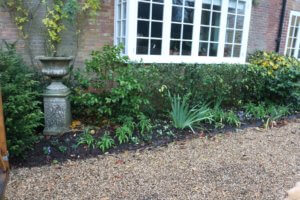 Wallflowers split apart and drifted through the flower bed
Bare root roses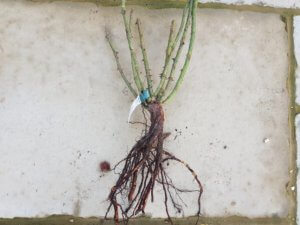 This week saw the delivery of some mail-order bare root roses.  It's a great time of year to plant roses and you save several pounds buying bare root over containerised plants.
I am so in love with the rose I chose here – 'Lark Ascending' – and I've shared pictures of it before.  The flower is a pearlescent apricot.  Pearlescent isn't just a throwaway adjective here – the petals really do shine with a lustre like mother of pearl.
Here's a picture of one from last summer – the pearly sheen difficult to capture on camera.
Grow one and you'll see what I mean.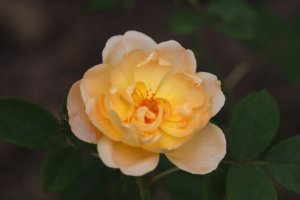 Magical mystery Tulips for cutting
Cutting gardens are all the rage and the focus is often on annuals with a few perennials thrown in.  Bulbs are often overlooked but a good supply of daffodils and tulips in the spring can brighten the home as we emerge from the darkness of winter.
I recently bought a mail-order bag of 120 mixed tulips for cutting.  I don't know what colour or type they'll be, which will add to the excitement as they emerge.
I've planted them in my veg patch along the path to my compost heap and it took only 30 minutes to dig a deep narrow trench, push the bulbs in and cover them over again.
A few pounds spent and half an hour's labour for over 100 blooms next spring is good gardening to me.
Bougainvillea to brighten your day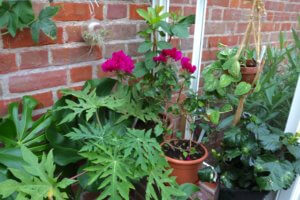 Yesterday was the first day that made me feel like it was winter.  Not because it was cold – it wasn't – but it was misty and the bare branches of trees were stark against the grey skies.
I little trip out to my greenhouse cheered me up because shining out through the flat light was this bougainvillea, telling tales of mediterranean holidays and summers to come.
Before I bought this little pot plant a few months ago I read up on these magenta beauties.  They were described as being easy to grow and I hardly dared believe it.  It is true however, and it seems to cope with erratic watering.
I'm reminded of summer holidays when my mother would wash the tiled floor of our friend's house in Malta and throw the basin over the roots of a bougainvillea.  It never complained – soapy ephemeral watering seemed to suit it.
Six on Saturday is a weekly meme – take a look at the comments at the base of host The Propagator to see more 'sixes' from other keen gardeners from all over the world.