Snow
This week we had snow – a dramatic heavy flurry during the school run which got my son excited about cancelled lessons and toboganning, but which was over by the time we arrived at the school gates.
It's been so cold since then that what did fall is still on the ground and the dusting made the snowdrops look pretty.
It's easy to be impatient for spring but warm winters, whilst good for the energy bills, just don't feel right for the garden.
Friendly visitor in the greenhouse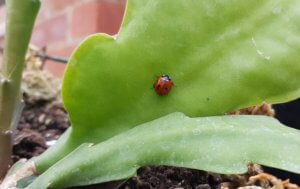 I've often thought that I'd like to move into my greenhouse so I can't blame this ladybird for wanting to take up residence this winter.
It's a good reminder how important it is to use only organic means of pest control in there.  I've spotted greenfly on various plants – so this ladybird will have plenty to eat.  If i'd sprayed the greenfly with chemicals they'd be gone but so would the ladybird.
Mamma Mia Rosemary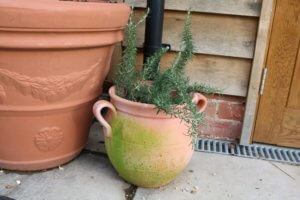 I have a friend who says she enjoys travelling with me as I always point out plants in flower, or special trees.  It's a habit shared by most gardeners and in my case extends to pictures in newspapers, television programmes and film sets.
Last year I watched Mamma Mia 2 in the cinema and was particularly taken with the plants in pots dotted around the set to conjure the illusion of a Greek island.  Plants tumbled out of terracotta pots and I was happy to note a fetching Rosemary branching in all directions like a crazy octopus.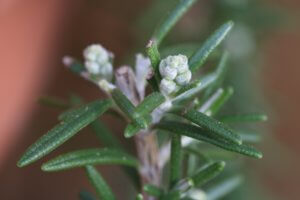 Earlier that year I had pulled out all my woody old rosemary plants and potted up some small plants of the same plant – foxtail rosemary or rosemarinus officinalis' Foxtail'.
My patios are some way from a sun drenched Greek terrace but I rather like the look of it.  I'm sure this summer it will continue its erratic growth pattern and this week I noticed some flowers already developing.
Sweet Pea seeds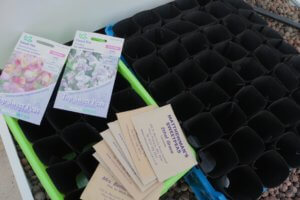 Regular readers will know my passion for sweet peas and how I like to grow them to enter in my local horticultural show.  Yet again, I failed to be organised enough to do an autumn sowing but this week I finally got round to planting them.
I'm trying a few new varieties this year.  From Matthewman's sweet peas I bought a beautiful white one called 'Timeless' and a magenta pink flower called 'Milly'.  Both these look to have large flowers on straight stems and should therefore be good for showing.  If you're in the market for some sweet peas it's worth looking at this site and the seeds that arrived were large and in perfect condition.  Th eprice quoted is for 10 seeds but each packet had 11 inside – I think a deliberate bonus from the people at Matthewman's.
Another new variety for me this year is 'Spanish Dancer' from King's Seeds, which caught my eye on a seed stand in a hardware store.  This is a two-tone variety, pale yellow and pink tinged and is described as a good cut flower.  I think it may be a good one for mixed flower arrangements.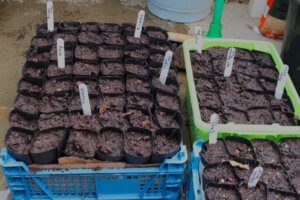 This year I've planted my sweet peas in cardboard tubes, which facilitate the long root run of sweet peas.  When folded in half, then half again and opened out they became square rather than round – a tip I picked up online.  This meant that I could cram them into boxes to make them stable and so that less compost would fall between the cracks when they were filled.
They were well watered and placed in the heated section of my greenhouse to germinate.
Tomatoes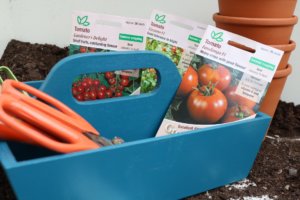 This week I bought several packets of tomatoes, which I will probably sow next month.  I chose the varieties with outdoor growing in mind. I researched online, read books, checked the descriptions of seed companies and asked around on Twitter.
I've never tried growing tomatoes outdoors but I'm keen to give it a go, encouraged by these fabulous supports that I saw last year at Barnsdale Gardens.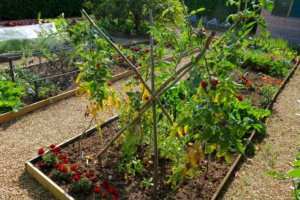 Of course my fabulous new greenhouse could be pressed into service but I find tomatoes vary demanding on water under glass and they are particularly needy in August when the school holidays usually divert my attention.  My thinking is that plants in the ground outdoors will need less attention.
For a list of recommended outdoor varieties you can visit my post here.
Dahlias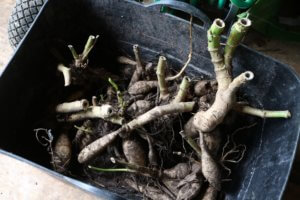 Another job that I failed to do well last year was to store my dahlia tuburs properly.  Most I left in the ground but I wanted to move a few so these were dug up.
They are in a shed in boxes but I would usually have liked to have covered them with dryish compost to keep the mould and damp from them.
This week I took a look at them expecting the worst but was relieved to find them looking firm and unaffected by mould or mice damage.
Whilst in the shed I retrieved my heated mats and heated propagators and moved them to the greenhouse ready for seed sowing and of course next month I'll be potting up my dahlia tuburs into compost.  I like to stand them on heated mats as it seems to get them going well in early spring.
Six on Saturday is a weekly meme – take a look at the comments at the base of host The Propagator to see more 'sixes' from other keen gardeners from all over the world.