This week I drove a family member to an appointment in Rutland and was delighted as it gave me the opportunity to spend a day at Barnsdale Garden.  You could call it a horticultural pilgrimage as I was a big fan of Geoff Hamilton's Gardeners World in the late eighties and early nineties.  The garden contains televised favourites from back in the day, alongside new designs.  It was great seeing the gardens I'd watched being created on television and there was inspiration everywhere, for gardens of any size, for plant enthusiasts or those starting gardening for the first time.
I thought I'd share a few fun new ideas I took away with me.
String-trained mini wedding cake tree
A large Wedding Cake Tree, Cornus contraversa, is a beautiful sight.  The silvery variegated leaves, arranged on tiered branches, reminiscent of a Great British Bake-off show stopper.
Even though the trees are usually only medium sized, few gardeners will have the space to give them to ensure an attractive spread is achievable.
This is a lovely alternative idea.  Featured in the Japanese Garden at Barnsdale, this isn't officially a wedding cake tree but looks like a scaled down version.  It  is a multi-stemmed shrub called Cornus Alternifolia 'Argentea' and has been pruned to achieve a tiered effect, the branches bent downwards to a horizontal position using string and cobbles.  These shiny stones nestle in the raked gravel.
I have a couple of outdoor bonsai trees and whilst this shrub isn't miniaturised, the pruning and weighting are essentially bonsai techniques.  I'd love to have a go at this.
More string
This is a good idea for anyone wanting a productive and attractive garden structure.  On one side of the simple wooden pergola, climbing roses are trained.  On the other side runner beans are growing up taught string.
Some of you may remember my penchant for using string, and I use a similar method for my sweet pea supports.  I can just imagine this pergola in high summer with sweet peas climbing up them, scenting the air…
Even more string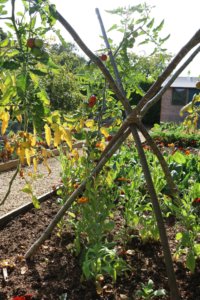 I thought this was brilliant – a support for outdoor tomatoes made from four hazel canes crossed in a low wigwam. The tomatoes have been trained up strings fastened into the soil with metal pegs and up to the top of the canes.
I can imagine this structure in any vegetable patch or allotment but I would venture to suggest it's attractive enough to be incorporated into a garden border.
Talking tomatoes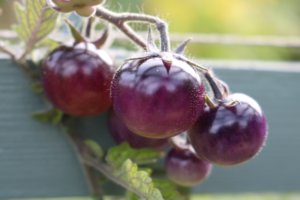 How long is a piece of string? Well, I've run out of string based ideas for this week but how about this for a tomato?
It's called 'Indigo Blue Berries' and there were several plants smothered in fruit in the Ornamental Kitchen Garden at Barnsdale.
I was tempted to try one but there was no-one around to ask. If anyone's grown this variety, I'd love to hear how it tastes.
I haven't grown tomatoes for 4 years as I'm away too much in the summer school holidays.  I miss walking to the greenhouse and picking a warm tomato to slice for a cheese and tomato sandwich. Now I've got a watering system in my greenhouse it may be time to resurrect my tomato growing.
Autumnal Pots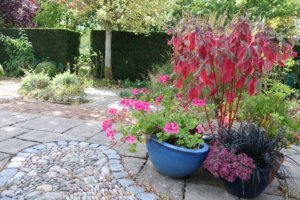 At this time of the year many of my containers look a bit bedraggled and I'm beginning to clear them ready for some bulb planting.
This collection in the Container Courtyard Garden at Barnsdale is a great example of plants still looking great in autumn and the plants work so well together.
The leaves of the Cornus shrub are turning a beautiful shade of red, matched by the Sedum 'Red Cauli' and set off by the black grass Ophiopogon planiscapus 'Nigrescens'. The pink scented pelargonium is still flowering well.  This collection would look great in any garden but I suspect that Cornus took allot of watering this summer.
A longed for identification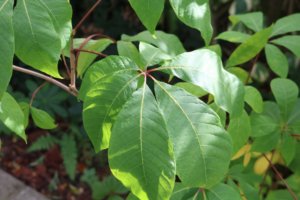 When I cut the vegetable beds at the top of my garden I was gratified to find deep, humus rich soil under the grass.  The gentleman who'd sold me the house visited one day and when I commented on it he said he'd fed a family of seven from veg beds in precisely that location.  I benefit to this day from his labours and years of his compost and mulching.
A casualty of my veg beds was a shrub that I had to dig up and relocate.  He'd planted it when his family flew the nest and he no longer needed so much fresh veg.
The shrub was planted elsewhere and promptly curled up its roots and died and I never even had time to identify it.  As soon as a saw this in the Country Garden at Barnsdale it was like greeting an old friend.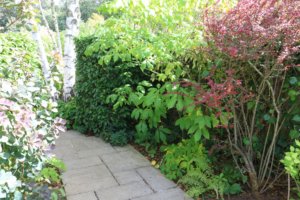 Thanks to the efficient labelling at Barnsdale I know this to be Aesculus Parviflora, which has a lovely fresh green colour and attractive palmate leaves.  I have a space for new shrub in my semi-shaded top path and this would be a good candidate.
I'll leave you with a picture of the Country Garden in which this plant features.  It's a simply stunning collection.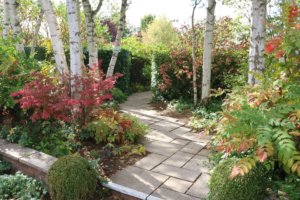 Six on Saturday is a weekly meme – take a look at the comments at the base of host The Propagator to see more 'sixes' from other keen gardeners from all over the world.