This week has seen the summer solstice and the year's longest day in the Northern Hemisphere. It's been a beautifully sunny week and I've been admiring plants best described as sun-worshippers, including alpines, sweet peas and roses. I've also been taking the opportunity to position my armillary sphere accurately.
Positioning my armillary sphere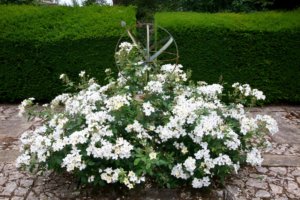 I bought an armillary sphere  just over two years ago to add a bit of interest to a bed in the centre of my rose garden.  It's a type of sundial. A friend sells these through her garden pots and accessories company Beaver's Pots.
I have waited two years to position it accurately.  It is possible to do this at any time of year with the assistance of compasses and due attention to the difference between compass and magnetic north.  However, I have read the instructions of how to do this numerous times and my brain fogs over.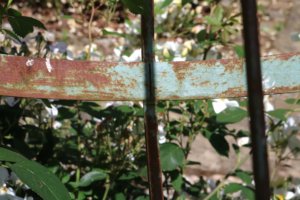 Far easier is to wait until the summer solstice, when the sun is directly overhead at midday and position the sphere so that the shadow is at the midday position.
This is a great technique if it's sunny on the solstice but for the last two years it has been thoroughly overcast.
This year I wasn't at home at midday but I was lucky that the gardener who helps me out in my garden was in the neighbourhood and swooped in to line the sphere up.
The sphere looks lovely all year round, but particularly in summer when it is surrounded by the beautiful rose 'Kew Gardens'.  I love all my roses but I'm so glad I chose this one here.
It is a tall clustered rose, smothered in single flowers beloved by bees.  The tiny buds are a delicate apricot and the flower opens to a pale yellow before fading to white with a yellow centre. It's a bit unruly but a true stunner.
Mad dogs and alpines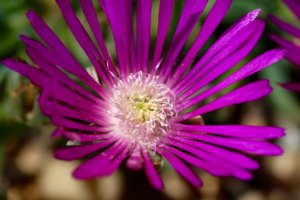 What do they say about going out in the midday sun? I try not to take my photographs in the glare of daytime sun but just like my armillary sphere, some plants demand it, only bothering to venture out with their beach towel and suncream when the sun is at it's hottest
A warm day isn't sufficient for this Cooper's Ice Plant or delosperma cooperii – it needs strong sun for the shocking pink flowers to open their jolly faces.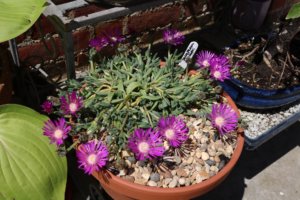 This is a new addition to my collection and I deliberately planted it at the back of the pot so that it will grow towards the sun, eventually covering this terracotta pan and spilling over the sides.
You can't help but smile at these flowers. Optimistic is the best way to describe them.
Another sun worshipper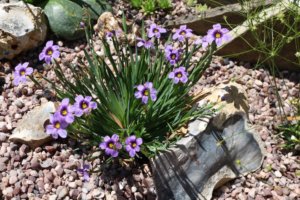 I've been trying to photograph this one for a couple of weeks now.  It's certainly not as fussy as the delosperma and is likely to hit the beach even on a slightly overcast day.  But heading out with my camera at the end of the afternoon I've usually found it's packed up it's picnic and closed its petals.
This is also a recent purchase and is a dear little Sisyrinchium  'E. K. Balls'. I love this royal purple colour and it's spiky foliage arranged in an open bowl shape.  I particularly like the colouring against this cracked flint found in my garden.
Himalayan Rose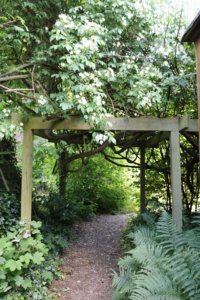 When we bought our house, the seller was very keen to point out plants he was proud of.  I was delighted to listen as he was a fantastic gardener and had planted so many wonderful plants and trees.
Top of his list was this rose, which he described as a Himalayan climber. Given it's habit of scrambling 60ft into this larch tree,  I am thinking it may be 'Paul's Himalayan Musk' rose, although this is described at pale pink whereas I'd say mine in white.
Whatever it is, I think it's 40+ years old and at the base you can see the thick branches that he had trained over a strong pergola support.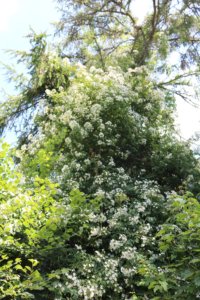 It also used to spread into a neighbouring larch which toppled in a storm, but failed to hit the ground, held as it was by several thick stems of the rose.  This prevented it crashing over the neighbour's fence and onto their cars.  Phew.
Sweet peas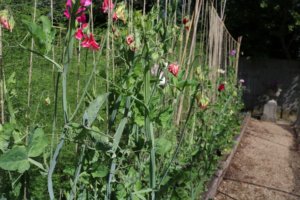 It's a busy time of year for school-children and I've had my fair share of cricket matches, exams stresses, sports days and new school induction days to attend.  It's difficult to be in three places at once and I've called in many favours with friends.
Having a long line of productive and beautiful sweet peas to cut is a boon at this time of year. When a friend turns up frazzled on your doorstep to deliver back your child it's lovely to have a little bunch of sweet peas to give them.
A dear friend took care of my dog this week and I gave her a bunch of sweet peas.  She told me that her father used to raise sweet peas from seeds and grow them as cut flowers on his farm in Essex.  She used to spend long days in the fields tying in and cutting the blooms.
She kindly gave me this picture of the rows and rows of sweet peas.  The bunch of sweet peas I gave her took her back to long summer days on the farm, and the powerful scent of the blooms.
The twittersphere tells me that this is National British Flowers Week  and there is a definite movement back to buying and growing British flowers.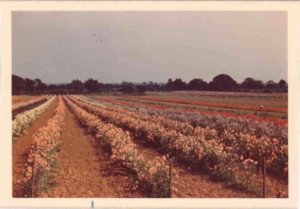 This is the third year in a row that I've grown my sweet peas up strings, a method I described here.  It's delivering lovely, straight, untangled stems and many thank-you gifts.
Six on Saturday is a weekly meme – take a look at the comments at the base of host The Propagator to see more 'sixes' from other keen gardeners from all over the world.