Photos in print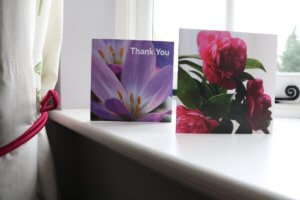 This week the charity I volunteer for showed me some cards which they have had printed, using two of my photographs.  Rennie Grove Hospice Care operates in parts of Buckinghamshire and Hertfordshire and cared for my father, providing the nursing he needed to live at home until he died.
The team at Rennie Grove are amazing and when I heard they were looking for images to use for 'thank-you' and 'in sympathy' cards, I said they were welcome to take a look at ones I'd taken in my garden to see if they liked any.
They chose an image of some deep pink Camellias and a second of some beautiful pink Colchicums.
I've recently become a bit disillusioned with my photography – possibly because I haven't been putting enough time into practising.  Seeing my photos in print has given me a real boost and I'm so pleased that the charity has been able to use them.
New vine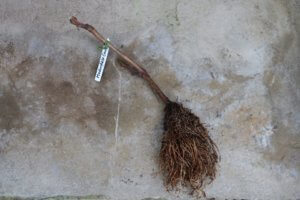 Regular readers of this blog may recall that the temperature in my greenhouse topped 41 degrees centigrade during the height of this summer's heatwave.  The external shades do a great job at reflecting sunshine but this summer I craved some additional greenery overhead to soften the glare.
I decided to buy a vine – one that can be trained over a few years to provide dabbled green shade as well as providing fruit.
Having consulted Bob Flowerdew's excellent book 'The Complete Fruit Book' I chose a variety that he recommends above all others called 'Muscat Hamburg'.  I tracked one down to Sunnybank Vine Nursery in Herefordshire and contacted them in the summer.  I discovered that they stock an incredible 450 varieties of vine.
Having spoken to the nursery and described my greenhouse and growing conditions, I ordered a variety called 'Madresfield Court', which was lifted, washed and posted to me this week.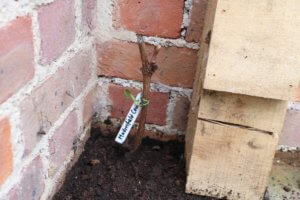 It's an early, seeded, black variety which is said to have a Muscat flavoured grape.  The plant looks fabulously healthy with an amazing root structure.  Soon I'll have to tackle the tricky issue of its training structure, as it's tucked in the corner and boxed in a bit by my tap housing.  But that can wait for another day.
Now's the time to act if you want a vine as they are supplied bare rooted between November and March each year.
Passion Flower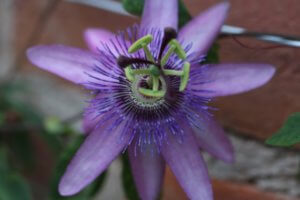 Also in the greenhouse is this Passiflora 'Amethyst Lady' which I planted in July and which is has already spread across the back wall, covering about 6 square metres, albeit sparsely for now.  It has been flowering very well and still continues to do so despite the lower temperatures in the unheated section.
I was attracted to this passion flower because of its lovely shape and pretty purple faced flowers.  As the leaves fall outside and the frosts begin to bite, a touch of the tropics is most welcome, even though this plant is tougher than it looks.
Amaryllis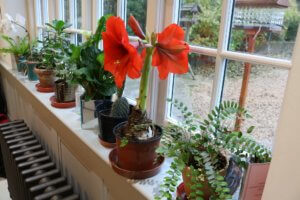 Every year I grow Amaryllis (otherwise known as Hippeastrum).  My husband travels often to the Netherlands, where he finds me large bulbs which send up 3 or 4 flower spikes in succession.
This plant, a gift from the Netherlands, is flowering in its second year now, having spent the summer basking in the sunshine outdoors.  I'm pleased I've managed to get this and at least one other to re-flower as in the past I've always composted them when they go over.  I now feel very guilty for all those discarded bulbs.  I've written about how I grow Amaryllis here, including how I've got them to re-flower.
The Snowdrop Man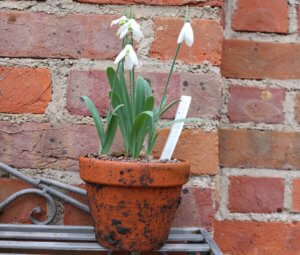 A friend of mine recently introduced me to her 87 year old neighbour.  She thought we'd get on as he is an amateur snowdrop expert.
Last year I wrote about planting snowdrops and mused on who buys the expensive bulbs you can find on ebay and on the sites of specialist suppliers.  The answer is this marvellous man and people like him. When he talks about his interest in snowdrops and what he calls "Snowdroppery" it all makes sense.
Each year he 'twin scales' rarer bulbs, cutting each one into 24 segments, which he grows on until they are ready to flower four years later.
One of his discoveries is an autumn flowering variety.  I was deeply touched that he gave me a pot of these as a gift.
He's promised to show me how he goes about the twin-scaling and I in turn have invited him to have a mooch about my garden.  I could talk to him all day.
Frosty alpines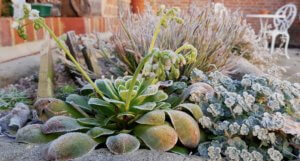 Taken earlier this week, the morning after the temperature here fell to -4, my alpine trough looked lovely edged in ice.  The colours of the plants I chose here were all purple, white or silvery greys so the frosted edges worked very well.
The plant on the left is a Lewisia, which has flowered non stop all summer until now.  The flowers of this one are pure white, although Lewisias also come in a range of warmer tones.  I'm told they don't like damp, so I'm watching this one carefully to see how it fares over the winter.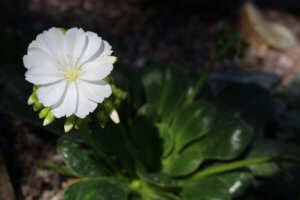 Alpines continue to interest me and I have started a beginner's diary on the Alpine Garden Society website.  My first entry can be found here.  Like my Snowdrop man, many of the members of the Alpine Garden Society are incredibly skilled and knowledgeable growers so it's worth reading other diaries too.
Six on Saturday is a weekly meme – take a look at the comments at the base of host The Propagator to see more 'sixes' from other keen gardeners from all over the world.