It's springtime and I'm feeling fruity.  This week I'm taking you on a tour of my garden to find evidence of future fruits, including nectarines, plums, grapes, melons, raspberries and rhubarb.
Nectarine – Prunus persica var. nectarina 'Lord Napier'
This is a new tree which I planted against the south facing wall which backs my greenhouse and forms a courtyard area. I've also planted a peach and and apricots along the wall.
The aim is to fan train these trees.  The picture below shows the nectarine with the leading stem pruned off to encourage side branching.  Right now it looks pretty puny but over the next few years, with careful pruning, these trees should make a great feature, and hopefully bear some fruit.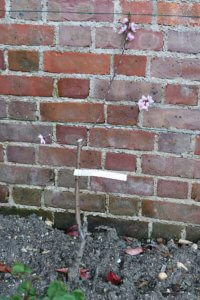 Meanwhile a small number of nectarine blossoms are out in the spring sunshine.  Nectarine blossom is a glorious fondant pink and perfectly shaped.
Who knows if I'll get fruit this year.  I could help the process by pollinating using a paintbrush but the weather has been good this week and there are plenty of pollinators about so I think I'll just wait and see.
Melon F1 'Alvaro'
My father attempted twice to grow melons in his greenhouse and was unhappy with the results.  He was a great gardener and so I've never tried, thinking if he couldn't do it then neither could I.
A few weeks ago I was invited to a local garden of a friend who grows pineapples successfully in his kitchen and also melons in his greenhouse.  He suggested a hybrid variety of cantaloupe melon that does very well in the UK, even outdoors.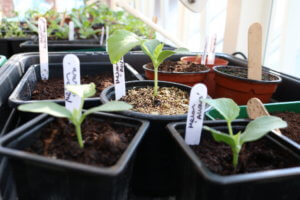 Three of the four seeds sown have germinated so I may experiment with two in the greenhouse and one outdoors, trained up the wall near my nectarine.
Plum 'Victoria'
I'm very fond of this tree as I planted it in my little orchard 6 years ago as a tiny single stemmed whip.  It looked so unpromising at the time but has grown into a lovely tree.  Each year it is smothered in pretty white blossom and last year was weighed heavy with tasty fruits.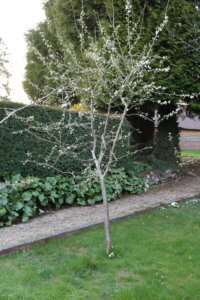 If I'm being picky I'd say the shape of the tree is not quite right and it does stretch skywards slightly too much.  I'd rather the plums were in reach.  It is best pruned after flowering so soon I'll be getting my loppers out to shape it further.
Grape vine – Vitis 'Madresfield Court'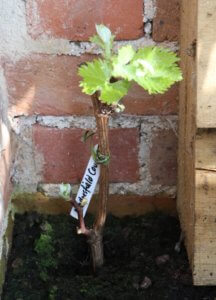 I shared a picture of this grape vine, when first planted, but was really pleased that it has started to grow strongly this week in the corner of my greenhouse.  I'm not surprised as the plant I received mail-order in autumn from Sunnybank nurseries was an extremely healthy-looking specimen with a fantastic root structure.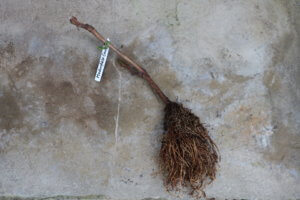 I still haven't worked out how to train it but if it continues to grow strongly, I won't have long to make my decision.  I love it when plants prevent procrastination.
Raspberries
I really don't like to buy raspberries outside of their UK season, imported from abroad and always in plastic punnets lined with bubble wrap.  Even seasonal Scottish raspberries come similarly clad in plastic.   Aside from the plastic issues, raspberries are very expensive in the shops.
So I love growing raspberries of my own and whilst the season in my garden is fairly short, I eat them from my freezer year-round and as jam on scones as a special treat.
I'm lucky to have the room for three rows of summer fruiting canes.  They were here when I moved in, although I replaced the fruit cage 9 years ago and so I moved the canes and replanted them once the new fruit cage was built.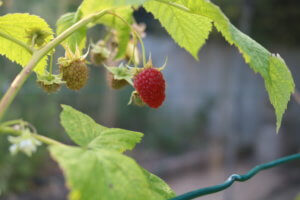 I don't know which variety this is but it's certainly a tasty one with long fruits that freeze very well.  I'm looking forward to July, when these dark pink jewels will be in my pudding bowl once more.
Rhubarb
Whilst I wait for my raspberries, rhubarb fills the pudding gap.  Rhubarb crumble and stewed rhubarb with honey and yoghurt are big favourites in my family.  I've also got a good recipe for rhubarb cordial which goes very well with fizzy water or even champagne.  If you want to know more about growing and forcing rhubarb click here.
I've been amazed how quickly the rhubarb has been growing in the last two weeks and the stalks in the forcers are almost ready.  I predict my first pudding next week.
If you want to read other contributions to the Six on Saturday link up of gardeners click here to go to the page of host The Propagator.