It's a New Year and everything looks and feels grey. My imagination is on pause until four plant and seed catalogues fall to the doormat.  Reading a plant catalogue is like the bit in the Wizard of Oz when Dorothy is transported from black and white Kansas to technicolour Oz.  I unwrap the catalogues and the colour floods in.  My imagination sparks and I'm out in the garden planning for next year.
Here are some of my new ideas…
Woodland Walk extension
Not quite the yellow brick road but you can see from the woodchip path that this bit of the Woodland walk already exists. It's a monoculture of just one plant – ivy. This area will need a thorough ivy removal drive this winter but I can picture the ferns and shade dwellers that will nestle here.  It'll be worth it.
It was a major job to clear the ivy from the first phase area where I've built a stumpery but it's amazing how well the plants have settled in and how I've been able to keep the ivy at bay and let the woodland dwellers thrive.
In summer the main colour here is green – my own Emerald City.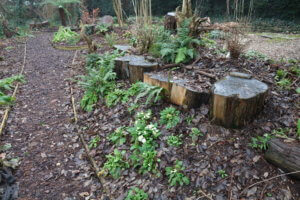 Conifer garden
Unlike the yellow brick road, this path leads to a disappointing destination.  I have neglected the path and raised bank behind my rock garden for years but I've realised that it's a good spot to indulge my new found love of conifers.  I'm going to remove the brick pillars and railings as they don't add anything aesthetically or even practically.  That'll open up the vista for my conifer backdrop.
I have bought the first conifer, a lovely weeping cedar which really needs the height of the wall to show it off its trailing branches.  I find buying a plant really motivates me and this cedar will sit there remonstrating with me until I get out the ivy and weed from its new home.
In the meadow – trampoline corner
Poppies in the meadow were almost Dorothy's downfall and certainly in the summer, this orchard meadow is a lovely place to sit and dream.  This time of year it's at its most unappealing but it won't be long before the crocuses and snowdrops will appear.  I've written about how I am managing this area to encourage a meadow atmosphere and if you're interested you can read this here.
There was one blot on the landscape here – the trampoline – and we have finally managed to persuade the children that it can go.  They weren't happy as they had spent hours and hours bouncing away in the summer sunshine over the years but they realised those memories will remain even after the trampoline has gone.
The circular space under the trampoline is devoid of grass and is weedy.  Yet more ivy has moved in and there are a couple of beech whips where squirrels had hidden some beech nuts.

It won't take long to clear these away and I'm planning a new apple tree.  It will join the two that are already there and the newer pear, plum, cherry and quince trees.
New strawberries
I'm dreaming of strawberries as red and shiny as Dorothy's ruby slippers.  I'm not sure I've shared this view of the fruit cage before.  It was a birthday present 10 years ago and has been a great success.  Whilst the odd bird manages to find its way in here, the fruit bushes are largely untroubled and produce more crops than we can eat.  Apart from strawberries.  There are never enough strawberries.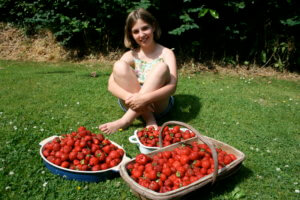 I had one golden year 8 years ago when I had a bumper crop of a tasty strawberry called 'Honeoye' but all the fruit came at once. To spread the cropping, I replaced some of the plants with later fruiting varieties which have all been disappointing in their yields.
I'm planning on buying in some new Honeoye plants.  I don't even mind if they all fruit at once – nothing beats strawberry jam.
Mountains more alpines
Dorothy's visit to the Wicked Witch of the West's mountain castle was traumatic but I'm dreaming of a more sedate reminder of mountain scenery with another alpine trough.
Some of you will remember my big Brugmansia went off to a new home in a friend's spacious new greenhouse. It went off in a horse box.  In return, she gave me this lovely glazed trough.  It contains some bedraggled sedums but she doesn't mind if I strip these out and develop a new alpine ensemble.  I'm not sure what to choose yet but there's great fun to be had planting an alpine trough.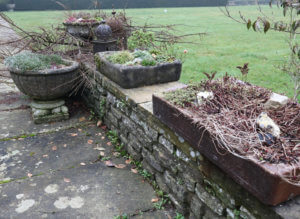 Wall flowers      
Dorothy was no wallflower but I'm aiming to expand the number of trailing flowers in this lovely wall.  It is original to the house and was built with ready made planting holes.  It's fun to plant into the pocket and plug it with stones to hold the soil in.   But then it's difficult to keep the plant watered.  A water spray isn't enough and a watering can flow too harsh.
My solution this year is to plant some more things in the dormant season and I have a few aubretia at the ready.  I'm hoping they'll get some roots further into the recesses of the wall before the lovely summer I'm hoping we'll have this year.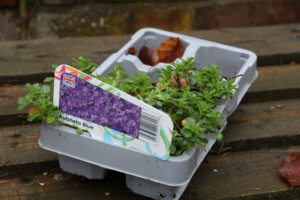 Keep the faith everyone – unlike Dorothy we're all already at home but the colour of Oz will return to us before long.
This seasonal diary is part of a weekly link-up of garden bloggers from around the world, called Six on Saturday.  For more information and links to other blogs crammed with gardening activity, check the blog of host The Propagator.