Plug plants are baby plants grown in modular trays or small individual pots. Many types of plants are available as plugs, including annuals for your pots and window boxes, flowers for cutting, wild flowers and off course vegetables. They are a boon for the time-pressed gardener. Delivered to your door, they give you more time in the garden and less shopping around for the plants you desire.  Only growing from seed offers you a greater range of flowers and vegetables to try and plugs can bail you out if your germination fails or your own plants are damaged by pests.
Available mail order, or from garden centres early in the season, they will be cheaper than buying larger plants later on. Planted straight out, or potted on for a while, plugs often romp away quickly. They are great for gaining confidence if you're a novice gardener or for experimenting with a wider range of plants than you could grow from seed, if space and time are limited.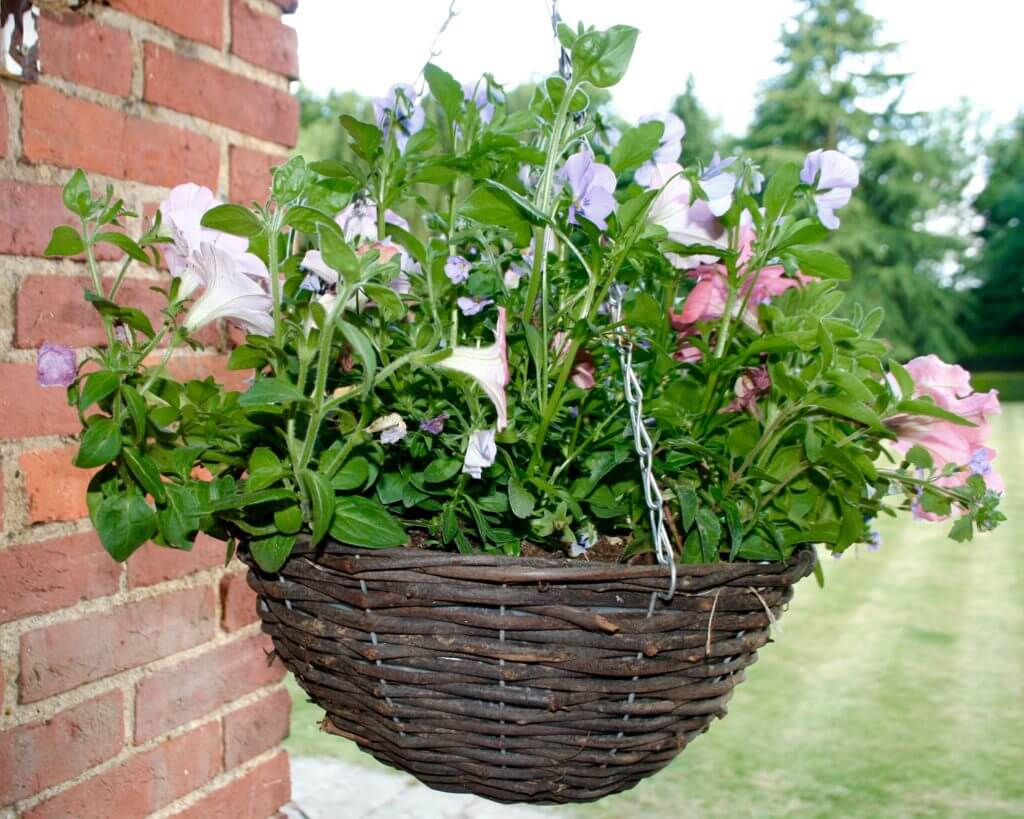 Affordable window boxes, pots and baskets
I first discovered plug plants many years ago when I was browsing in a London garden centre in spring. I'd gone to buy a new spade but the plug plant stand caught my eye. My imagination went into overdrive. I had become bored with my window box recipes and often found that whilst I had ideas in my head about what I wanted them to look like, the garden centres didn't have the colour or plant combinations I wanted.
The plug plant stand offered huge variety.  There were at least 10 types of geranium, including trailing ones, and ones with lemon-scented leaves. There were at least 8 types of fuchsia, including some delightful all white varieties and ones with interesting contrasting colours. I'd never seen most of the varieties before and whilst they weren't yet in flower the pictures of the flowers were so enticing.
I realised this was the way forward and indeed my window boxes were better than ever that year as each pot was crammed with more plants and of a greater range.
Looking at my 2018 catalogues I have found suppliers of all the usual bedding and container favourites; geraniums, busy lizzie, gazania, lobelia, nicotiana, marigold, petunia, phlox, verbena, stocks, antirrhinum, bacopa, calendula, coleus, cosmos, nemesia, osteospernum, salvia, and zinnia. Plants usually work out at about 50p each, some cheaper, some more expensive.
2018 collections that caught my eye: Unwins have 48 single variety plant selections for £14.99 and 18 plant 'pink sophistication' hanging basket collection for £19.99. (www.unwins.co.uk) JParker's 'Basket lovers collection' is a 132 plug collection of lobelia, bacopa, busy lizzie and petunia for hanging baskets costing £23.96 (www.jparkers.co.uk)
Vegetable Bonanza
For those with a small vegetable plot, plug plants are a great way to go. If you haven't got much space but want to grow lots of different types of vegetable then you will question growing everything from seed.
My favourite plug plant purchase was a variety pack of squash seedlings. Whilst they are easy to grow from seed, I only had room for 6 plants and it seemed wasteful to buy multiple seed packets. I was a first timer at growing squash and needed an easy win. They all grew well but I had my favourites and it helped me to narrow down the varieties to grow from seed in the future.
Plugs come to the rescue if your seed germination failed or if you thought you'd get around to sowing those seeds but remembered too late. Last year, the sweetcorn plants that I had lovingly raised from seed were all dug up. I'm not sure if the culprit was my dog or a passing muntjac deer but needless to say a plug plant collection rescued me.
2018 collections that caught my eye:   Marshall's seeds have a nine plant 'Tomato, pepper and cucumber greenhouse collection' for £10.99 (www.marshalls-seeds.co.uk)
Sweet Peas
Many suppliers offer collections of sweet pea plugs by mail order, great if you want to experiment with a variety of beautiful colours without germinating from several packets of seed. The suppliers put thought into colour combinations and plant properties so you don't have to. Most suppliers provide labelling to their collections so that you know which variety is which when they arrive by post.
Having suffered from mice eating sweet peas seedlings from my cold frame, I often let let someone else take the rodent risk. I still grow some from seed but have been insuring against losses by also buying some plugs. Last year I grew the 'Flower Arrangers Blend' from Unwins, which contains scented varieties on long, strong stems. Their 'Apple and Blackberry' mix also caught my eye, with purples and mauves set off by acid green sweet pea 'chloranthus'. (www.unwins.co.uk)
Sarah Raven plants also specialise in collections put together after trials in Sarah's own garden and the combinations are all delightful. New collections are added every year. Most suppliers also provide single variety plugs so you can have fun making up your own collection. It's worth searching around online at a variety of suppliers to see which collections suit your taste and budget.
Read the catalogue carefully to find out how many sweet peas you'll get and how they are packaged as not all suppliers are the same. Unwins supply 5 seedlings per cell, whereas Sarah Raven plants come individually in a deeper cell, with a longer root run. I have found both work well although sweet pea roots love to run deep so I found the Sarah Raven ones grew away slightly quicker.
2018 collections that caught my eye: Sarah Raven's 'Buckets of Sweet Peas' collection offers 4 plants each of 8 varieties for £37.95, and the 'Aegean Summer' collection in a soft colour palette which looks tremendous and costs £23.95 for 20 seedlings. (www.sarahraven.com)
Great for Biennials
Biennials are plants that have been started into growth one season and flower the following season. I so often see plants in seed catalogues which I'd like to grow in the coming season but which I didn't think to sow the year before. Worse still, I have sometimes sown biennials and failed to care for them in the summer months when there are so many other demands on my gardening time.
Plug plants are the obvious answer to these problems. Sweet William (dianthus – shown below) and Stocks are plants which fall into this category and can be ordered and planted out in Autumn or even the following spring.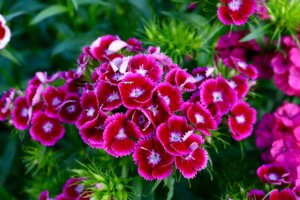 2018 collections that caught my eye: Brookside nurseries have a 40 plug collection of Sweet William called 'Dianthus Corona Mixed' for £7.99 (www.brooksidenursery.co.uk)
Giving wildflowers a fighting chance
Last autumn I decided that I wanted to introduce some wild flowers into grass in my small orchard. I researched what I needed but realised I'd struggle to raise the amount of seedlings I'd need given other demands on my time.
I wanted to plant young plants directly into the grass rather than simply broadcasting seed. Not only could I control where to plant each variety but I read that it would give the wildflowers a chance to compete against the grass, as they will be planted with a good strong root structure.
I found an online supplier called Landlife wildflowers (www.wildflower.co.uk) and was delighted when my plugs arrived last autumn. I potted them on, have kept them outside over the winter and plan to plant them this spring.

What to do when your plug plants arrive
If you buy them in a garden centres, you can start looking after your plug plants when you get home. With mail order plants, try not to leave them sitting around for too long before opening. Most come in plastic modules and then packaged into cardboard, usually with a message on the box saying that there are live plants inside. They will all have been watered before posting and may come with damp paper to keep the plants moist.
I have been known to leave mine around for a day or two, or even five with no ill effect so if they do end up languishing at the post office depot for a while don't panic. They are unlikely to dry out but they will obviously not be keen on the lack of light. Get them open as soon as you can, even if you'll not be dealing with them straight away.
Some will arrive at a time when they can be planted straight out in the garden. This is especially true of sweet peas and some hardier vegetable plants, which can usually be planted out in April. Most come with planting out instructions or check online to see if they are frost hardy. I do sometimes pot mine on and keep them in a cold frame for a few days until I feel that conditions are right to plant out.
Plants that are not frost hardy should obviously be kept sheltered. Container plants such as geraniums should definitely not be planted out until all risk of frost has passed. If they come in tiny plugs and the roots look constrained I will pot them on into larger modules or pots and keep them in a cold frame or cool windowsill.
If you have a greenhouse you could even pop the plugs straight into your containers and window boxes and look after them under glass ready to move out in early summer.   For a mixed pot you will have to imagine what each plant will look like to plan your arrangement. Trailing plants should obviously be planted at the edges with upright varieties at the centre or back of the pot.