Iris
Last Saturday I told you all I was off to the Oxford Botanic Gardens whilst my daughter did vaccination training with St John's Ambulance nearby.  Well I went and it was very cold but also very lovely.  Just look at this display of bulbs.  The snowdrops and Crocus tomassinianus are pretty common bed fellows but what really lifts this ensemble is the drifts of pale blue Iris.  I think this is probably a cultivar called 'Katharine Hodgkin'.  The whole colour scheme is something Monet would be proud of.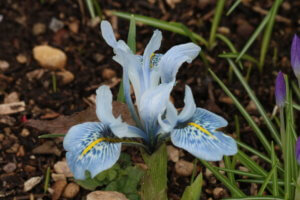 I have to admit the pale blue would not have stood out for me in a bulb catalogue as it's so understated.   I now repent such thoughts.  Meanwhile back at home, the rich dark tones of Iris reticulata 'Blue Note' were in bloom.  That's a colour that really jumps off the page of a catalogue.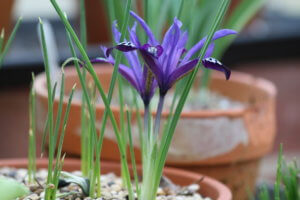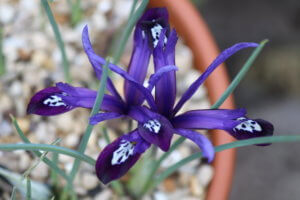 Daphne bholua 'Jacqueline Postil'
Also at OUBG was this stunning, fragrant daphne in full bloom.  This is an often talked about shrub and it's easy to see why.  On a freezing cold day it warmed the heart.
Back home, I took a peek at my new one, planted just before Christmas.  Whilst her Oxford compatriot was dazzling, my own Jackie P was a shrinking violet.  I'm sure she'll settle in soon.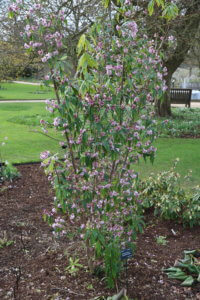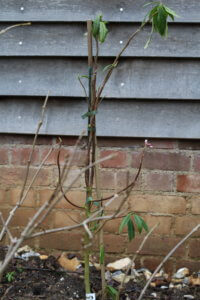 Bulking out the snowdrop walk
Now's the perfect time to move snowdrops about and I've been bulking out the display along this lovely path.  I call it the top path as it's on a narrow upper tier of the garden, above the main lawn.  I've never before called it a snowdrop walk but it's so attractive at this time of year with hellebores and the odd snowdrop, I've decided to go all in and make a winter feature of it.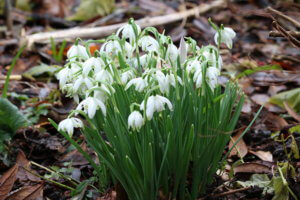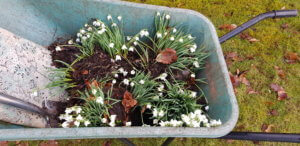 Luckily I have some lovely large clumps of double snowdrop Galanthus flore pleno elsewhere in the garden wanting a new place to shine.  I dug them up and planted mini clumps at intervals all the way down the path.  The sun was out and it made me optimistic for the winters to come.
Crocus vandals
Last week I shared the handsome crocus 'Ronald Ginns' with you all and earlier this week crocus sieberi 'tricolor' was blooming too.  Both were in the cool porch of the greenhouse.  Come Wednesday all the flowers had been munched off.  I thought it must be mice and set some traps.  So far I have caught three of the little nibblers.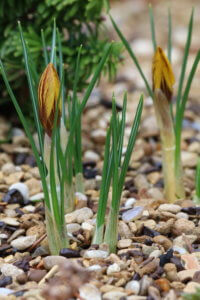 Luckily I have many more crocuses to come, including these small but striking Crocus chrysanthus 'Fuscotinctus' in red wine and mustard tones.  When they open they'll be golden yellow like a streaky sunrise.
It seems counter intuitive that the crocuses are safer out in the garden than in the greenhouse but maybe the shelter of the glasshouse is just too appealing for the mice.
Inspiration from afar
I recently attended a zoom talk about flowers in the hills of South West Turkey.  The speaker, botanist Christopher Gardner lives there, and unable to travel during the pandemic, he had been spending more time in his own backyard.  He shared some stunning photographs of delightful flowers.
Chris has published two great books recently – one on Mediterranean flowers and one on the flora of the Silk Road.  Both are crammed with fantastic pictures of well known and unusual plants in their native habitats.  The books are the perfect lock-down leaf-through.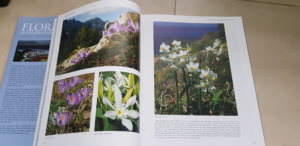 Edible Dormouse
Who's seen one of these?  It's an edible dormouse, a delicacy of ancient Rome, otherwise known as a Glis glis.  Look at those eyes – cute aren't they?  But my heart doesn't melt when I see one as they are a worrying pest around the Chilterns – munching electrics and partying in lofts in the early hours.
This little one appeared in the sitting room one lunchtime and we think it came down the chimney.  We shooed it out through the patio doors but it could well be back.  Why is this relevant to a gardening blog?  Well, the Glis glis is not native to the UK and it is thought they're now endemic to the Chilterns, having escaped from Lord Walter Rothschild's mini zoo at Tring Park.
I could curse Lord Rothschild but then I remember that he was a keen plant hunter and collector and we can thank him for the introduction of many lovely plants to the UK too.  So the appearance of the Glis glis gives me the perfect excuse to share this Gloriosa lily with you all.  Gloriosa superba rothschildiana.  It'll be sprouting in the greenhouse soon.
This seasonal diary is part of a weekly link-up of garden bloggers from around the world, called Six on Saturday.  For more information and links to other blogs crammed with gardening activity, check the blog of host The Propagator.