Two years ago I decided to make a rockery either side of some steps leading up from the patio. This week I finally finished planting it up and top dressing.  I know I'm amongst plant friends here at Six on Saturday so you'll understand what an enjoyable time I had doing this.  A welcome distraction to the difficulties family and friends are facing, I eked out the planting to give me something really special to look forward to each day.
And so the day is here – the big rockery reveal.  I hope you enjoy a few views of my mountain scenery.
Before and after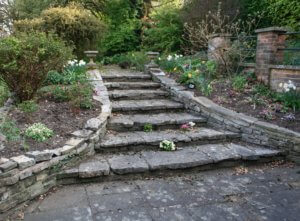 No reveal can be complete without a before picture.  This picture makes the area look OK but I'd never had success creating a good planting plan here.  It took me several years to work out that the slope was the problem.  A new found love of alpines led me to the obvious answer – a rockery, using the the slope as a mountain scree and large stones to facilitate an informal terracing.
That revelation was two years ago and it's taken a long time to get to ribbon cutting day.  Expense was an obvious impediment, as was the difficulty of sourcing and transporting heavy stones but there was an even bigger problem.  Weeds!  The first book I read on rockery creation made it clear that dealing with perennial weeds is a problem anywhere but particularly in a rockery, where the roots will enjoy the rock crannies as much as any alpine.
This area was therefore cleared of any existing plants and a whole season spent weeding out ground elder and bindweed.  We spent a  whole summer looking at bare earth.  I'm hoping a small nugget of bindweed root didn't escape us but you never know!  Regular readers of this blog will have seen the machinery required to get the stone in place but those that like pictures of big kit, click here.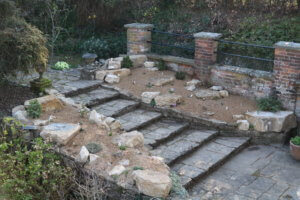 The crevice garden

A big problem I encountered throughout the project was how to integrate the rocks into the existing scenery.  The area at the top right of the rockery was a tricky one – where some huge rocks looked great from the house view but had an ugly backside.  My solution was to use some old paving stones laid on their sides and in a series of parallel lines to create a crevice garden.  The last of these then created a retaining wall, preventing soil falling onto the top path.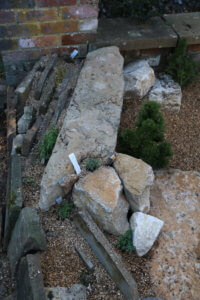 A few more plants are needed here and being tight planting spaces between the stones, planting baby plants will be the key.  I've got some seed trays on the go from the 2020 Alpine Garden Society seed exchange so maybe some will find a home here.  It's not the sunniest part of the rockery sadly so the plants will need to take a bit of shade.  I read that Erodiums don't mind dappled shade so I've got a couple of them planted in here already, including one called Erodium 'Katherine Joy'.  I like plants that share my name!
View from the lawn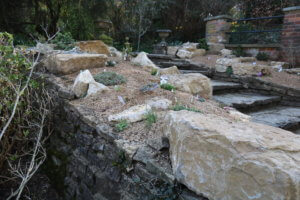 This was another area that needed careful integration – mainly aesthetically.  The drop to the flower bed and lawn below is three and a half feet.  This wall, set out in Edwardian times when the house was first built, came ready made with planting crannies for rock plants such as aubretia.  I've added a few trailing plants, including some more aubretia and phlox to soften soften the top of this wall.
A few of the plants – first an instant win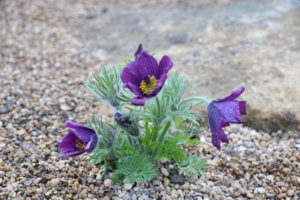 It's probably hard to believe from the pictures above but there are over 50 plants in the rockery.  Many were from the 2019 AGS Seed Exchange, others mail order recently from Pottertons and D'Arcy and Everest.  These are both family run nurseries, relying on mail-order now that the summer gardening shows are cancelled.  If you're keen to make an alpine trough during lock-down they're open for business.
So many of the plants I've put here are just babies or toddlers and will develop over the next few years, slowly creeping over rock and gravel.  I wanted some quick wins though and this Pulsatilla (Pasque Flower) was a garden centre purchase just before lockdown.  It's a very deep purple version, sadly unnamed.
Raoulia australis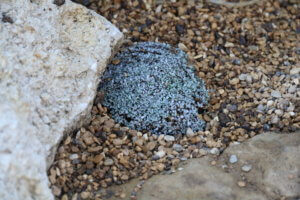 This little silvery mat is a hummock forming plant, sometimes described by alpine growers as a 'Sheep', presumably  for its woolly shape.  I've read this is hard to grow, which is a shame as I'm really hoping that it spreads slowly across the gravel and over the shelves of the larger stones around it.
Androsace septentrionalis 'Stardust'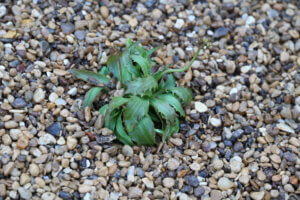 This unpromising looking thing is a secret firecracker and will explode later in the season with long sparkler-wire branches topped with tiny white star shaped flowers.  Here's a picture of one in my alpine trough last summer. Light the touchpaper!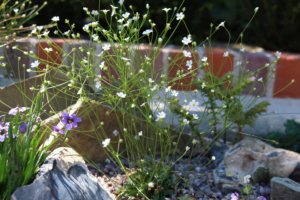 This seasonal diary is part of a weekly link-up of garden bloggers from around the world, called Six on Saturday.  For more information and links to other blogs crammed with gardening activity, check the blog of host The Propagator.