This is my 105th diary post for the Six on Saturday link up of garden bloggers.  I know because this week I did a spreadsheet listing the plants featured.  It was fun to reminisce and I realise how  wonderful it is to have a record of my gardening antics.   Above all though, Six on Saturday is a great way of connecting with other growers and becomes a dangerous habit as the list of new plants I want to possess grows ever longer.  Thanks to Jonathan aka The Propagator for being the glue that holds us together.
I almost didn't post this week as the rain made photography challenging but I put on my mac and went for it.  A mixed bag this week…
Salvia leucantha Purple Velvet
What a colour, what a texture, what a plant! This is a tender salvia which is fine outdoors in summer but needs to be kept frost free over winter.  I therefore grow it in a pot.  Each autumn it puts on a neon light show, with a purple so bright I have to tell myself it really is real.  Up close it has a fuzzy felt texture.  I love it!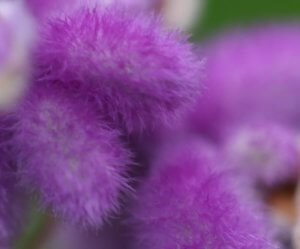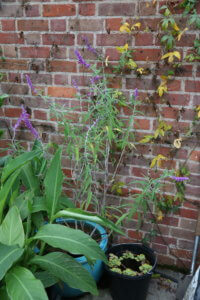 Narcissus romieuxii – Romieux Hoop Petticoat Daffodil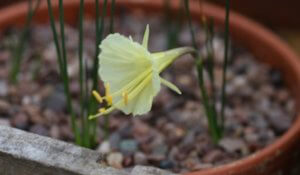 This little treasure is identical in shape to the bright yellow narcissus bulbocodium which I grow in the grass but is a much paler primrose yellow.  This variety comes from North West Africa and need to be sheltered from winter wet.  I love the shape and imagine the trumpets are fairy gramophone horns.  This one is trumpeting the arrival of spring far too early but then it's fair enough that it's confused.  It's a new planting and is growing in my greenhouse sand plunge.  It has been rather warm in there of late.
The pond's last hurrah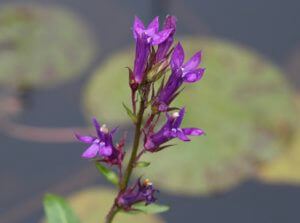 The waterlily leaves are slowly sinking and the iris marginals are going brown but this Lobelia has decided to give one final floral flourish.  I love the regal purple colour.
I couldn't be happier with how the pond has turned out.  The water is now perfectly balanced with a clear mirrored surface and inky black depths.  It's been visited by plenty of flying wildlife this year, mainly insects but also a huge Red Kite that swooped down for a drink in the heat of summer.  So far I have seen no amphibians though.  As far as I know the froggy staircase remains unscaled.  I have seen a newt not far away though so maybe next spring it'll explode with amphibious activity.  Build it and they will come.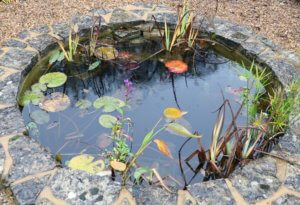 Cuddly cotoneaster horizontalis
This plant has the charming habit of reaching its arms out and embracing things.  It has stretched up from the bed below to throw its arms around these alpine troughs and planters.  This is a plant that should feature in one of those sunday supplement lists of plants for year-round interest.  Its bare branches are architectural in winter, the rosebud pink miniature flowers charming in spring, the green leaves glossy in summer and the leaves coral red in autumn.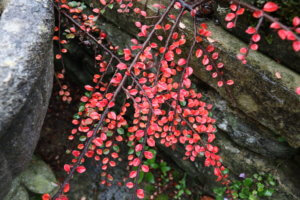 Cornus rutgersensis 'Stellar Pink'
This wonderful tree, planted alongside the lane to our house, is another autumn wonder.  The colour this year has been brilliant, the tree dangling with a traffic light succession of green, orange and red leaves.  This one has beautifully proportioned, fondant pink ridged flower bracts in spring.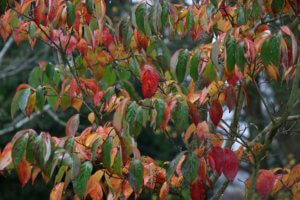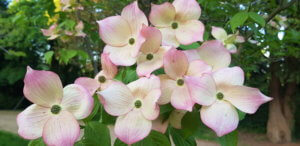 Rosehips from a very old Rose
Back in May I wrote about my Aunt Rose who had Covid-19 aged 106.  She was asymptomatic and, I'm happy to report, continued to be.  Covid didn't get her but eventually pure old age did and she died in August a couple of weeks shy of her 107th birthday.  My post about plants for remembering included a picture of the ancient rose that reminded me of her toughness and beauty.  Now it's festooned in glossy red rosehips, a reminder of the time my siblings and I tried to make rosehip itching powder to put down her back.  We were children and she didn't really mind, although she was less happy when we put foaming sugar in her tea.
This seasonal diary is part of a weekly link-up of garden bloggers from around the world, called Six on Saturday.  For more information and links to other blogs crammed with gardening activity, check the blog of host The Propagator.