Have you been to a village show and now want to know how to show fruit and veg or flowers?  Here I describe how I started showing for the first time, share tips from a judge and explain how growing for show has made me a better gardener.
Who doesn't love a traditional village show? As the holiday season approaches organisers air the beer tent, hammer signs into the village green and untangle the bunting.
Meanwhile, exhibitors sit at kitchen tables plotting their horticultural entries or patrol their gardens checking on the progress of future prize-winning exhibits.
But what sort of person enters these competitions and what experiences await first timers?  If you're a gardener or allotment holder you may be shy to get involved in showing or question why you even would.
Who enters village show competitions?
Most might expect the typical show entrant to be elderly allotment holders, and retirees with perfect gardens. In fact a new breed of young exhibitors is polishing their potatoes and entering their local show.
The secretary of my local show has supervised entries for over 20 years which gives her a good insight into how the profile of exhibitors has changed.
She is excited to welcome a new breed of exhibitors including a younger demographic and a good gender mix. "Gone are what I call the 'Old Boy' gardeners, many of whom were long term allotment holders or head gardeners at the large houses hereabouts".  Introducing more children's classes has attracted younger entrants and their parents often join in too.
Garden shows are more popular than ever
Perhaps it's not surprising that a younger brigade of exhibitors is marching forth. Gardening is more popular than ever, and with over half a million visitors a year to the Royal Horticultural Society flower shows alone, it is perhaps natural that a resurgence in exhibiting may have followed.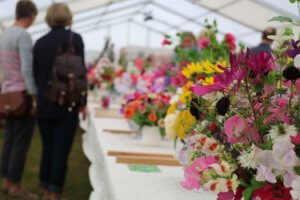 Television programmes such as the BBC's 'The Great British Bake-off' and  'The Big Allotment Challenge' have sparked a revived interest in the whimsy of traditional village show competition and launched successful careers for the winners.  Rob Smith has a successful career as a writer and blogger following his win on the Big Allotment Challenge.
Riding this wave of nostalgia and perhaps sensing an opportunity to attract new competitors to the joys of showing, the Royal Horticultural Society published the 'Great British Village Show' in 2017. Co-written by culinary expert Thane Prince, and Gardeners' Question Time regular Matthew Biggs, the book attempts to demystify showing for the first time entrant.
With tips on choosing, preparing and displaying your produce to catch the judge's attention, the book will help anyone thinking of showing for the first time.
What's holding you back from exhibiting?
Fear of competition and a worry that you might look silly in front of family and neighbours must be the number one reason why people may not enter their local show.  If you've been to any RHS or national standard show and seen the perfect specimens on display  it would be easy to think nothing in your garden would be good enough.
We've all read articles in the media about the lengths some exhibitors go to in creating their perfectly straight cucumbers or growing a heavyweight pumpkin.  The skills and attention to detail of prize-winning growers such as Medwyn Williams are to be marvelled out.
Yet most amateur gardeners are growing to eat their produce or to enjoy the look of their gardens. In these cases showing is a side-line rather than a primary aim.
Meanwhile stories of skulduggery, theft, and ransacked plots occasionally reach the papers and give the impression of a win at all costs competitive streak in the gardening community. Whilst isolated cases do hit the headlines these stories are thankfully rare and the good news is that at most shows the atmosphere is more genteel and encouraging.
My local show secretary wants a show tent bursting with colour and produce and wants to encourage people to put their worries aside and join in. She reaches out to families through the local school and has attracted a younger category of entrants. Introducing novice classes has encouraged newbies to have a go safe in the knowledge they will be competing against other first-timers.
"We like to tell people that most gardens will have something worthy of exhibit and why not give it a go. Perfection may win the top prizes but this is only a local show and in most classes it's easy to do well".
The story of my first show
I was a first time exhibiter at my local show 2 years ago. A friend of mine was entering a quiche in the cooking class and had been to the show many times before.
She looked round my garden and pointed out things which she thought could easily be good enough to display. Having witnessed horticultural perfection at the Chelsea Flower Show, I was sceptical.
I read through the classes in the show booklet but hesitated before posting my entry form as I didn't want to look foolish. I remember my friend's words so clearly "I've seen far worse than those flowers on display before – what have you got to lose?"
I reasoned with myself – the truth was I had nothing to lose. Each entry would cost me just 20 pence and people would only really be interested in the top prize-winners anyway, not the losers.
The morning of the show was beautiful and sunny and my husband and children begged me to breakfast in the garden with them.  Instead I ran round the garden like a headless chicken, picking peas, fruit and mixed perennials.
My husband choked on his toast when I got my ruler out to measure my pea pods and held them up to the light to see how well filled they were. I wasn't at all sure what the judging criteria would be but had looked online the night before to get a few tips on what the judges might look for.
It paid off. My peas not only won first prize but also the 'Best in Show' trophy for best exhibit overall. I was stunned, and my family who'd laughed at my pernickertiness that morning, were suddenly very proud.
My blackcurrants also scored well, although my floral arrangement in yellow hues came third of three entries! Deep down, I know it was just good luck that I had five perfectly ripe, well filled pea pods, all roughly the same size and with green calyxs ready on the day. Sometimes luck is as important as skill.
Of course I have only ever entered a very local show where the exhibitors are all amateur gardeners like me.  I doubt I'll progress to shows with stiffer competition – but never say never.
Why showing has made me a better gardener
Of course the gleaming silver trophy is something to be proud of but the benefits of entering that first year run far deeper than the bling.
That day I met members of my local Horticultural Society and I now regularly attend their meetings and outings. Being a member has so many benefits and I have previously written an article on why those interested in gardening should join their local society.  You can read this here.
I am still interested in showing and take it slightly more seriously but not at all costs.  My aim is to grow food I want to eat and flowers that make my garden beautiful.  If something is good enough to show on the day then all the better.
I have learned more about what the judges are looking for in each class and I do look at the booklet further in advance to plan what I might be interested in showing.  I choose my seeds carefully and grow things that taste and look good but are also known to be good show varieties.
Most importantly, I feel that the show deadline offers a new dimension to my gardening. I watch the weather more closely, I walk the garden each night looking at how fast or slowly things are developing.
It's made me understand my plants, and has therefore made me a better gardener.
Top 10 tips for first time entrants
My local judge was happy to share his tips if you're new to showing. Here are his top 10.
Read the rules – if 5 onions are asked for, it's no use displaying 4 or 6.
Don't display fruit and vegetables which are under or overripe – if you'd cook with them, they're probably ready for display
Don't overcrowd your floral vases. Whilst the judges are looking for quality of flower, an attractive arrangement will endear you to the judge. Floral foam can be used to hold the stems in place. Try to arrange them for a balanced overall look.
Don't enter too many classes. It takes a long time to gather, inspect, choose and stage each exhibit well.
Pick everything the morning of the show when cells are turgid and everything is fresh. The judge will open pods, and snap beans and rhubarb, and will be looking for crispness.
Beans, peas and other green vegetables look best displayed on black background. A slate or black cloth can work well.
Look out for pests – gently shake flowers to dislodge flea beetles or place them near a white background to encourage them out.  Greenfly infestations can be brushed off stems with a soft paintbrush.
If anything is less than perfect don't display it no matter how proud you are of it. Wilting leaves, marked or blighted veg and dying petals will all lose you points.
Read up on the rules – if you know what the judges are looking for you are more likely to have the confidence to give it a try.
Don't be disheartened if you don't win. At least you tried. Look round the marquee, see where others were better and set out to beat them next year!
Further reading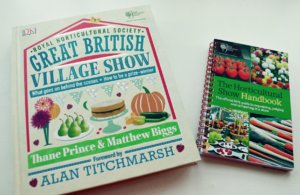 The RHS has two books on showing that might be of interest if you are thinking about entering and may give you the confidence to try.  Read these books and you certainly won't be entering blind and you may even know the strengths and weaknesses of your entries before you even stage them.
'The Great British Village Show', published by Dorling Kindersley, is a full colour guide to what the judges look for in fruit, veg, flowers, houseplants and even bonsai. It also has a guide to baking and preserves for those who are multi-talented.
It is very readable and contains confidence-building case studies on exhibitors from around the country.
Also from the RHS is 'The Horticultural Show Handbook', revised 2016.  Designed to help those organising and judging a show as well as exhibiting, the book describes in detail what constitutes merits or defects of each class of fruit, veg etc. It explains the points based marking system to score on condition, uniformity, size, colour etc.  This book is very helpful to help you decide which class your entry should be put in as this can be confusing – especially for flowers with multiple types such as roses or dahlias.
If your show is coming up soon, why not give it a go – you really have nothing to lose.  Do let me know how you got on.  You can use the comments section below or get in touch via social media.