These beautiful flowers in pastel shades work well together and unplanned happen to be blooming at the same time in my garden.  Here I tell you what they are and show you how simple it is to arrange them in a vase with no fuss or equipment.  I also describe how to grow these flowers if you want this combination in your garden.
Flowers for cutting
When I first started simple flower arrangements I would read magazine articles and books and get frustrated that I couldn't find the flowers suggested in my local florist.  I decided to start growing my own and over the years have enjoyed the impact of these flowers in the garden as well as in the home.
Cutting gardens are all the rage at the moment but tend to focus on annuals. This arrangement contains a combination of herbs, perennials, annuals and roses. If you have room in your garden or allotment for a cutting garden that's great but start thinking about perennials as well as annuals.
In a small garden it's worth viewing the whole thing as a cutting garden.  Most of these flowers will keep blooming throughout the season, and cutting will stimulate new flower stems.
Don't be shy to cut.
What this arrangement contains
Dahlia Linda's Baby and Henriette – both grown from tubers potted up indoors in late february and planted out in May. One Henriette plant I overwintered in the ground and this is now a large plant with lots of flowers.  For more information on growing Dahlias click here.  Henriette is a pale yellow, flushed at the tips with apricot and pink.  Linda's baby is a beautiful ball dahlia of apricot darkening to baby pink in the centre.
Oregano – This tasty herb is useful for pasta, salads and on top of pizzas. Left alone it will produce these beautiful mauve scented flowers, which look pretty in a vase on their own or as here to add a contrast of colour and form.
Sunflower and Cosmos – These are both exceptionally easy to grow as annuals from seed each year. I would really recommend them as they germinate easily and are very pretty.  Beware though as they are both tall plants – up to 1.2 metres in height – so may need a bit of support.  They can both be grown in pots but make sure you keep watered. There are many varieties of Sunflower and Cosmos but here I have chosen Sunflower 'Vanilla Ice' and Cosmos 'Daydream' but take a look at seed packets to find other colours you like too.
Phlox – two varieties are used in this arrangement. Pretty pink Phlox paniculata 'Bright Eyes' is a perennial that comes up year after year in my garden. It likes water so is not enjoying the hot dry summer of 2018.  Keep it well watered to show it off at it's best. Phlox drummondii 'Creme Brulee' has a base colour of butterscotch angel delight and each flower is flushed with blackcurrant purple, some lightly and others with a generous splash. I bought these as mini plugs from Sarah Raven plants in early spring and have grown them on in pots. Plug plants are a great way to expand your cutting patch without having to raise lots from seed.  If you want to find out more about plug plants click here.
Rose 'Lady of Shalott'– This orange rose from David Austen is a fantastic repeat flowerer.  It has a pretty petal structure and a spicy scent but is a tall plant.  Best for the back of a border where it will add warm orange tones throughout the summer.
Why this combination works
Sometimes I wonder round my garden with a chosen flower for an arrangement and hold it against other flowers or foliage to see if the combination works.
With these flowers I knew instinctively that they'd work together as they share a common palette – pale yellow, fondant pink, dark pink and mauve.
Where a flower is multi-coloured, it can give a hint as to colour combinations that will work with it.  For example, the Phlox Creme Brulee is predominantly creamy beige but the flush of purple shows it will combine with purples.  Likewise, Dahlia Henriette is predominantly pale orange or yellow but the pink tips show it'll work with pale pink.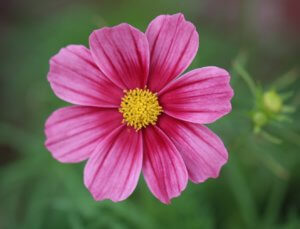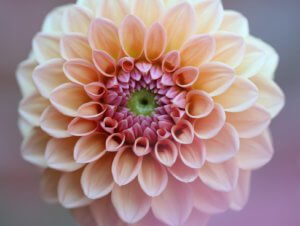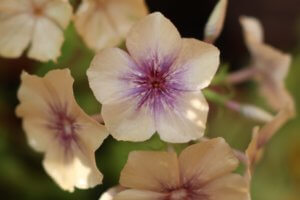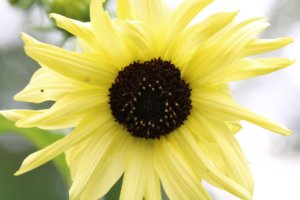 How to arrange in a simple glass vase
Quite often I use floral foam to hold my flowers in place for an arrangement but these flowers work well without any need for a fuss.  This is because so many of the flowers are large and blowsy.  Packed close together they support each-other sufficiently.
Start by preparing the stems.  It's a good idea to pick them in the morning before the sun has begun to reduce the water within the cells.  Pick them, strip off any lower leaves that are likely to sit within the vase water and then put them in a large jug of water, up to their necks if possible, until you're ready to arrange them.
Make sure your vase is clean and fill it to near the top with water.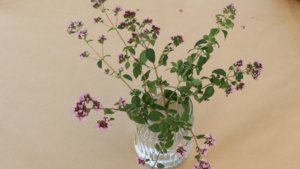 Start with the oregano.  I do this as it has woody stems and arranged around the vase it will provide a structure between which to slot the other flower stems.  Next I chose the Phlox drumondii, these are slightly less woody but add to the basic infrastructure set by the oregano.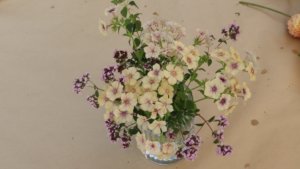 Next I added the blowsier flower heads – dahlias, roses and phlox paniculata.  Finally I slotted in the cosmos and sunflowers.  They have thin stems, which are not always the strongest, so it's easiest to post these between the bigger flowers at the end.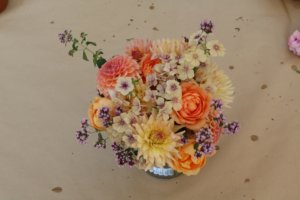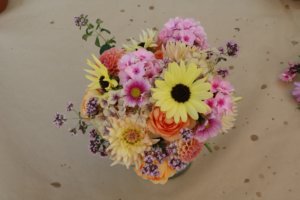 As the colours all work so well together, I didn't pay much attention to placement.  It's fine to put two or even three of each flower next to eachother.  Often I do separate them though, especially if I only have 2 or 3 of each type of flower.
This arrangement will last for 4-5 days and still look great.  The roses are likely to flag first.  If they do, simply remove them and put something else in their place.
I hope I've inspired you to have a go.  A few years ago I despaired of having sufficient flowers in my garden to bring into the home but now, just by taking a little bit of time each year I have plenty to experiment with.