This week I'm featuring six greenhouse plants after a thorough greenhouse rearrangement.  Few garden tasks are more pleasurable than having a good old greenhouse tidy-up. Firstly, you're under cover if the weather is a bit cool or breezy. Secondly,  you have fun making new displays, showcasing the greenhouse plants that are showing off at any given time.
Here are the star performers in my greenhouse right now – if I had spotlights, these are the six on which the beams would be trained.
Greenhouse melons
Last year I grew some very tasty cantaloupe melons in the greenhouse.  This year I'm growing the same cantaloupe variety – F1 'Alvaro' along with a galia type called 'Outdoor Wonder'.  The latter  is sold as being suitable for outdoor growing in the UK due to its mildew resistance and tolerance of lower temperatures, although some retailers go on to say it will be more reliable under glass.  I opted to cosset mine in the greenhouse.
For the last few weeks 'Outdoor Wonder' has been growing steadily, supported in its hosiery hammock.  It was pale green and then suddenly, yesterday,  it turned yellow and started to smell melony. I'd say this weekend it will be perfectly ripe and we shall be eating it, probably with some parma ham.
Meanwhile the growth of the 'Alvaro' has stalled and is only the size of a turnip.  I'll know it's ripe when the whole greenhouse is filled with a sweet scent as this is what happened last year.  It may be small but I know it'll be tasty.
Aechmea fasciata 'Primera'

This strange-looking plant is looking incredible right now.  Part of the bromeliad family, it prefers to be out of strong sunlight so I tend to keep it below the bench but as the stronger rays of high summer have retreated I've moved it up a level so that it can really strut its stuff..  It doesn't need too much water and seems to like to have reservoirs of water sitting in the hollows of the tubular strappy leaves. The flowers are actually the tiny purple dots you can see on the huge and strange pink bracts.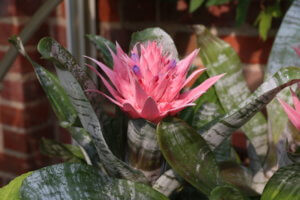 This was one of the first plants I bought when my greenhouse was finished.  Here's a picture of it in that first year and two years later it has filled the pot with pups that have grown around that original stem, which died back after flowering.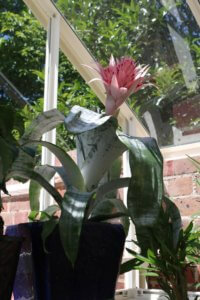 Gloriosa lily/ Flame lily
These were bought from tubers sold as gloriosa rothschildiana but really differ in colour from what I was expecting.  The picture below is of a gloriosa rothschildiana  I have grown before.  You can see that it is predominantly red with yellow flames at the edges and base.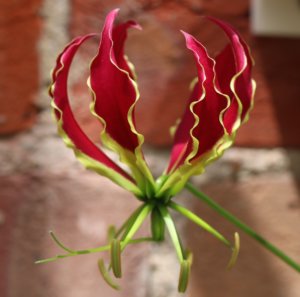 Meanwhile my new ones are predominantly yellow, changing to burgundy as they fade.  A quick search online shows that you can buy yellow,  lime green, white and even purple Flame Lilies.  Goodness knows which one mine is but I do rather like it.
Alocasia macrorrhiza
This plant is just wow.  I bought it a year and a half ago as a large tuber that looked a bit like an oversized brown hand grenade.  It's since grown plenty of new shoots, producing an explosion of bright green, ribbed, lance tipped, heart shaped leaves.  I was tempted to move it out to my new exotic garden for the summer but It was just so happy in the more humid environment of the greenhouse, I let it stay put.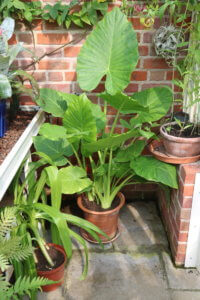 Over the winter it will stay in this small annexed area, which I heat each year.  It will not look this lush all winter and does die back, but I know it will bounce back next year, as long as I keep the tubers dryish in this pot.
Cyclamen hederifolium ssp. 'Crassifolium'
This plant is hardy and doesn't really belong in the greenhouse.  However, it's a good example of a highlight plant that lifts your heart when you step inside.  I'm growing it in a pot up sunk into a sand box.  I can peek my head closer and appreciate the extraordinary delicacy of its plumed pink flowers.  There is  detail that cannot be appreciated  at ground level in the garden.  That said I will probably plant it out in the shadier section of my rockery where slightly raised, it will be easy to appreciate.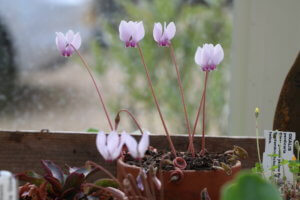 This is a plant which you may pass over if you read its name in a catalogue.  Crassifolia means 'thick leaved' in latin.  Certainly the leaves are slightly thicker than a standard cyclamen hederifolium but it's hardly what catches your eye when the graceful flower stems extend from the soil.
Last week I described the Greek origins of the name cyclamen and here's another example of the circular post-flowering stem.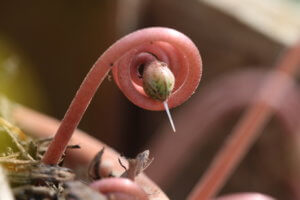 Cyclamen mirabile 'Tilebarn Nicholas'
If you thought the last cyclamen was pretty then just look at this one.  The flowers are almost white with just a slight pink wash and a  very strong magenta at the base. The petals are twisted and look like they're spinning towards earth.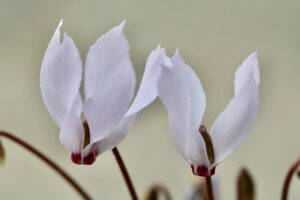 This one is definitely a greenhouse variety and needs the protection of a light and airy greenhouse or alpine house for protection.  It's another cyclamen bobby dazzler and a good example of why cyclamen are more than just pretty pinky white flowers.  In fact the more I grow them the more I understand why people collect these.   Regular readers of this blog will know that I'm a budding galanthophile.  Over time I've come to appreciate the delicate diversity of snowdrops and I'd say that the cyclamen family has similar subtle but entrancing variety.  I could start collecting some more.  Should I, will I?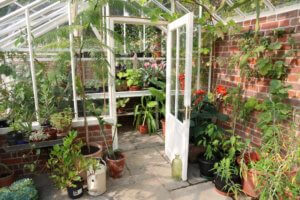 This seasonal diary is part of a weekly link-up of garden bloggers from around the world, called Six on Saturday.  For more information and links to other blogs crammed with gardening activity, check the blog of host The Propagator.