Show Time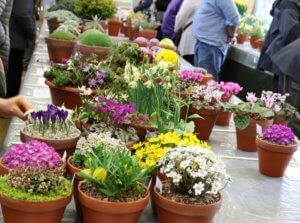 Last Saturday the Alpine Garden Society held a spring show in Theydon Bois, Essex.  I realised I could get there in just under an hour and I decided to go along.  I have a rockery that'll soon need planting up so it was a great opportunity to see some stunning specimens as well as to go shopping at the stalls held by specialist nurseries.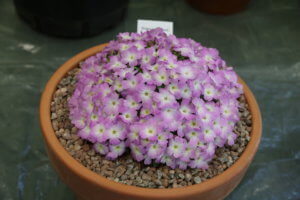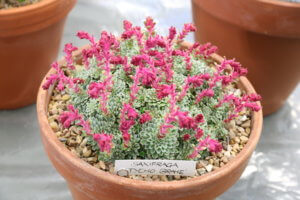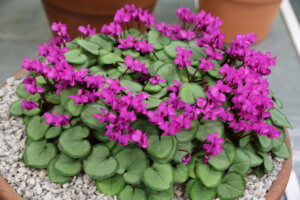 It was incredible to see so much colour on the show benches. The members of the AGS nurture top quality plants, often grown from seed over a number of years.  They are so appealing in their delicacy so if you can get along to a show, you're sure to be seduced, even if you think growing alpines isn't your thing.
I do love growing for my local village show and have written about how I think it makes me a better gardener here.  I think the he dedication required for alpine showing may well be beyond me but I did buy some lovely plants to brighten the garden.  Here's a picture of my box of purchases.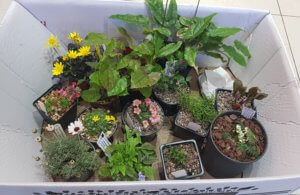 Dionysia
These plants are part of a wider collective nicknamed "cushions" by alpine growers and are very popular show varieties.  This is a very pretty primrose yellow one on the show bench but they come in various shades including whites and pinks.  To see one of these large pans almost entirely covered in tiny flowers, all open simultaneously, is a real treat.  I believe you need to grow something like this in a light airy alpine house and turn it daily to get even growth – oh and keep doing that for several years.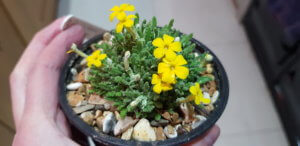 I bought a little dionysia for £4 from a small nursery and whilst I can't imagine mine becoming as incredible as the show bench examples, it is nevertheless a pretty thing.
Woodland corydalis
This little Corydalis 'G P Baker' was also bought at the Alpine Garden Society show.  Many alpine nurseries sell small plants suitable for a woodland setting.  I love the leaves of corydalis, especially when it's been raining  and the flowers are very pretty too.  This one has been planted out in light shade in the nook of a heap of stumps.  I'm hoping it will like it there and clump up nicely.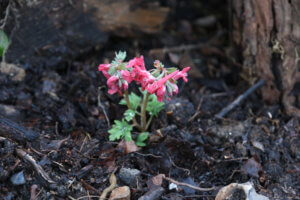 Woodland garden coming to life
Lacking the colour of the AGS show bench but showing promise for a month or two's time is my woodland garden area.  I'm so pleased with how this area has come together since the path was built a year ago.  I've been particularly delighted to see bluebells beginning to poke through the heavily mulched soil.  These were here already but struggling amongst the nettles and ivy that choked this area before it was cleared.  I'm hoping these bluebells will all be native species as against hybrids or Spanish bluebells but I'll be keeping a close eye on them.
Here's a picture of the bluebell woods across the road from my house when in full bloom.  My display is not as dense  but my woodland area should suit them well.  The tree canopy is open at present but will close over when the leaves come in to provide dappled shade for the summer.
Snakes head ready to strike
A few weeks ago I conversed with fellow blogger Lora Hughes of this parish about our habit of peering into the grass, bums in the air,  to see which bulbs were coming up.  I was particularly anxious about my fritillaria meleagris – otherwise known as Snakeshead Fritillaries.  I'm pleased to report a good re-emergence of these in the orchard area in this their second year after planting.
I was interested to read this week about the origins of the common name.  I had thought the snake reference was related to the reptilian patterning on the flowers but instead it's thought to be because at an early stage of development they look like a snake rearing up ready to strike.
A visit from the colour king
Back to showy colours, this week my horticultural society had a celebrity speaker in the form of Nick Bailey, a BBC Gardeners' World presenter.  Nick based his presentation on his book '365 days of colour' which contains really great colour and plant combinations to deliver the horticultural holy grail – year round colour.  I'm not there yet but it's something to aspire to…
This seasonal diary is part of a weekly link-up of garden bloggers from around the world, called Six on Saturday.  For more information and links to other blogs crammed with gardening activity, check the blog of host The Propagator.