My drought anxieties were assuaged this week with two days of superb rain.  It's not been the best weather to photograph some of my rockery plants – those that love the sunshine .  I'm bringing you a rock garden feature anyway as there are some lovely things in flower there this week
I write a diary for the Alpine Garden Society website as a beginner alpine grower and this week a new one was published.  I thought I'd do a feature on the top ten alpine plants for the beginner using pictures from my rock garden but when it was published I realised I'd only written about 9.  It turns out I can't count but hopefully I've managed to count to 6 for this week's Six on Saturday.
Clarkia pulchella 'Snowflake'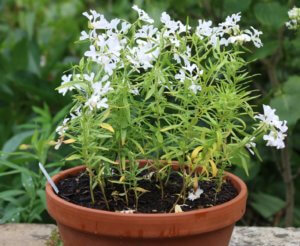 I shared a close-up picture of one of these flowers when writing about June flowers two weeks ago and now they are all in flower in this terracotta pan.  It's a really effective way of displaying these pretty little flowers.  They'd have been lost in a border and I'm not keen on growing annuals in the rock garden as I would rather save space for perennial alpines there.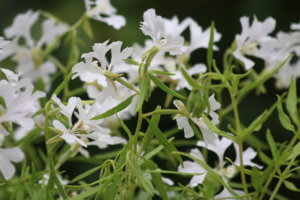 I grew these from the 2019 Alpine Garden Society Seed Exchange and I'll be trying to save some seed for a repeat display next year.
Thymus praecox 'Red Carpet'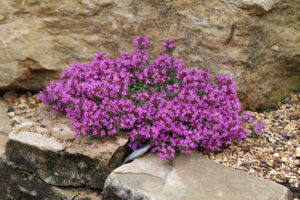 The rock garden is full of stars clamouring for fame and glory right now.   Top of the bill is definitely this creeping thyme.  Its ecclesiastical purple flowers really stand out at the moment.  I like the way it's slowly creeping towards the edge of the rockery.
I definitely want more of these to repeat the effect elsewhere in the rock garden and also possibly amongst my broken paving on the patio.  I hear it's easy to take cuttings from these but that the best was in getting them established in paving cracks is using seed.  So here's a second plant I'll be targeting for seed collection later in the year.
Dianthus deltoides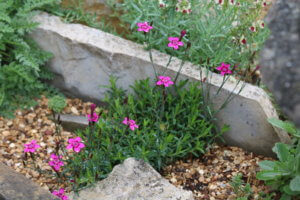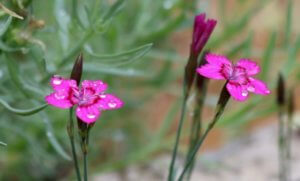 This is my top performer from the 2018 Alpine Garden Society Seed Exchange.  I grew in excess of 20 plants, some of which I sold at my charity plant sale and others I gave away.  The remainder have been dotted liberally around the rock garden to get some colour this year.
Some are shocking pink and others are red.  All have quite a loose habit, the flowers growing on long stems.
Daphne gemmata 'Royal Crown'
The first casualty of my rock garden project has been the demise of my Daphne mezereum.  I'd grown it successfully for a number of years and decided its open structure, fragrant spring flowers and limited stature would make it an ideal addition to the rock garden.
I moved it into its new home whilst in bud in early spring and waited for it to burst into flower.  Instead the buds stayed petrified and never opened.  I subsequently read that Daphne mezereum hates being moved.
I found a great replacement for it at a garden centre some way from home.  I'd driven my daughter to have her computer fixed and whilst we waited we had no choice but to waste some time in a garden centre.  I found the perfect replacement Daphne.  It has unusual yellow flowers and should grow stay fairly small – perfect for this little nook in the rockery.
Achillea x lewisii 'King Edward' AGM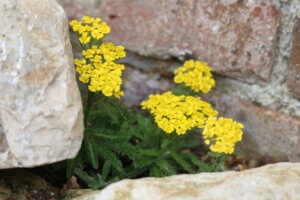 This is a lovely perky little flower, adorning a corner of the rock garden with golden yellow flowers.  I'm a big fan of achillea as an easy to grow perennial in my flower borders.  Most are pretty tall so it's nice to see this perky little cousin of small stature.
Lampranthus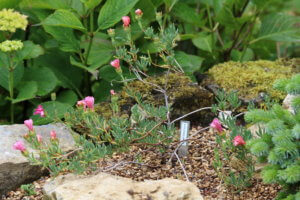 This has been growing in a pot for two years with barely a flower.  Liberated in the rock garden it's put on an amazing display of huge daisy-like flowers this week.  I say huge but being an alpine this is all relative. Each glossy pink filament is a centimetre long, giving each flower a 2cm diameter.  Here's a photo taken earlier in the week when the sun was shining and this South African native was feeling at home in the rock garden.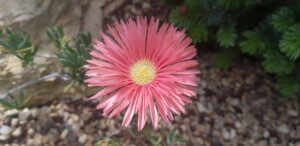 This seasonal diary is part of a weekly link-up of garden bloggers from around the world, called Six on Saturday.  For more information and links to other blogs crammed with gardening activity, check the blog of host The Propagator.