The garden really revs up in June but it can still take a while for some of the herbaceous perennials to get to full height or flowering stage.  Having some tall border plants in the garden really adds depth and interest.
Here are some of my favourite tall border plants in the garden this first weekend in June.
Tall spires of delphiniums

Punching up through emerging perennials each June, with an intense shock of blue, Delphiniums are always admired and are classic cottage garden style tall border plants.  Mine rarely last long into July but in early summer they grace the back of this border with statuesque grace.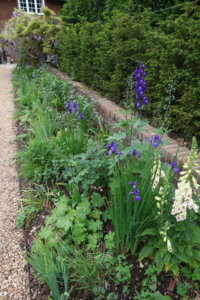 This variety was inherited with the house but I have increased the number by division and seed collection so that this long border is punctuated with its tall spires each June.  I don't know which variety this is but searches online reveal it could possibly be 'Chelsea Star'.
Blackmore and Langdon nursery puts on an incredible display at the Chelsea Flower Show each year showing the diverse range of cool colour palette delphiniums from whites, pale pinks, and baby blues through to intense blues and darker purples.
Foxgloves in your flower border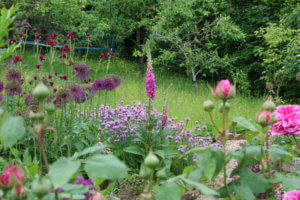 I usually have a few more foxgloves in this area, all self seeded.  I fear I may have weeded too many away.  But this picture, showing a lone common foxglove, Digitalis purpurea, illustrates how well this simple to grow flower holds its own amongst other garden plants. Of course there are a number of garden hybrids available, including this white one, Digitalis purpurea 'Dalmation White' with burgundy speckled landing strip to guide in the bees.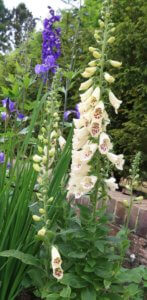 Cirsium rivulare atropurpureum
This plant is so easy to look after, comes back year after year without fail, is tall yet requires no staking, adds an intense splash of colour and is the favourite lunch bar for bumble bees.  It ticks so many boxes for me.
Here it is teamed with alliums, both wafting above dahlias, left to overwinter in the soil below.  First the alliums fade and then the cirsium flowers develop their tufted seed heads as the dahlias take over – flowering from July until the first frosts.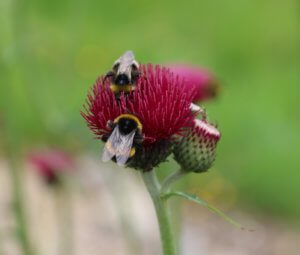 Iris sibirica
Irises are great tall plants to introduce into a border.  The flowers are so interesting in themselves but the spear shaped leaves add interest, even when flowering is over.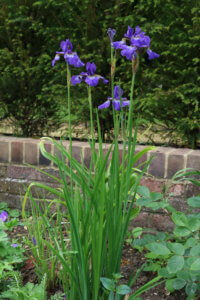 Although not as tall as Delphiniums or foxgloves, Iris sibirica is a particular favourite as it is a reliable flowerer with densely packed narrow leaves.  The intense blue flowers are beautifully marked with yellowy markings, almost tiger-like in appearance. They build up nicely over time, although these were split last autumn so are still fairly small clumps.
Taller still, at about a metre tall, is this second variety, which I believe to be some sort of flag Iris.  This has wider, flatter leaves and looks powerful and dominant here at the front of this shadier border.  It would work equally well at the back of a border though.
Roses
Roses mix well with other perennials in a mixed border but some thought needs to be given to variety to make sure they don't swamp or get swamped by other perennials as the season progresses.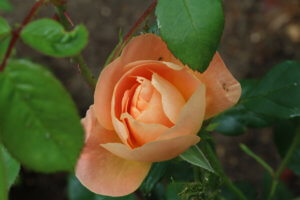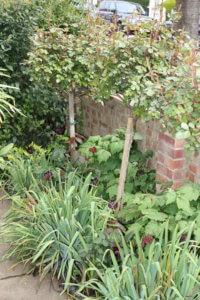 My top mixed border rose is one called 'Lark Ascending'.  As the name suggests, it is a tall plant and emerges above most of the plants around it each year.  A pearlescent peachy orange colour, it blends with many colour schemes.
Another idea is to go for standard roses, as these stand above emerging perennials and add structure at chest height throughout winter.  This picture, taken a decade ago at my old front garden in London, shows the standard Rosa 'bonica' plants that I cherished.  These exploded in small pink flowers in early June.  I would say it still looked interesting before and after flowering as long as the faded blooms are pruned away.  I often got a second flush of flowering this way.
Allium nectaroscordum
It's easy to forget about bulbs but they are worth remembering in mixed borders. Alliums are star performers for early summer colour.  Most are over flowering in May but just coming into its own in June is this unusual but delicately pretty allium called nectaroscordum.  Mine grow between 80 and 100cm tall, high enough to waft over some of the smaller perennials planted around them.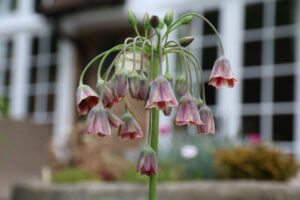 A few more of these added into the delphinium border shown above would really add some extra colour and texture before dying down and letting the blowsier summer flowers take over.
Six on Saturday is a link up of gardeners from around the world, sharing the best of their gardens each week.  If you want to read other contributions to go to the page of host The Propagator.