I almost didn't post this week as I was in a bit of a funk yesterday.  I took myself off to the garden though, saw what was blooming in there and I was instantly inspired to share with you all.  May is a fabulous month when the plants really start to motor.
Epiphyllum crenatum
I've shared this stunning cactus before but it never fails to wow me and hopefully you too.  I have four different epiphyllums and this is the first to flower this year but there are many many buds to come so expect more in future weeks.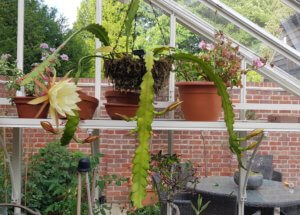 I grow these epiphyllums in hanging baskets as the arms are very long but it's on these that the flowers are borne so they cannot be pruned except for cutting material or you'll lose your flowers.  I know that some people move them outdoors for the summer but I'm tempted to leave mine in the greenhouse as the sweet honeyed scent is amplified inside.
Covid Corner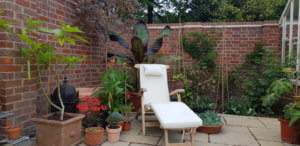 Outside the greenhouse I've been faffing with pots this week to create a little calm oasis for anyone in the family wanting a break in the fresh air away from the hubbub in the house.
The last frost has been and gone so I have moved some of my tender plants out to cocoon my steamer chair.  Some are destined for other parts of the garden but for now this little collection is giving me enormous pleasure.
Echeveria pan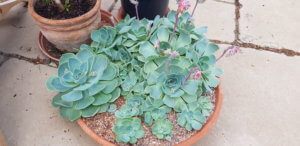 Last autumn I treated myself to this gigantic terracotta pan and earlier this spring I planted it up with all the echeveria babies I had taken from just one parent echeveria last year.  I just love this succulent and the one sole plant I bought for £10 two years ago has spawned tens of plants.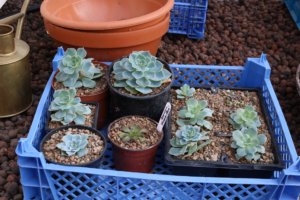 The flowers aren't quite open yet but they will be soon.  Here's a picture of one from two years ago.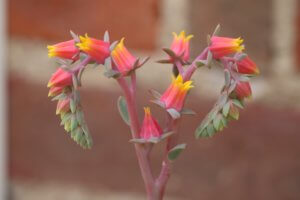 Dazzling Delphiniums
This border is in its second year after it was destroyed by the big boots of many builders.  Last year the delphinium display was far from disappointing but this year they're going to be even better with multiple spikes on each plant.
I read this week that these were Prince Charles's favourite flower and I have to say I did a little nod of respect for that.  They are not my favourite (that changes all the time I think!) but I see where he's coming from.
Plant Sale 
Last Saturday, just after I posted, I beetled off down the drive with several trays of surplus plants.  I was holding a plant sale in aid of my favourite hospice charity, Rennie Grove Hospice Care, which has done more for my family than it's possible to describe.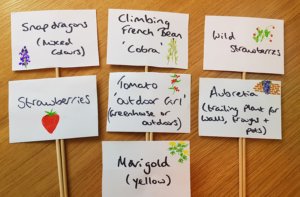 What fun I had.  I'd advertised on Facebook and to my horticultural society and the first punters pulled up on the dot of 10am. Everyone stood suitably distanced and I even had a queue at one point.
Most people were looking for fruit and veg plants, particularly tomatoes, climbing beans and strawberries but a few wanted flowers and some dahlias really sold well.
Marigold 'Alumia Vanilla Cream'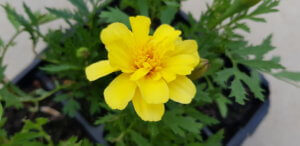 The lovely thing about the plant sale was how many friends turned up to buy something, friends I hadn't seen since lockdown began.  One had come especially to buy some marigolds.  I think marigolds are underrated and yet they are so jolly and easy to grow, with their pretty feathery foliage.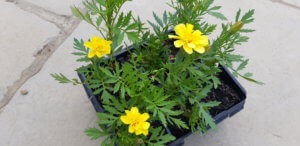 This one I grew from seed and it's a very simple flower but is a lovely lemon yellow colour.  My friend reports she's been checking her marigolds daily and they're about to flower.  She's hooked – another gardening convert.
This seasonal diary is part of a weekly link-up of garden bloggers from around the world, called Six on Saturday.  For more information and links to other blogs crammed with gardening activity, check the blog of host The Propagator.