We're sheltering in the greenhouse this week – why battle the showers when a dry, green oasis awaits?  My greenhouse is never empty – here are some plants that are enjoying life in there this summer.
Gloxinia/Sinningia

First up some lush green leaves which I'm hoping will soon develop some beautiful rosette shaped flowers.  I bought these as  a collection of four insignificant looking tubers from Avon bulbs for just £6.  After languishing a while are now developing very well.
My issue with these is the name.  The old name Gloxinia has all the glamour of a  pharmaceutical company.  In fact so does the new name Sinningia.  I hope the flowers, when they come, eclipse the incongruity of their name.
Brugmansia

Ah, the sweet honeyed scent of Brugmansia has returned to the greenhouse.  This white variety is classy although I'm fairly certain I bought it as a pink variety called 'Frosty Pink'.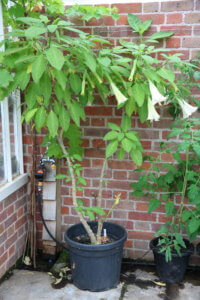 Another variety, a yellow one called 'Charles Grimaldi' has been planted outdoors, where I know it will enjoy the summer, but I'm glad I kept this one for the greenhouse as the scent can lift any mood.
Epiphyllums a-go-go
This week has been a full on fiesta for the Epiphyllums.  Dangling from their hanging baskets, there have been pulses of colour from these short-lived flowers each and every day.
When in flower they offer undeniable beauty and fun but the long cactus stems are leggy.  I'm so glad I'm growing them in hanging baskets as they use space above my head which would otherwise be wasted.
Pelargoniums
I daren't count how many pelargonium varieties I've managed to amass over the last few years but it now must be in excess of 20.  Knowing that Fibrex nursery sends fairly inexpensive cuttings each June is the problem.  Follow them on Twitter at your peril.
This beauty, Royal Ascot, is new to me and possibly not to everyone's taste.  It could be regarded as the pelargonium equivalent of mutton dressed as lamb – how dare such jazzy flowers thrive on such an innocuous body?  I love it though and am happy it's enjoying a raucous day out at the races in my humble greenhouse.
At the other end of the spectrum is Pelargonium 'Renate Parsley'  – a society beauty of impeccable taste.  The two tone flowers are so very pretty.
Coleus
These coleus seedlings are so far behind where they should be and I'm slightly regretting deciding to grow them from seed for my tropical border. They've been tiny seedlings for quite some time but are now growing strongly and will soon be ready to plant out.
Here's a picture from last year which shows of what I'm trying to achieve.  Still, last year's impact cost at least £25 in potted bedding plants so maybe the same impact from a £2.50 pack of seeds isn't regrettable after all.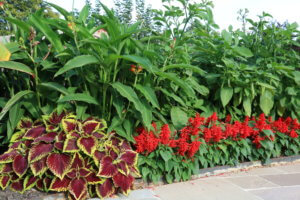 The Jack-in-a-box Jacaranda
I've grown several Jacarandas from seed but they are not hardy here so really need greenhouse protection over the winter.  The trouble is that I have rarely seen a plant which grows so strongly straight upwards.  This one had reached the apex of my greenhouse last summer.  I was brave and chopped off the stem a foot from the base to see what would happen.
Just like a Jack in a box, it stayed hidden whilst the handle of time primed it to jump.  Look at it now – several strong stems have sprouted and the strongest of these is reaching for the sky once more.
This seasonal diary is part of a weekly link-up of garden bloggers from around the world, called Six on Saturday.  For more information and links to other blogs crammed with gardening activity, check the blog of host The Propagator.